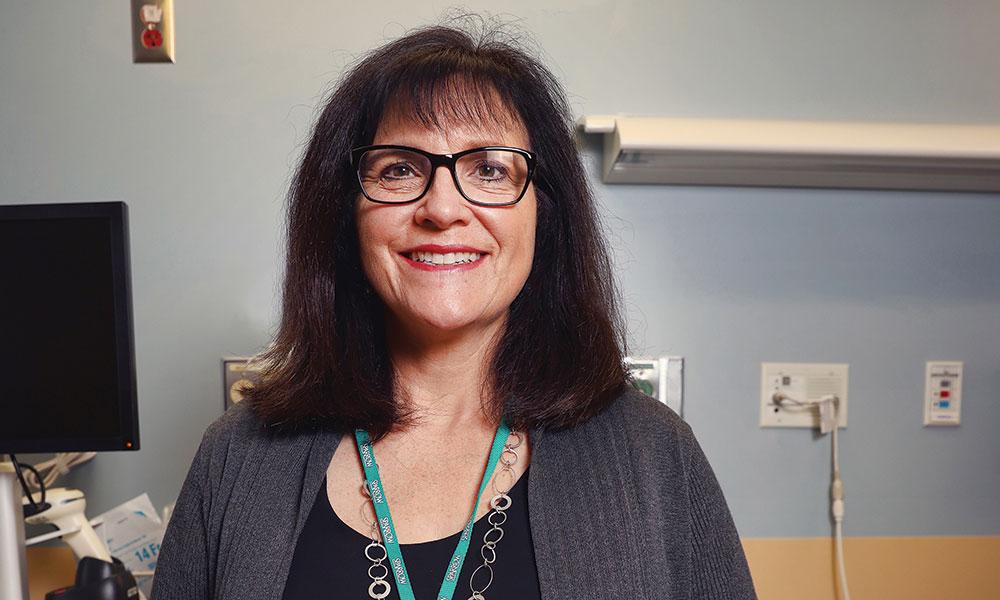 ---
Sue Brings the Eucharist to Hospital Patients
Sue Davis of St. Gerard Parish in Lansing has been bringing the Eucharist to patients at local hospitals for 11 years.
Prayer: As an extraordinary minister of holy Communion, I pray at home before coming to the hospital. I ask God to put his words in my mouth, to help me give the comfort he wants me to give to those who are sick and dying. I pray for the words to encourage them and let them know they are loved. I pray with the patients, too, and I always let them know that I include them in my daily Rosary. I pray for the strength and healing that they need.
Invitation: When giving Communion, there might be other people in the room who haven't been thinking about the Church for a long time, and I invite them to come take another look.
Accompaniment: Sometimes, there are patients who are worried they may be passing on, and worried about what they've done in their life. They wonder: Does God really love them after all the things they've done? I feel like I am accompanying them because I'm letting them know they are loved and that God loves them unconditionally no matter what has happened in their life. Then there are people who have no visitors and I will visit with them a little bit longer. That's what I'm there for, to offer the Eucharist and to walk with them.
Witness: I have shared with people the struggles I went through when my father was in the hospital and the strain of that. Also, my mother-in-law passed away in hospice, so I'm able to relate to people who are experiencing loss. I talk about going to church with a lot of people, too. I let them know if they get involved in church groups, it is a good way to get to know people and they won't feel alone.
---
Interested in this ministry at your local hospital?
Contact your parish.