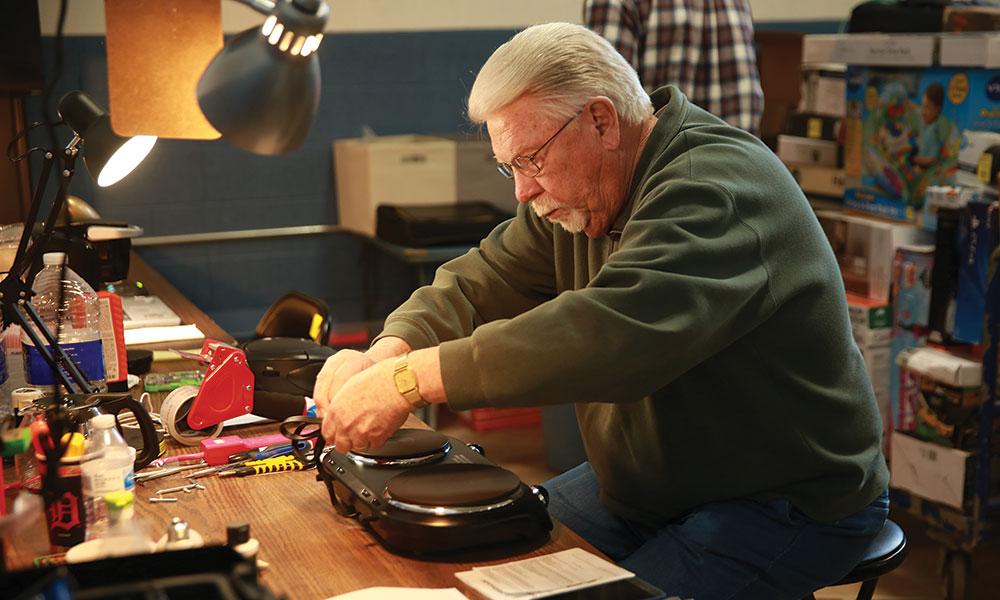 ---
'Evangelization is being present and able to get people involved'
Bill Fritz, a retired Delphi Special Investigations Audit Manager, volunteers five days a week verifying electrical and electronic donations at the Catholic Charities Mid-Michigan ReSource Warehouse located above the North End Soup Kitchen in Flint. He splits his time between Michigan and Montana.
Prayer: I rely on God for a lot of things, and I know that he's gotten me where I am. I try to talk to God, and ask for his help in all that I do. I start the day with prayer and try to end the day with prayer. There are so many needy people out there, and I know they all don't have prayer in their lives. I know they all don't all have God in their lives, but the needs are there. I see that need and I pray for those people.
Witness: Whether I'm in church, singing in the choir, or joining with the other retired people who get together after Mass and shoot the breeze, I try to proclaim the benefits of what we're doing here at the warehouse because I want them to get involved and be as excited about this project as I am. I just know how much good this does for people in need.
Invitation: I invite those I meet with to join in and see what good they can do. Not just for the warehouse, but also for the needy who take advantage of the North End Soup Kitchen. I'm trying to show them what I'm doing. That there's work they can be doing as well.
Accompaniment: When I'm in Montana, we have a food program for disadvantaged kids in the community during the summertime. To me that's evangelization, being present and being able to get people involved. To me, it's working with different people and trying to assist them as we serve side by side.