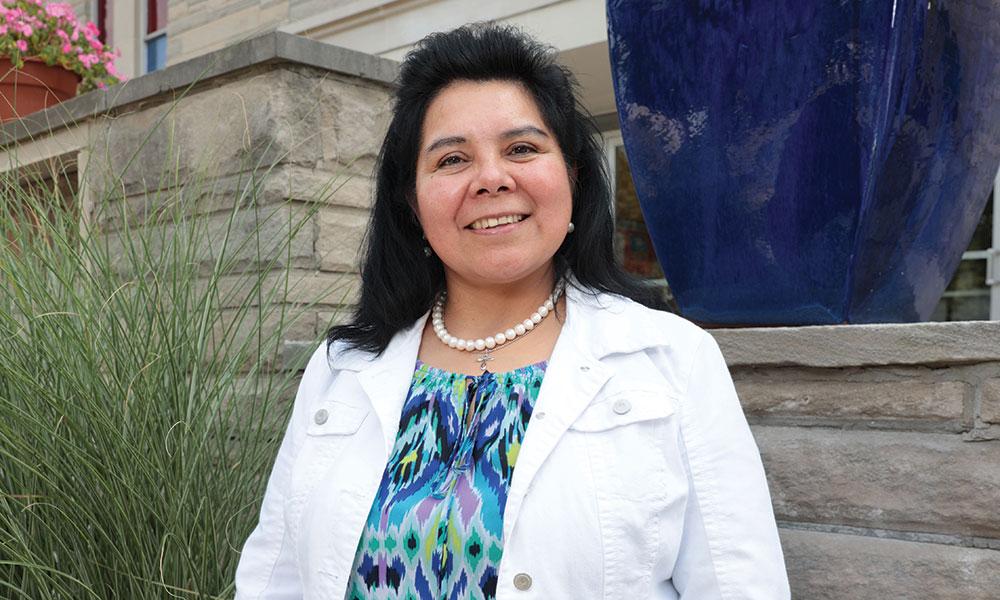 ---
Evangelina Accompanies Members of Her Community
Evangelina Palma Ramírez of Cristo Rey Parish in Lansing has a Ph.D in Chicano/Latino studies and social work, plus a degree in counseling. A native of Mexico, Evangelina has coordinated the Bilingual Liturgy Ministry at the parish for more than 15 years, and put her knowledge, experience and education toward the well-being of her parish and community.
WITNESS: To me, to witness is responding to God's call of serving his people every day. Since a young age, I have had the desire to be a missionary. Although I have found difficulties in my journey of faith,  I have tried to live my life according to that call. In my ministry,encourage people to serve God with a generous heart in simple ways, such as lectors. As a counselor, I also listen to people's life experiences and provide support.
INVITATION: During this pandemic, we have a lot of opportunities to reach out to other people and spread the Good News of God's love for us. For example, during this time, I was able to connect to some relatives in different parts of Mexico to virtually pray the rosary several times a week. I also tried to be in contact with some parishioners to see if they needed something or just to have the human connection.
ACCOMPANIMENT: In the Latino community, people may feel isolated because they do not know the language or do not have family in this country. Thus, finding someone who can help them and listen to their tribulations is a blessing. Humbly, I have tried to be a supportive person for whoever needs something in the parish, community, and even in my own family. For me, accompaniment (acompañamiento) is walking with the people, being with them, listening to their joyful and sad experiences and helping them to acquire what they need.
PRAYER: I pray in the morning.  I like to hear the daily reflections of the Gospel that one of my sisters sends me from Mexico. I also pray with other people in small virtual groups. Every day, I pray for wisdom and guidance to live my day, and also pray for other people's intentions and requests. Sometimes they have a relative who is sick, job concerns or suffer depression or some other need. They ask for prayers. I feel the power of God's love in my prayers. In prayer, I find light when I feel in darkness, hope when I feel hopeless and strength when I feel weakness.