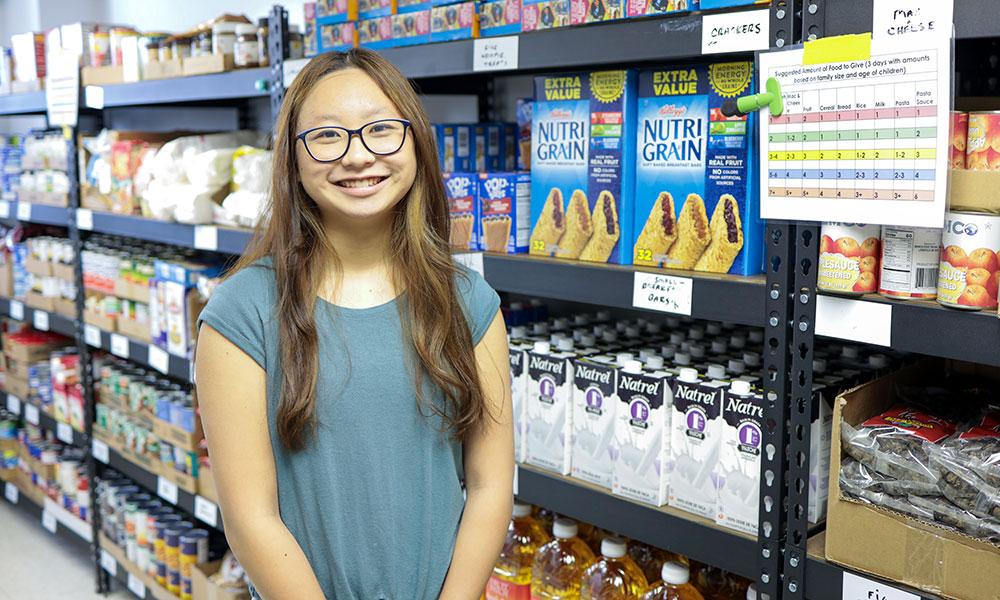 ---
After Launching a Food Pantry, Gwendolyn Enjoys 'Helping People in a Meaningful Way'
For Gwendolyn Frolich of Holy Family Parish in Adrian, the sacrament of confirmation led to faith in action. Gwendolyn and two of her confirmation classmates, Ethan and Mistica, launched a youth-run food pantry that focuses on providing personal care and hygiene products. The youth pantry works in conjunction with the parish food pantry on the St. Joseph campus and the local St. Vincent De Paul to serve the broader Adrian community. Gwendolyn assembles care packages for those in need.
PRAYER: After every shift, we gather as a group and pray for things anyone needs and the people we have helped. We pray that we continue to have enough money to keep things running, and we pray for the people who are struggling that they will know that they're always going to have help.
ACCOMPANIMENT: We assist a lot of people, but I notice certain people coming back regularly, and they are super grateful for the things we can provide for them; even if we don't have the exact thing they need, they appreciate the assistance. It's really nice to see that we're helping them in a meaningful way.
WITNESS: I don't usually have an opportunity to talk to the people we are helping. We have someone who interviews them, so it's a little more private. After the interview, we collect and bag the items for them.
INVITATION: After we were confirmed, we read books about saints like Mother Theresa and St. Francis of Assisi who have helped their communities. Because of COVID, there wasn't very much for the youth to do that wasn't online. We wanted to be more involved in the Church, and that's when the idea to create a food pantry came up. Katie, our coordinator, is helping us recruit more of the youth from this year's confirmation group to get involved.