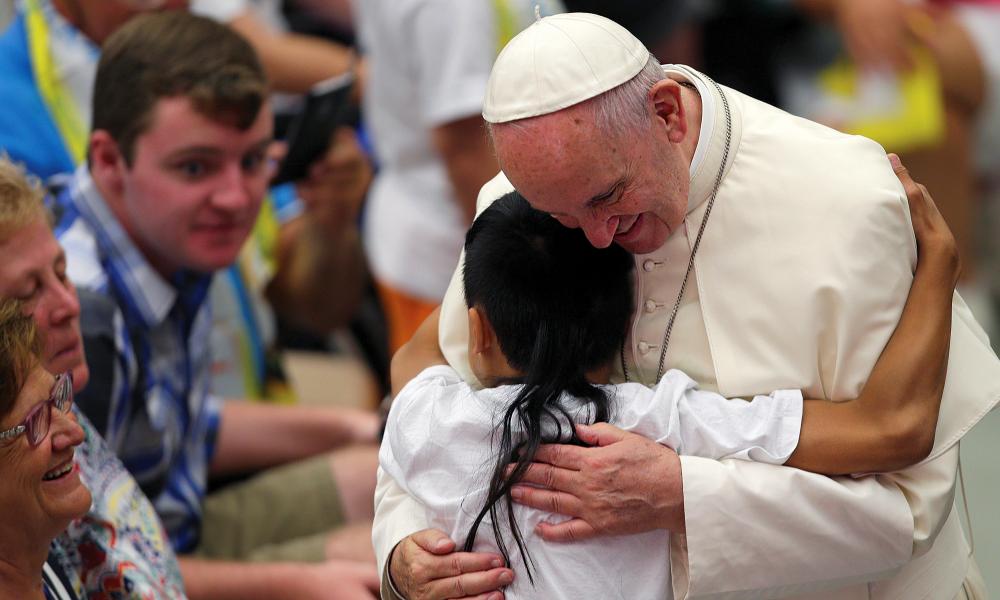 A sick child greets Pope Francis during the weekly audience in Paul VI at the Vatican.
---
Church needs impassioned missionaries, not bureaucrats
In his Aug. 14 message to the pilgrims in St. Peter's Square, Pope Francis spoke of the need for "the fire of the Holy Spirit" to be active in our hearts if the Church is to fulfill its mission in the world. Without this zeal, the Church can become "cold or lukewarm." He went on to say that the Church does not need "bureaucrats and managers, but passionate missionaries." The pope quoted Jesus' words from the Gospel of Luke when he said, "I have come to set the earth on fire, and how I wish it were already blazing!" (12:49) The courage the Holy Spirit kindles in us "is like a fire that helps us overcome walls and barriers," and allows us to "offer hope to those we meet."
A second visit to Assisi
Pope Francis' visit to Assisi in September will be his second pilgrimage to the town of his namesake in two months. At his private trip in August, he prayed at a small church within the St. Mary of Angels Basilica. Plans for the September visit include participating in a gathering of religious leaders and the closing of a World Day of Prayer for Peace. Father Mauro Gambetti of the Assisi friary said that it always is "a great joy for the Franciscan family" to host the Pope.
@Pontifex
"Never abandon prayer, even when it seems pointless to pray." - August 18, 2016