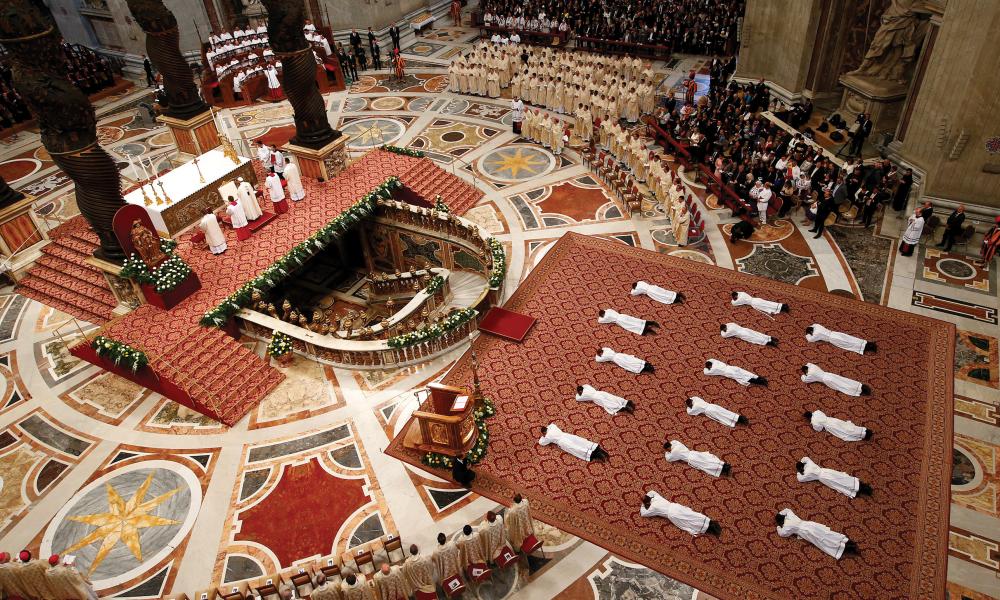 Newly ordained priests lie prostrate as Pope Francis leads a Mass in St. Peter Basilica at the Vatican, April 22.
---
Evangelization means 'Get up and go'
In recent homilies, Pope Francis has continued to encourage Catholics not to be shy in their evangelization efforts. "A 'couch potato' evangelization doesn't exist," he says, "get up and go! Be always on the move. Go to the place where you must speak the Word." He uses three key phrases to explain evangelization: get up, draw near and start with an actual situation. The Holy Father reminds us, however, that any efforts at bringing others to the faith will not work without the guidance and gifts of the Holy Spirit. He says, "It is the Spirit that pushes us to get up, to approach others and to begin from their situation."
---
Benedictine convents and monasteries can be "oases" in today's world
In marking the 125th anniversary of the Benedictine Confederation, Pope Francis encouraged the Benedictines gathered to continue offering their hospitality and "oases of silence and peace" to a busy, hectic world. He says many people today "do not have enough time to listen to God's voice." In light of that, Benedictine abbeys and monasteries "become like oases where men and women of all ages, origins, cultures and religions can discover the beauty of silence" in order to be "in harmony with creation, letting God re-establish a proper order in their lives." Pope Leo XIII created the confederation in 1893 to help promote unity among the various autonomous Benedictine monasteries and congregations.
---
@Pontifex
April 15 - "The Church is young because the Gospel is its lifeblood and regenerates it constantly."