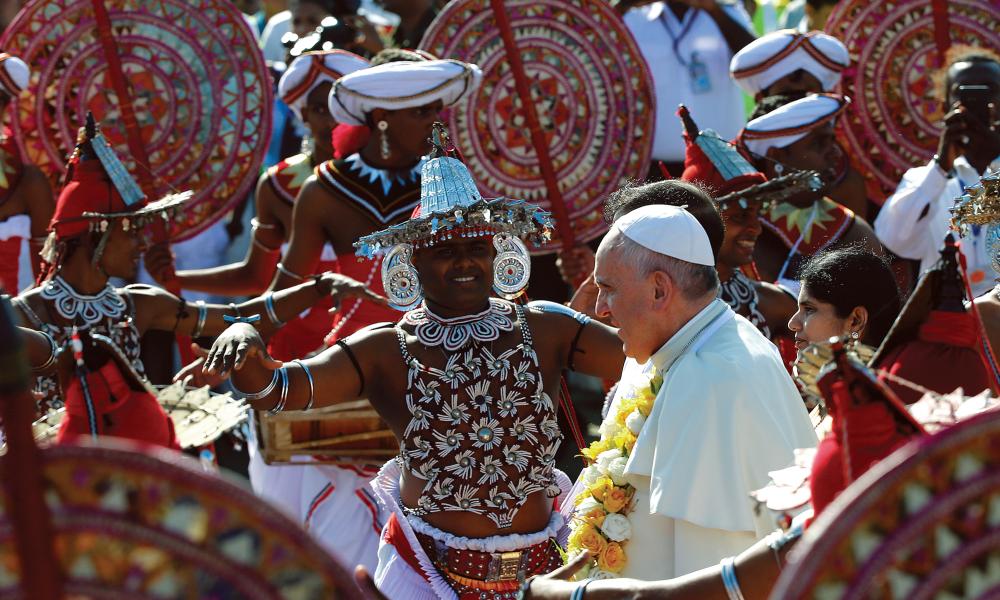 ---
Huge Crowds Greet the Pope in Sri Lanka, Philippines
During Pope Francis' week-long trip to Asia in mid-January, he called for reconciliation in Sri Lanka, which is still recovering from an ethnic conflict that lasted for 37 years, and stressed the need to care for the world's poor while visiting the Philippines. On Sunday, Jan. 18, more than 6 million people gathered in Rizal Park in Manila for the Mass celebrated by Pope Francis. The crowd waited for hours in the rain for the afternoon Mass. According to Vatican spokesman Father Federico Lombardi, "We think … this is the largest event in the history of the popes." Father Lombardi added that about 5 million people gathered in the same area in 1995 for a Mass celebrated by Pope St. John Paul II. 
In Sri Lanka, on a former battleground, the pope held a prayer service for those who lost their lives during the island nation's decades-long civil war, which devastated the country.
Pope Francis explained that finding forgiveness after such a bloody war "can only be done by overcoming evil with good, and by cultivating those virtues which foster reconciliation."
He also stressed that, "The process of healing also needs to include the pursuit of truth." While in Sri Lanka, Pope Francis canonized the country's first saint, Reverend Giuseppe Vaz. 
In the Philippines, Pope Francis braved a tropical storm to visit with survivors of Typhoon Haiyan, which devastated the country in November 2013. "I wanted to come to be with you," the pontiff said during his homily at the open-air Mass in Tacloban, "A little bit late, but I am here." Because of the rain and strong winds during the Mass, the pope wore the same kind of yellow poncho as many in the crowd.
---
"All members of society must work together; all must have a voice" - Speaking on Jan. 13 upon his arrival in Sri Lanka, on healing and reconciliation after civil war.