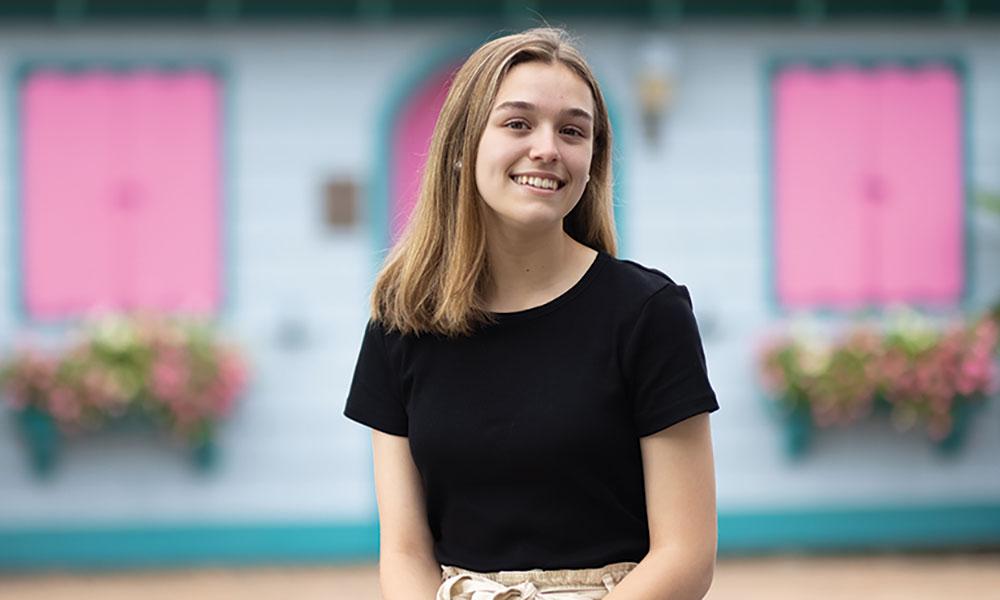 ---
'Get Out and Do Things Outside of Yourself'
For Elaine, Service Is a Way of Life
Elaine Kutas credits her parents with helping her see the connection between faith and service: "We always went to church every Sunday, we went to Catholic grade school and now I'm in Catholic high school." Beyond the schools and sacraments that helped form Elaine in the faith, there have been invaluable personal relationships that her parents fostered. "We talk about faith all the time at my house — every dinner conversation is about philosophy, the saints, our beliefs. As a kid I became really interested in France and my parents bought me a book about female French saints. Looking back, it was so cool because I grew up with these role models and I started to think I could do this — I could be a saint."
Service was a natural extension of the faith life for Elaine's family, as her parents included Elaine and her sister in service projects and events. "I think my first time doing service work was working with St. Vincent de Paul through our parish — I might've been 6 years old. My mom thought it would be good to serve as a family and to see other people's lives and to interact with people who were different from us. When you're helping people, you don't see them as different. When people came for help, my parents would sign them in and help them get food and groceries and my sister and I would socialize and walk them to their cars. There were kids our age and my sister and I thought they needed something too so we asked my dad to go to Meijer. We picked out Matchbox cars to give to the kids who came in. Seeing the joy that our help brought others, having that sense at a young age, made me want to continue to serve. Because of that, I try to be of service even in little things — even reaching a can at the grocery store is a little way to serve and let someone get a glimpse of Christ."
Giving others a glimpse of Christ became a way of life for Elaine.
---
"I was on a retreat once and the speaker said, 'You might be the only Gospel someone else reads.' I try to remember that and to be a servant like Christ."
---
For several years, Elaine and her family have helped plan and execute FaithFest, the annual festival of Christian music and fellowship that brings thousands of believers together. "My dad works at St. Francis Retreat Center and spearheads the planning, and our family jumped in as volunteers. I like serving because after all the work we see people just enter in and enjoy it. We get to hear conversion stories and things that come from just one day.
"I like that my high school has a service requirement because even if you initially do it for the requirement, you end up realizing how great it is and you'll probably realize that you like helping people. One of my favorite simple service things was with my youth group when we stuffed drawstring bags with essentials for people who are homeless. We sold the bags to parishioners as a fundraiser and then people were able to hand them out and interact with people. We heard stories later of the impact of that. That was a great example of a bunch of kids doing service for the Lord together."
Grateful that her parents pushed her to serve from a young age, Elaine tries to encourage other young people to jump into service. "Try different things, volunteer once at St. Vincent's and if you don't like it, go to your local nursing home. Help people face to face. Get active in your youth group. Plan service activities that you can do with your peers. Put your phone away. Get out and do things outside of yourself. Start by looking for small things. Service makes you realize how blessed you are and you see how using only your time you can bless someone else. You can bring joy to someone else! And you'll even enjoy doing it."