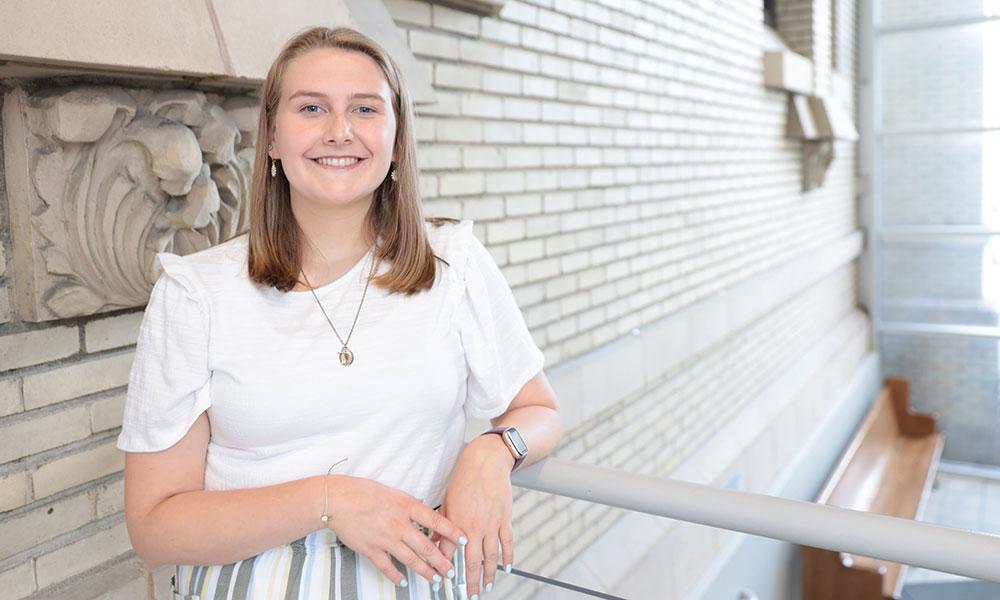 ---
Finding Christ on Campus
A Google search led Allison Kasparek to St. Mary's Student Parish the first weekend after she arrived at University of Michigan in Ann Arbor.
Before Mass started, the presider invited everyone to introduce themselves to the people around them.
Just like that, the incoming freshman from Grand Rapids no longer felt like just one student among 46,716.
"That welcoming presence stood out to me immediately," recalls Allison, 22. "Looking around and seeing my peers, people close to my age, willingly being there was really powerful for me."
The parish community would become an anchor for Allison as she navigated the expected challenges of college life – choosing a major, studying, making friends – and the unexpected interruptions and isolation brought on by the pandemic.
"The world is sometimes a scary, intimidating place and constantly changing as we've experienced this last couple of years," says Allison. "This community helped me stay grounded. Even with this ever-changing world, the one constant is God."
As time went on, Allison became that welcoming presence to others. She served as a catechist, a faith formation intern, and a site leader for an alternative spring break in West Virginia.
"St. Mary's made my entire college experience worthwhile," says Allison, who graduated last spring with a degree in cognitive science. "I was able to strengthen my faith and grow in my relationship to God. I really wanted to serve that community that did so much for me."
'I needed to take God with me'
Allison grew up in Grand Rapids, where her family belonged to the Parish of the Holy Spirit. The oldest of four children, she attended Holy Spirit Catholic School and West Catholic High School.
Active in youth ministry, Allison attended a youth conference in Steubenville the summer after her senior year in high school. During eucharistic adoration, she reflected on the role of faith in her life as she moved on to college.
"I felt empowered to keep going with my faith," she recalls. "I needed to take God with me through the rest of my life, especially through the changes that I was about to experience with starting college."
Allison committed to attending Sunday Mass weekly, which brought her to St. Mary Student Parish. The parish serves not only students but adults and families. She became a catechist for preschoolers her sophomore year.
"I love working with younger ones," says Allison. "My favorite part about being a catechist was seeing how excited they would get about learning about Jesus and his life and his love for us."
Faith-formation classes went fully online during her junior year, which coincided with the height of the pandemic. Even though all of Allison's college classes were online, she opted to return to Ann Arbor to be close to her friends and parish community. Public Masses had resumed with COVID restrictions and social distancing in place.
Allison missed seeing her young students but developed fun, at-home activities to keep them engaged. She applied to become a faith formation intern at the parish for her senior year.
Serving others
Allison's internship involved recruiting catechists and coordinating planning sessions for them that focused on community-building and faith sharing. The parish offered both online and in-person faith-formation classes as COVID restrictions eased.
Throughout college, Allison also "hopped around" in different ministries: Leading a retreat, planning social events like euchre nights and ice-skating outings, and participating in praise and worship.
She regularly attended eucharistic adoration, carving out time even – especially – when she felt overwhelmed with other commitments. "It's grounding to sit with Jesus," says Allison, who values these uninterrupted conversations with God. "All of the stuff going on in my life can take a pause when I'm in front of the Eucharist."
Allison also participated in an alternative spring break at Nazareth Farm, a Catholic nonprofit in West Virginia, first as a volunteer and then as a site leader. Students helped with home repairs and participated in faith sharing and community-building with those they served.
As she looks back on her four years in college, Allison feels grateful for the welcome she received at St. Mary. Remembering the many "impactful conversations" she had with older students during her freshman and sophomore years, she wanted to become that sounding board for others.
"We have this lounge at St. Mary's," says Allison. Students can always find a friendly face there – to play games, study or have a good conversation. "I wanted to be that friendly face in the lounge."
This fall, she'll find herself in another new place, drawn there by a desire to serve others that springs from her faith and her time at St. Mary. Allison plans a year of service with FrancisCorps in Syracuse, New York.
She will live with four other volunteers and work as a youth mentor for Catholic Charities Refugee Services there. The 10-month program will end with a pilgrimage to Assisi, Italy.