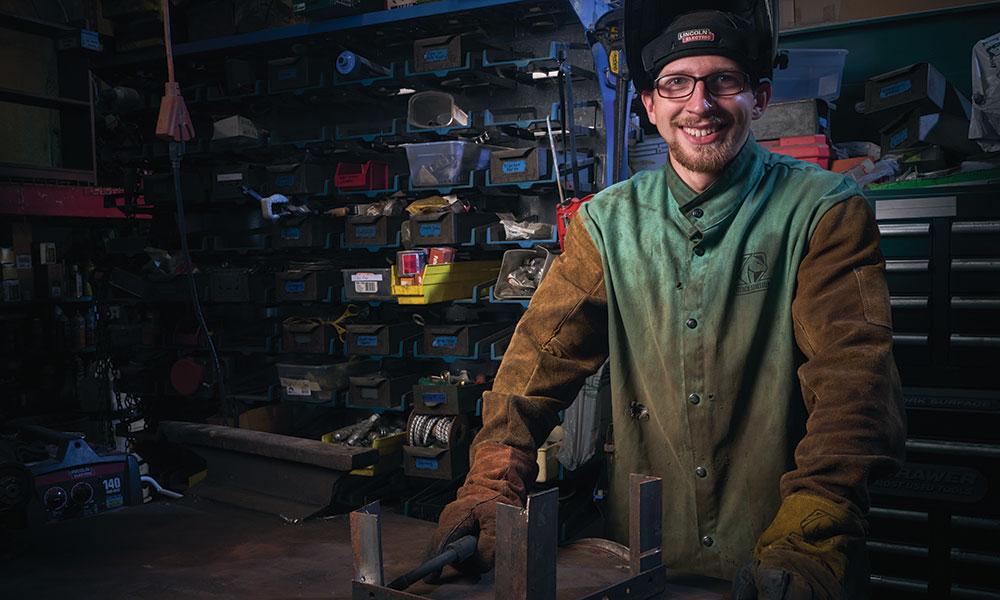 ---
Prayer as a Way of Life
Apple Season Means Busy Season for Ashton Epkey
Whether driving a tractor, helping customers, repairing farm equipment or pressing cider, the skilled-trades student sees his job at a local apple orchard as more than a paycheck. For Ashton, 20, all work is God's work.
"To me serving God isn't about doing something that's real big," says Ashton, who draws inspiration from St. Joseph the Worker as he balances full-time work with classes at Lansing Community College. "It's about living out your faith where you're planted."
Ashton is working toward an associate degree in Heating, Ventilation, and Air Conditioning (HVAC) at Lansing Community College (LCC). He earned a welding degree from LCC through a two-year program that began his senior year in high school.
"I've always wanted to work with my hands," says Ashton, a parishioner at St. Mary & St. Ann Parish, which serves Charlotte, Bellevue and Olivet. By adding HVAC to his welding degree, he hopes to become a "jack of all trades."
"The biggest thing I see in my future would be helping people," says Ashton, who is an altar server at St. Mary and sacristan at St. Ann. "Whether I do HVAC or welding, those trades (involve) fixing stuff for other people."
'How are you being the face of God?'
His desire to serve others stems from a faith nurtured from a young age.
Ashton, the son of Brian and Jenifer Epkey, has a twin brother and a younger brother. His mom works in health care and his dad, director of cemeteries for the Diocese of Lansing, previously served as a director of religious education (DRE) at area parishes.
The family prayed daily, but the fact that God was part of their family's vocabulary is what Ashton remembers most. "We had a lot of conversations about our relationship with God," he recalls. When he or his brothers faced a sticky situation with friends or peers, their dad would always ask, "How are you loving that person in this situation? How are you being the face of God?"
Ashton remembers taking a stronger interest in prayer in fourth grade, when he began Catholic school at St. Mary in Charlotte. He prayed the Our Father, the Hail Mary, the Glory Be and the Guardian Angel prayer.
In middle school, Ashton joined youth group and learned about ACTS (Adoration, Contrition, Thanksgiving and Supplication). "I started wrapping up my prayer life around that acronym," he recalls.
A defining moment came on a family camping trip the summer after eighth grade. Ashton's grandfather had been teaching him how to golf. While the rest of the family was off swimming, the two of them stayed in the camper and watched a video on how to perfect your golf swing.
"As a good grandfather would do, he asked me about my prayer life," Ashton recalls. Ashton told him he prayed each evening. That's when his grandfather suggested a morning prayer called "The Twelve-Year Prayers of St. Bridget on the Passion of Jesus." 
Ashton has prayed it every day since, using a well-worn devotional with prayers reflecting on Jesus' suffering and death. He rises at 5 a.m., reciting the familiar prayers at 6 a.m.
"It has given me a way to set myself up for the day," says Ashton. "The biggest thing it brings me is peace. If I haven't prayed it, I'm kind of anxious all day long. There's no sense of rest until I've been able to pray it."
Built to serve
As a tradesman, Ashton sees his work as an expression of his faith. "It's not about whether you're a priest or a DRE or a minister or a welder or an accountant," he says. "It's about the way you go about doing it."
Ashton draws inspiration from the Serenity prayer. "It emphasizes giving things to God and living in the moment while trying to live for God – but also realizing you're not going to be perfect," explains Ashton. "That's how I try to carry myself every day. That's how my faith affects my work." 
"What's going to draw people to faith and make you able to help people is the way you live for God, the way you choose to accept and embrace 'God moments' when you have them. "
For him, those "God moments" often happen during stressful times – like peak season at the orchard in the fall. "I can sense God and feel God in those moments of stress. You can tell he's kind of carrying you."
"I look at it like this," says Ashton. "God built us to serve him, and I've only ever found peace and tranquility doing so. That's been the driving force – being able to pray and focus on God brings me joy."