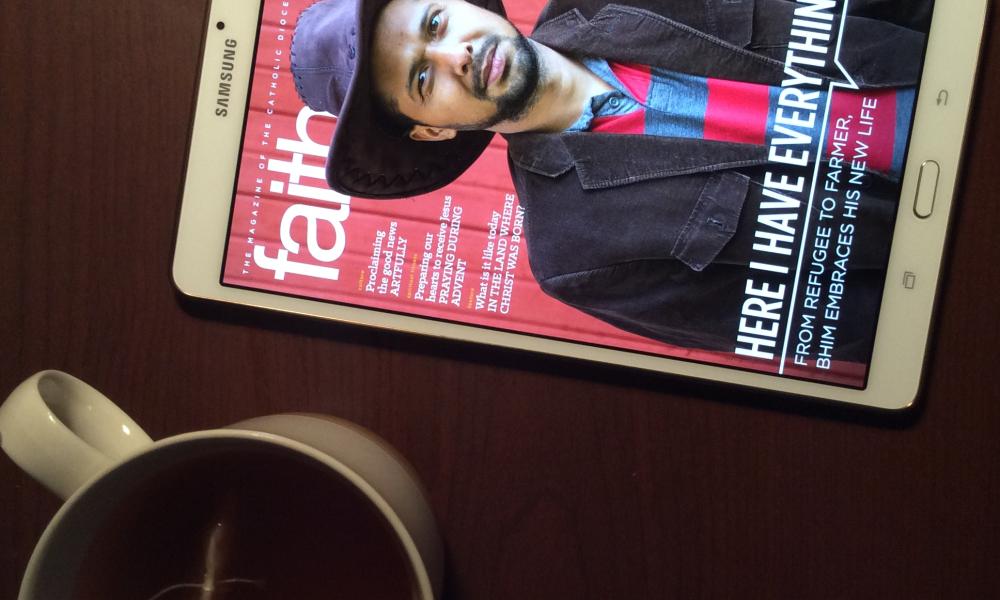 ---
Discussion Guide for December
Cover story
The story of Bhim Dahal and his family bring to mind Matthew 25:35 in which Jesus says that those who will sit at his Father's right hand will be those who followed his precept, "I was a stranger and you invited me in." How can we help the strangers in our midst?
Who are the strangers among us? Do they have to be refugees? Can they be the new neighbor next door? Or the elderly person down the block who lives alone? Or the new student who has less-than-perfect English skills?
Feature on Jay Montgomery visiting the pope
Pope Francis' visit to the U.S. was followed by Catholics and non-Catholics alike. Jay, from the N.E.W. Life Center trip, describes his intense feelings at seeing the pope. How has Pope Francis inspired you?
Theology 101
Humanae Vitae talks about being "open to God's design." Have you ever considered how to apply this precept to your own life – to be open to God's design?
Special report: Catholic social service agencies and religious freedom
Catholic social service agencies are translating their faith into action by following the seven principles of Catholic social justice, the first of which is the dignity of the human person. Visit the USCCB website to read all seven themes.
Conflict resolution
Reflect on Matthew, chapter 5. Jesus is very clear when he says, "Anyone who is angry with his brother will be subject to judgment."
Is there anyone in your family, or in your life, with whom you need to reconcile during this Advent season?
Christmas in the Holy Land today
Can you imagine what it would be like to be unable to visit your native country, to not be able to "go  home"?
How can we, as Christians, work to keep Christianity alive in the Holy Land?
Have you ever visited the Holy Land? Did you realize that the land of Jesus' birth is separated from surrounding areas by walls?
Marriage Matters
Does your family ever invite non-family members to holiday dinners? If yes, has everyone in the family been in agreement about including them?
Parenting journey
Has your family ever tried giving to charity or doing service together to replace gift-giving at Christmas time?
Spiritual Fitness
What Advent traditions does your family practice?
Sr. Ann asks us to focus on the Blessed Mother in the 4th week of Advent, when things get very busy in our lives. She asks us to draw near to Mary during this season and ask for her help in learning to surrender to God's will, as she did.
Work Life
Do you ever struggle with the dichotomy between the holiness of the Advent season and the commercial aspect of the holiday season?