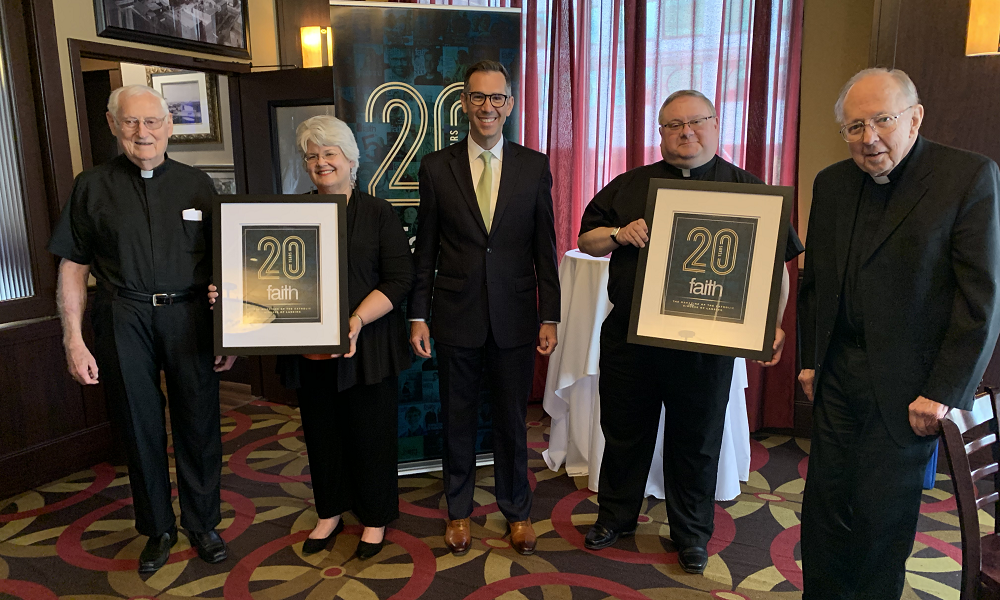 ---
A New Chapter For FAITH Catholic
The story of making FAITH Magazine a reality has lots of stages and a number of key characters. The magazine was an integral part of the year 2000 New Millennium and Jubilee Year celebrations of our diocese. First among those who brought FAITH into being is Bishop Carl Mengeling, Bishop Emeritus of our diocese. Shortly after he came to the Diocese of Lansing, Bishop Mengeling began to look for a means to communicate more effectively with the people of our diocese, and to help them to feel included in and energized by the Church's mission of evangelization. He wanted to share with the faithful stories of faith that would inspire and uplift them. To bring this to fruition, Bishop Mengeling turned to Father Charlie Irvin, who at that time was the pastor of St. Mary Parish in Manchester. After a time of study and research, Father Charlie sought out the creative talent and vision of Patrick O'Brien, a young former seminarian of our diocese who had an extensive background in advertising and magazines. Patrick's creative vision aligned well with what Bishop Mengeling and Father Charlie sought to offer as a gift to the people of our diocese.
After much brainstorming, discussion and debate, the basic idea for FAITH Magazine solidified to the point that the work of actually putting words and images on paper could begin. And so, in July of 1999, a small staff was hired and the work of producing the very first issue of FAITH Magazine began. Father Charlie served as editor, Patrick O'Brien began as the creative director, and Jillane Job was the administrative assistant who supported the daily working of the office. The first edition of FAITH was published in January 2000, just in time for the New Millennium. What began as a magazine to serve and inspire the people of our diocese would grow in time, guided by Father Charlie and the creative vision of Patrick O'Brien. I came aboard as associate editor shortly after we began publication, and became editor-in-chief in July 2001, as Father Charlie prepared to enter senior priest status.
Soon, FAITH caught the attention of bishops around the United States, who sought their own versions of the magazine to accomplish the same goals of evangelization and inspiration for their people. What started as a single magazine for one diocese has grown to serve more than 40 dioceses as well as a variety of other Catholic entities. In 2007, FAITH Magazine and Liturgical Commission Publishings, the other publication ministry of our diocese, merged into a single company, FAITH Catholic. Patrick O'Brien became the president and chief executive officer of the new company.
The combined company is America's largest publisher of Catholic magazines. In addition to its magazines for dioceses and Catholic organizations, FAITH Catholic provides parishes around the world with weekday and Sunday homilies, Scripture commentaries, and universal prayers.
Thanks be to God for this growth through the years and my thanks to Bishop Mengeling, Bishop Boyea, Father Charlie, Patrick O'Brien, and the priests and people of our diocese and so many others for their support and encouragement. As with all things in life, though, growth also brings about change, and such is the case for FAITH Catholic. In January of this year, Patrick O'Brien accepted a new challenge and opportunity as chief communications officer for Gift of Life of Michigan. Gift of Life is Michigan's only federally designated organ and tissue recovery program, providing all services necessary for organ donation to occur in Michigan. I know that Patrick will bring the same vision and creative spirit to his work there as he has shared so abundantly with FAITH Catholic. Much of the growth and development of FAITH has been the direct result of his careful stewardship and guidance.
I am pleased to share that Elizabeth Martin Solsburg has been appointed the new president/CEO of FAITH Catholic. Elizabeth has been a part of FAITH for more than 16 years, when she left parish ministry to become FAITH Magazine's assistant editor, and eventually the editorial director and vice-president of FAITH Catholic. She brings a wealth of talent and her own creative vision to this task. She has a great relationship with our staff and our many clients, and is deeply familiar with the day-to-day challenges of this work. My prayer is that God will bless Elizabeth with the vision and wisdom that will be needed to see FAITH into its next phase of life and growth.
And so I say:  Thank you, Patrick, for a job well done and I pray for God's blessings in your new work. And I also say:  Thank you, Elizabeth, for accepting the challenge to lead FAITH; may God bless you in the years ahead. And so, our journey in FAITH continues.