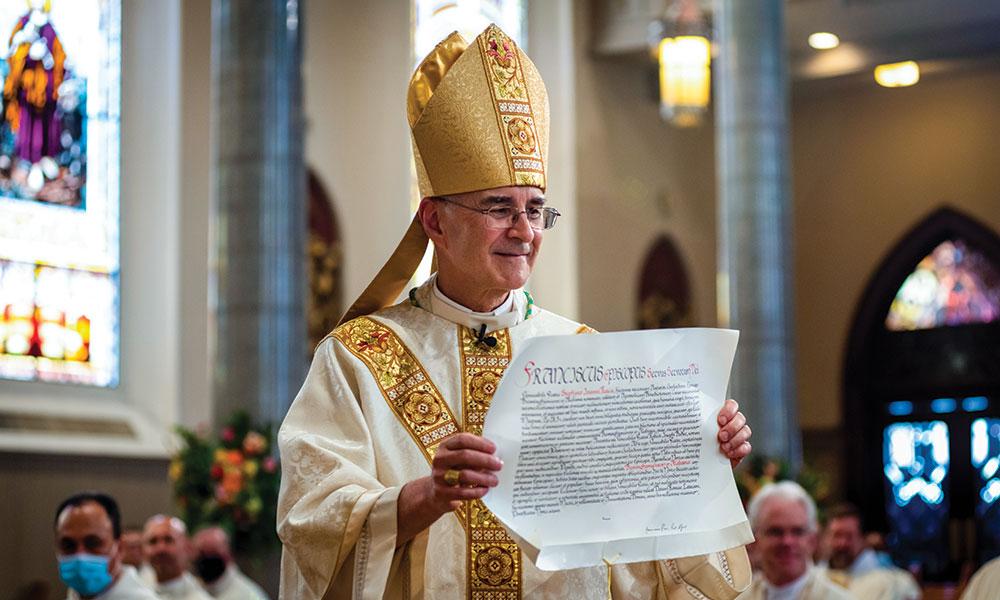 ---
Former Diocese of Lansing chancellor becomes installed as fifth Bishop of Birmingham
Most Reverend Steven J. Raica was installed as the fifth bishop of Birmingham, Ala., on June 23 at the Cathedral of St. Paul in Birmingham. During the Mass of Installation, Bishop Raica was greeted by Archbishop Thomas Rodi, metropolitan of the Mobile Province, and presented the Apostolic Letter of Appointment by Pope Francis by Archbishop Christophe Pierre, apostolic nuncio to the U.S.
In his homily, Bishop Raica thanked Bishop emeritus Robert J. Baker for his 13 years shepherding the faithful of Birmingham, and assured the people of the diocese that he is committed to serving as their shepherd, "for better, for worse, in sickness and in health."
Concelebrating bishops included Bishop Earl Boyea of Lansing, Bishop Kurt Burnette of the Byzantine Catholic Eparchy of Passaic, Bishop Mark Spalding of Nashville, Bishop Richard Stika of Knoxville, Bishop David Talley of Memphis, Bishop Joseph Kopacz of Jackson, Bishop Louis Kihneman of Biloxi, Bishop William Wack of Pensacola Tallahassee, and Bishop emeritus Baker.
Bishop Raica served as the bishop of Gaylord prior to his installation as the bishop of Birmingham. Pope Francis appointed him bishop of Gaylord on Aug. 28, 2014, and as bishop of Birmingham on March 25, 2020.