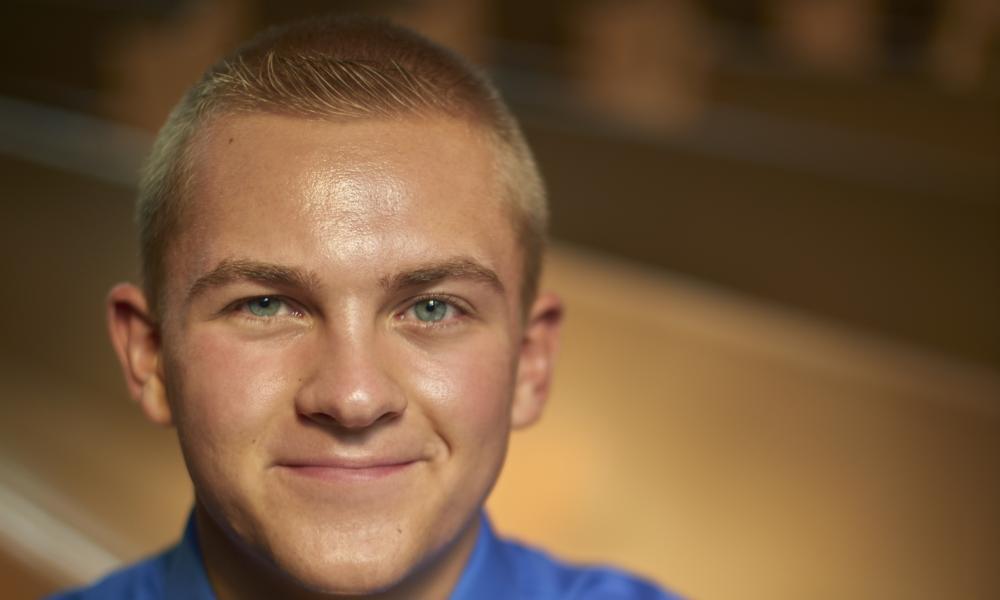 ---
Zach's week-long mission in Flint
Laboring to help his community, discerning how to put God first
Dirty. Labor-intensive. Hot. Exhausting. Those are words you might anticipate hearing after a week-long mission trip to Flint where the job entailed cleaning up littered vacant lots and abandoned overgrown home fronts in the heat of the summer. Not so for Zachary Pinder. In genuine surprise and awe, Zach reveals his week was life-changing. Peaceful. Affirming. Deeply spiritual.
About to enter his senior year of high school, Zach and 20 other members of his youth group from Holy Redeemer Parish, in Burton, gave a week of their lives this summer to Mission Flint. Joined by about 70 other youth from the Diocese of Lansing, each day began with Mass, followed by work detail from 8 a.m. to 3 p.m. At the end of the workday, they returned to their housing unit at St. Mary Queen of the Angels in Swartz Creek for fellowship, praise, worship and Adoration. Mission Flint was not Zach's first work camp so he was familiar with the daily routine, but he could not have anticipated how the week would change him.
"I had gone on a retreat earlier this summer and had an amazing experience. I felt God was propelling me to a whole new step in my faith and to be open to whatever God was calling me to, but I wasn't clear what that was. On this mission trip I found I was more open … Prior to adoration one night during this trip, I felt God was calling me to prepare my heart. This was something I had never felt before. He told me to prepare the way and I was confused how to do this. I asked the Holy Spirit to direct my heart for the message God was preparing me for."
"During Adoration, I noticed a shadow cast from the monstrance and knew I was to focus on the shadow along with Jesus. In that shadow I saw a clock and at the center I could see Jesus shining through.  The hands of a clock surround the center and I began to understand that God was the center of my life and I was to spend my time closer to that center. I knew I could not live on the outer edges of the clock because my days would simply fly by and not be grounded in God. It was very profound. I was totally immersed in the encounter and had no sense of time."
Zach came away from this encounter knowing he was worthy of the call to priesthood. Although the call became clear on this trip, the idea of his life being dedicated to the priesthood is not new to Zach. "I think I have always been open to a priestly vocation but not at the level where I was ready to give my whole life to him … After my encounter with God during Adoration at Mission Flint, I know I am ready to take this step and move on."
How did Zach end up going on this life-changing mission? He recalls, "Initially I went because our youth group was trying to get great participation. I really hadn't had an opportunity to serve and it was an easy way to help the community. I felt very much at ease knowing a sense of fulfillment that I had done something for the greater glory of God … My group went to Salem Housing, a non-profit that works to clean up home fronts."
Zach humbly sums up his week cleaning up overgrown lots: "Giving up a week of time for God can never be regretted. It was worth it because I would have spent that time in other ways that would not have proven so fruitful." 
Mission Flint proved very fruitful for Zach. He overcame his doubts. He discerned his vocational call. He comprehended the intended message of youth mission work to continue to serve. He learned to trust God's time. He understands God loves us as we are. "I feel like I made my faith my own. I discovered that Jesus is present every step of your life, even in the mundane. It was only in understanding it and living it, that I realized God guides me in everything."
Make an Impact
Ask your parish youth minister if your youth group can make a mission trip to Flint. If you wish to volunteer or donate to FAITH in Flint, the Diocese of Lansing's initiative to support the parishes, ministries and schools serving the poor in the city of Flint, visit www.faithinflint.com.