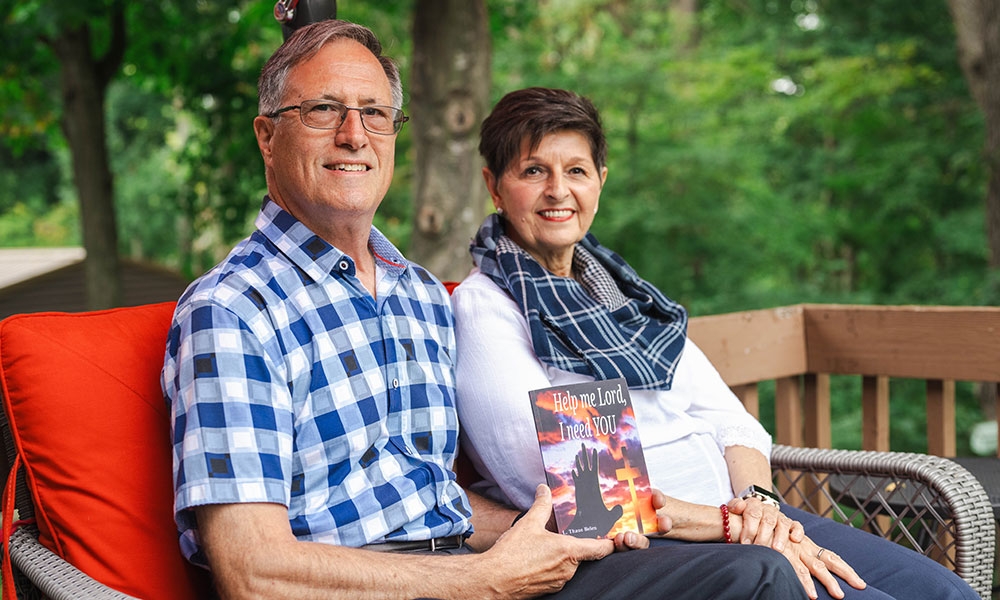 ---
Witnesses of Hope
Thane and Patt's mission is to share stories of God's healing power
Some talents and gifts are not discovered early in life. According to Thane and Patt, that's God's providence at work.
Not a writer by trade, Thane Belen had a career in sales and management while his wife Patt was a stay-at-home mom to their children. Although Thane is now the author of one book with plans to write two more, Patt noticed Thane's gift for writing long before he did. "We went to the marriage encounter retreat in June 1977 and part of that process was writing responses to questions about various topics. I would write a paragraph and he would write the most beautiful pages!" 
Years later, blessed with grandchildren, Thane wanted to share his wisdom and faith with them. "I started writing little tidbits to my grandkids. I called them my memoirs, and that's what started me on the track to even thinking I could write."
Eventually, he'd be asked to do even more with the gift God had given him. Instructed by God in a dream to write a book, Thane woke up at three a.m. to tell his wife what had happened: "'You could write a book!' Patt told him. "You're lengthy!'"
In part, the suffering he and Patt had faced throughout their marriage through the loss of their two-year-old daughter and their unborn twins brought Thane to a place of inspiration for a book. Having faced grief and known others who had challenges that God used for good, Thane started to understand the power of redemptive suffering and the role that witness could play in God's healing of hearts. 
God made it clear: writing was a gift that he wanted Thane to use.
"Writing a book is intimidating, but I started pulling together the stories. Daily I would pray for the Lord to direct me. And all at once I would see a bigger picture. Then I could envision this going someplace and could be a book. We spend two or three hours daily praying, and God speaks to me in a certain way. It is a tidbit here and there and I can get impatient wondering what I'm doing. 
"I've forced out some of my writing and Patt will ask why something is there since it doesn't seem to fit. I realize that was my idea, not God's! She'll tell me to 'stick to God.' We lean on the Holy Spirit heavily for his guidance and strength."
Now published, Thane's first book, Help Me Lord, I Need You, made God's providential inspiration and timing even more evident. 
"The book tells stories about challenges — people who have lost spouses, have faced addictions to pornography, have had difficulties in life — a whole list of things. It's a collection of stories of how people overcome challenges with their faith, and in the end it walks through improving your prayer life, which is the one thing that will help with any kind of challenge." 
When the book was near its publication date, Thane and Patt faced another tragic loss. "Right before the book came out, our son committed suicide. We thought about adding another chapter telling this part of our story but prayed and decided it wasn't God's will." 
The couple believes that God is now prompting them to write two more books: one for people who are feeling depressed or overwhelmed and need hope, and one for others who have lost someone to suicide. "We aren't any different from others who have lost children. We love to talk about him because we love him. More than anything, no matter what challenges people are facing, we want to help people find Christ."
Other writers have informed and blessed Thane and Patt's writing and editing processes. 
"Two years ago, I learned about the Catholic Writers Guild," Thane recalls, "and that was a huge plus." 
Having been to many gatherings since, and looking forward to the locally-held Catholic Writers Guild Retreat coming up in October, Thane recognizes his need for time away with the Lord and time with other writers who are striving to use their gifts. 
"When I get around other writers, I learn so much. The retreat that is coming up is a special opportunity — it's not a conference, it's five days of getting away so you can focus on writing. Deacon Greg Kandra will offer reflections. Patt and I strive to collect pieces of inspiration. We are encouraged along the way by everything —people's stories, music, prayer — we just gather it all up for later. But sitting down and putting it all together requires time. We lead a busy life, so time like this is appreciated." 
With a mission to lead others to hope and healing through the witness of stories, Thane and Patt are grateful for God's redemptive work in and through them. 
"God is leading us someplace." Thane reflects, "We have learned that his plan is always good — and with him, we can handle whatever each day brings."