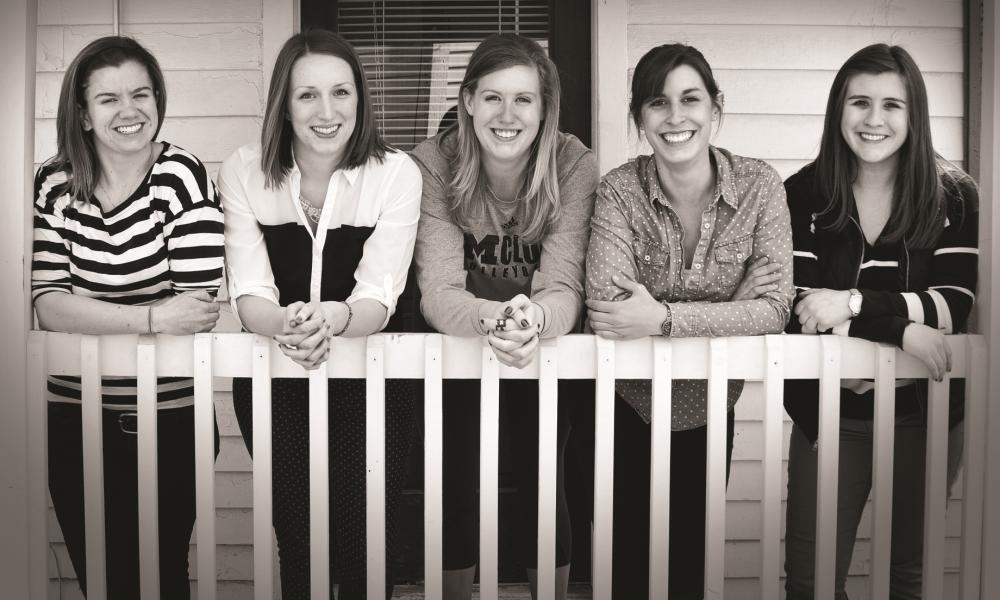 ---
When Alternative Spring Break is the first choice
University of Michigan students Lucie Fornasiero, Meg Riegel, Julia Kehoe, Danielle Bean and Julia Walsh can identify a singular episode that truly sparked their friendship.
It all started with a speeding ticket, which then led to a fish fry.
Lucie explains: "Sister Dorothy Ederer, [formerly of St. Mary's Student Parish in Ann Arbor and currently at St. John's Student Parish in East Lansing] was on her way to the St. Mary's spring retreat our freshman year of college when she was pulled over for speeding. When she explained to the Catholic police officer that she was a nun headed to a college retreat, the officer agreed to let her off with a warning if she would bring some students to the officer's Knights of Columbus Lenten fish fry."
Though Lucie, Meg, Danielle and Julia Kehoe weren't in the car at the time of the incident, they expressed interest in attending the fish fry later that evening at the retreat. One week later, they piled into Julia's tiny Saturn sedan and headed to the fish fry. They've been close ever since.
They adopted Julia Walsh into their group their sophomore year and became roommates in the house the group has affectionately termed "The Shack."
When the time came last semester to decide how to spend their spring break, the decision was simple – the Alternative Spring Break (ASB) trips organized and run through St. Mary's.
In March, the group dispersed to five separate locations across the United States to experience the transformative power of service to others.
Lucie Fornasiero
Lucie, a senior studying sociology and Spanish, led a group of students to Nashville, Tenn., where she worked with a Catholic Charities refugee center.
Though much of the trip focused on refurbishing the Catholic Charities offices, Lucie says the time spent learning about the organization's day-to-day operations opened her eyes to the way Catholic Charities helps the under-served around the world acclimate to life in a new place.
"The painting didn't necessarily seem like meaningful work to us at the time, but it was a really rewarding process because we learned so much about the refugee process and what Catholic Charities really does," says Lucie.
For Lucie, extending the friendships she forged on her trip to Nashville back to St. Mary's Parish made her ASB experience invaluable.
Meg Riegel
Meg, a senior in the School of Information, stayed close to Ann Arbor and found a unique experience working against urban poverty in Flint.
Meg's group worked on a different service project each day, and ate dinner each night with a leader in the revitalization effort. The combination of service and education provided a unique picture of the real city of Flint and its needs.
Meg says: "My trip combined service and education in a really interesting way, because we didn't build houses. Instead, we got to speak with leaders in Flint who are trying to redevelop the city. It was really cool to see leaders with so much passion for the city explain the ways they're working to bring it back."
Julia Kehoe
 Julia Kehoe, a senior studying organizational studies and environmental studies, led her third ASB trip to Logan, W.V., where the students helped to rebuild and renovate homes together with Catholic Charities.
 "The trips try to focus on the Catholic social justice teachings, so we recognize that the physical work we're doing isn't always the most important part of the trip. It's about talking with and listening to the people," she says.
"We try to gain an understanding of the bigger issues going on and learn what our role can be going forward," Julia adds.
Danielle Bean
Danielle, a senior nursing student, led students to the heart of mining country in Wheeling, W.V., to pack school lunches, organize donations and work with a school reading program.
Danielle's experience enlightened her to many of rural West Virginia's economic struggles, a topic she likely would not have pursued independently.
"We learned all about the coal mining industry and how integral it is to the community and how its decline has affected those people," she says.
Julia Walsh
 Julia Walsh, a senior studying English and Spanish, went to Meridian, Miss., where she worked on a home renovation project with Habitat for Humanity.
Julia was particularly affected by the owner of the house she was working on – Mr. Henderson. She saw firsthand how the simple act of sitting quietly together can positively affect another person.
"Some days we really didn't have much work to do on the house, but we would just sit and talk with Mr. Henderson and spend time with him," says Julia. "He was a quiet guy, so sometimes it was just about being together."
Though each of these young women went to a different area of the country, they all experienced relationships formed in faith – with their fellow students, and with those whom they served on their trips.
For the young women of "The Shack," Alternative Spring Break was not an alternative – it was their first choice.