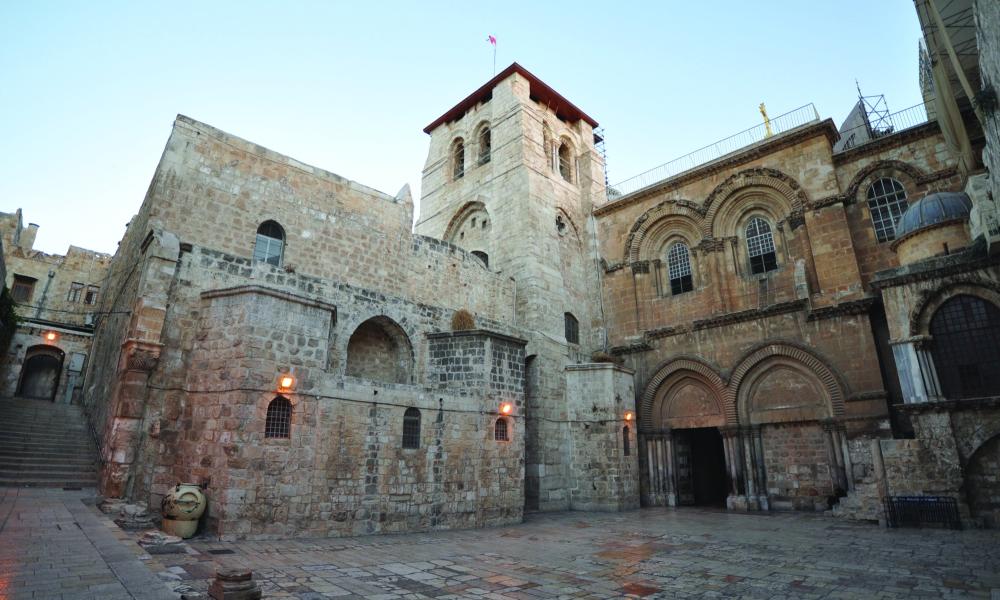 ---
What is it like today in the land where Christ was born?
Father Bill Turner shares his Holy Land experience
You have a passion for the Holy Land. Can you tell us about your involvement in Bethlehem?
First of all, I see the Holy Land as our mother Church – it is where the Church began. I always felt there was some deeper personal connection as well, but I didn't know what it was until I had my DNA checked and discovered that I am 15 percent Arabic! As a Canon of the Holy Sepulchre, I belong to the Jerusalem Church as well as the Diocese of Lansing. Bethlehem is part of that Church.
What is it like for the Christian population in Bethlehem right now?
They are under occupation by the Israelis, and are cut off from the rest of Palestine by walls that have been erected. They cannot come into Jerusalem without special permits; essentially, they are confined to a small, hot, arid territory – where they are hemmed in on all sides.
They live in the Bethlehem area, which comprises three major pilgrimage towns: Beit Jala, Bethlehem and Bet Zahour. (Shepherd's Field). Christians also occupy many small towns in the West Bank areas and in Israel itself.
The Christian population, including Catholics, Orthodox and Protestants, is now less than 2 percent of the total population. We pray constantly that the Christians there will be true instruments of God's peace, acting as a bridge between the Muslims, whose culture and language they share, and the Israelis whose Scriptural heritage they embrace.
The difficulties there are exacerbated by arid temperature and the Israeli occupation. The Israelis are afraid of attack, and they are attacked because of the occupation. So, everyone who is not an Israeli may be considered a potential terrorist. This makes for a climate of extreme tension.
What about the rest of the Holy Land?
Two-thirds of the people in the Holy Land are being denied access to sites that are holy to all three faiths. They are denied access to major territories like Jerusalem, and Israeli settlements in the hills mark where they've been driven from their land. As soon as land is seized, then the walls go up immediately to prevent occupiers from being attacked.
Jericho is part of the Palestinian territory and it is also enclosed. Some Palestinians live in Israeli-controlled territory, such as Nazareth. There is a vicariate in Israel for Israeli Catholics, and there are parishes by Tel Aviv and nearby. These Christians, who have Israeli passports, live with more freedom than those who are behind the walls.
What has been the effect?
Because those behind walls have no real rights to the land, they are in a state of perpetual tension.
That's why so many Christians have left Palestine and moved to the U.S. and other countries.  Knights of the Holy Sepulchre support the patriarchate, by giving Palestinian Christians assets and assistance, encouraging them to stay in the Holy Land. Attention for the Christians there is necessary as there is little assistance from the Palestinian authorities, whose seem to focus support the Muslim population, even though Christian Palestinians face the same hardship as their Muslim brothers and sisters.
I try to be a presence and connection for them, and I work to support the people of Michigan who are part of the diaspora. The day I arrive in Bethlehem, it is not long before the report goes out that there has been an "Abouna William sighting!" There are hundreds of thousands of people who have left the Holy Land and are here in Michigan. They are without an Arabic-speaking Catholic priest. A great part of my work for the patriarch has been as a contact for so many families, even those who have joined Catholic parishes and Orthodox parishes within the Archdiocese of Detroit. Archbishop Vigneron has been especially supportive and when the patriarch was last in Michigan, in addition to visiting our parish in Chelsea, he and I visited the archbishop who expressed his support in providing a location for an Arabic priest and eventually a parish.
What are some of the ways you support the Christians in the Holy Land?
Every year, I go to the Holy Land. Sometimes I take a group of pilgrims. The most important element is meeting the people. Once you meet these Christians you can see their suffering and understand their needs. It's not simply about donating money, it's about supporting people and programs. It is also so important to keep in touch with people, to have a connection. In 2011, the parish in Chelsea participated in the "Children's Peace Project," which invited high school students to visit and see the America that cares about them. In their mind, America had only supported Israel, who was their occupier, so this visit was a way of building a bridge of peace.
I return every year to keep in touch, to support their parishes and their schools, to assist the priests there and to encourage twinning of parishes between America and the Holy Land. There are organizations like the Holy Land Christian Ecumenical Foundation in Washington (HCEF.org) that have such support programs – I serve on their board of directors. HCEF just opened a museum in Bethlehem to exhibit the customs and history of this people. This not only provides another site for pilgrims, but gives encouragement to local people who see their traditions and customs preserved.
HCEF also repairs homes and give people jobs. It brings young people of the diaspora back to the Holy Land so they can experience their roots and heritage.
What can people do?
Please pray for the people of the Holy Land– all of them. The Jewish people, who were first called to God; the Muslims of good will who want to live in peace, and those who feel so oppressed they react in violence; and for the Christians. God can do something about their situation as we pray.
I hope that people will make a pilgrimage to visit Christians in the Holy Land, not only to visit the sites. These Christians need to come into contact with us and know we care about them. They need to know that they are not alone. Seeing the sites is important as well, because they are touchstones of our faith, but the Christians here are the descendants of those who knew Jesus, our living connection with him.
We can be involved in the HCEF or the work of the Knights. Love and support can overcome injustice; and peace will come. Ask questions when organizations who support the Holy Land come into your parish – Where does your family live?  What is life like? When you meet the Christian Palestinians, keep in touch with them, even if it is by Email or Facebook.
The situation is very serious; the time could be coming when there are no Christians left in the Holy Land. The churches would become museums or mosques. This is a powerful moment that our Christian brothers and sisters are called to be the bridge for peace for the Muslim and Israeli population. We can pledge to help them with our prayers and our support.
---
What is a canon?
A canon is an honor given to certain priests in connection with a specific cathedral. There is a dress and ceremonial aspect, including a special cassock trimmed in purple and a white mozetta adorned with a red Jerusalem cross. The Very Reverend Canons of the Cathedral of the Holy Sepulchre are a large number of clergy throughout the world that have the Holy Land constantly in their hearts and minds. I was privileged to be named a canon 10 years ago through the recommendation of the late Cardinal Francis George and the approval of Bishop Carl Mengeling. Knights and Dames of the Holy Sepulchre are lay persons who also have been honored by the pope. Their charism is to work for the preservation of the Christian community in the Holy Land and they do that in conjunction with the patriarch of Jerusalem, who is the archbishop, the successor to the bishopric of St. James. The current patriarch is Archbishop Fouad Twal, and he is responsible for the Christian population in the Holy Land and Cyprus.