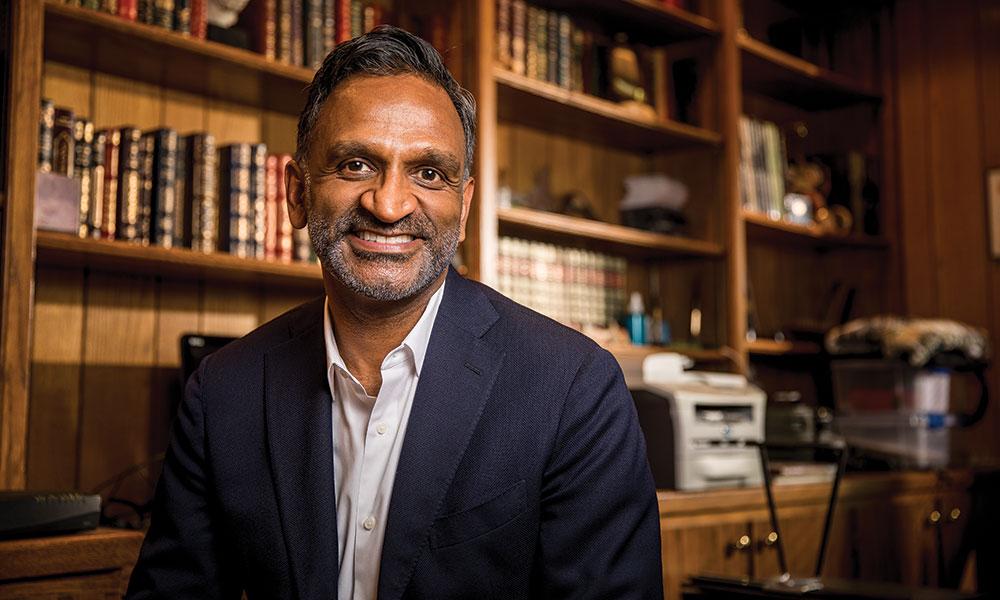 ---
'What Are You Searching for?'
Kishore's Journey From Hindu to Catholic
The details of Kishore Jayabalan's life read like a novel. A Chicago-born son of Indian immigrants attends Catholic schools in Flint. While doing graduate work in Canada, he is baptized by a sainted pope and ends up working in the Vatican and living in Rome for 20 years. While there, he experiences the election of two popes, the beatification and canonization of another and the global reaction to the darkest day in modern American history.

Yet this page turner is not fiction.
Kishore explains, "My parents were Hindus educated in Catholic and Christian schools in India, so they sent me and my brother to Catholic schools in our hometown of Flint. The Sisters of St. Joseph at St. Mary Queen of Angels [Parish in Swartz Creek] grounded me in the Catholic faith. The example and friendship of many students and faculty at Powers High School increased my appreciation for Catholicism. Although I was an admirer of the faith, I had never seriously considered becoming Catholic. Those schools planted the seed.
"The University of Michigan in Ann Arbor was my first secular education. After I earned degrees in economics and political science, I began working in Washington, D.C. One day on the Metro [subway], I was reading Walker Percy's book, The Moviegoer, a novel about a man unknowingly searching for God.
"A stranger approached me on the train and commented on the book. He looked at me and asked, 'What are you searching for?' When I didn't have a quick answer, he went on, 'My twin brother and I searched the world for truth. He gave up and returned to reading The New York Times. Think about that.' As we rode up the escalator leaving the station, I turned to reply. But the stranger was gone. A friend convinced me this was a sign from God, and we soon joined the RCIA [Rite of Christian Initiation of Adults] program at a parish in Arlington, Virginia.
"Before RCIA ended, I had enrolled in a graduate program to study political philosophy at the University of Toronto. I met my future godfather there in a seminar on Nietzsche. He boldly suggested we go on a pilgrimage to Rome for university students during Holy Week and try to get me baptized by the pope. 'Yeah, right,' I thought, dismissing the idea. He persisted and won me over. To my surprise, I was received into the Church by St. John Paul II at the Easter Vigil Mass in St. Peter's Basilica.
"After receiving my master's degree, I continued helping out at the university's Newman Center. The papal nuncio to the United Nations in New York came to give a lecture on the work of the Holy See. A short time later, the chaplain asked me if I would be interested in working for the Holy See Mission to the U.N. I had admired the Holy See's titanic battles defending life and the family at international conferences in Cairo and Beijing. I eagerly replied, 'Sign me up!'
---
"I loved the idea of fighting the good fight with JPII, but most of the work was quite mundane. So I eagerly accepted when the nuncio asked if I would be interested in working for the Pontifical Council for Justice and Peace in Rome. There, I gained even more experience of the Church as an international institution. I learned to defend, temper and, when necessary, correct my American prejudices.
---
"On 9/11, for example, I had flown from New York to Rome the day before America was attacked. There was a lot of sympathy for our nation, but there was also a very clear opinion in the Vatican that the U.S. had to be restrained in its response. The lead-up to the second Iraq war was a challenging time. While many Americans considered it a just war, the views of the pope and my colleagues from other countries made it clear that our invasion wasn't universally seen as such.
"I think my background prepared me to recognize different perspectives. As the son of Indian immigrants, a Hindu convert to Catholicism, an American studying in Canada then working in Rome – I was accustomed to having one foot in and one foot out of many situations. My experiences reinforced the saying that Catholics are supposed to be in the world, but not of the world.
"This served me well over the next five years working at the Vatican, and over another 15 in Rome directing a think tank focused on religion and economics. My work helped me see up close how Catholic social teaching is lived around the world. I learned that Catholic social teaching is a much-needed complement to political and economic life. There are many competing notions of human dignity, human rights and the common good, but, to my mind, none has the theological and philosophical depth of Catholic social teaching.
"I am excited to bring my experience and insights to my new role leading the Diocese of Lansing's Commission on Catholic Social Teaching. Our goal is to make Catholic social teaching better known and more relevant to all the faithful. We must practice Catholicism in everything we do, starting with our families and schools, towns and counties, states and nations, and, ultimately, the world at large.
"The commission will teach what Catholic social teaching is – and what it is not. We hope to inform and inspire Catholics throughout the diocese to put the principles of Catholic social teaching into practice, no matter their profession or state of life. As Catholics, we need to put our faith above our partisan or personal preferences when necessary, while allowing for legitimate differences of opinion. Knowing the difference between the two is a large part of the challenge.
"On the feast of Christ the King [Nov. 21], we will invite Catholics across the diocese to contribute to the new Commission on Catholic Social Teaching. These funds will be distributed as grants to promote Catholic social teaching in parishes, professional associations, study groups and more. We will invite interested individuals and groups to submit funding proposals to the commission explaining what is needed in their circumstances. Above all, we want to provide more opportunities for formation in how to live our faith more fully and coherently.
"As the diocese announced, this replaces the longstanding collection for the USCCB Catholic Campaign for Human Development. There are many religious and secular organizations that do great work in helping the poor and underprivileged, and there's always more to be done. But as Pope Francis has said, the Church is not an NGO. Love of God and love of neighbor are the two great commandments that should guide our thoughts and actions.
"This is undoubtedly a tall order. But take it from a formerly unbaptized kid who made it from Flint to Rome and back again: You never know what can happen with God's grace and a little openness and effort on our part."
---
From Michael Andrews, Chancellor of the Diocese of Lansing
The Diocese of Lansing continues its mission to inform and inspire all Catholics in the diocese to witness to the truth of Christ through protecting human dignity, promoting the common good and working for a more just society.
To advance a better understanding of Catholic social teaching, the diocese is offering a new Diocesan Collection for Catholic Social Teaching. It is designed to provide small grants to parishes and other Catholic entities within our diocese to assist them in fostering specific projects that promote Catholic social teaching. This collection is scheduled to be held on the weekend of Nov. 20-21, 2021, the Solemnity of Christ the King.
The projects that this collection will support will be dedicated to following Jesus in the way of love of God and neighbor, combining prayer, catechesis, action and contemplation, inspired by the principle that the Church is "zealous in action and dedicated to contemplation, present in the world, but as a pilgrim." (CCC 771) They will promote a uniquely Catholic approach in addressing the many social issues of today, including the sanctity of human life, the dignity of the person, marriage and family, solidarity and care for creation.