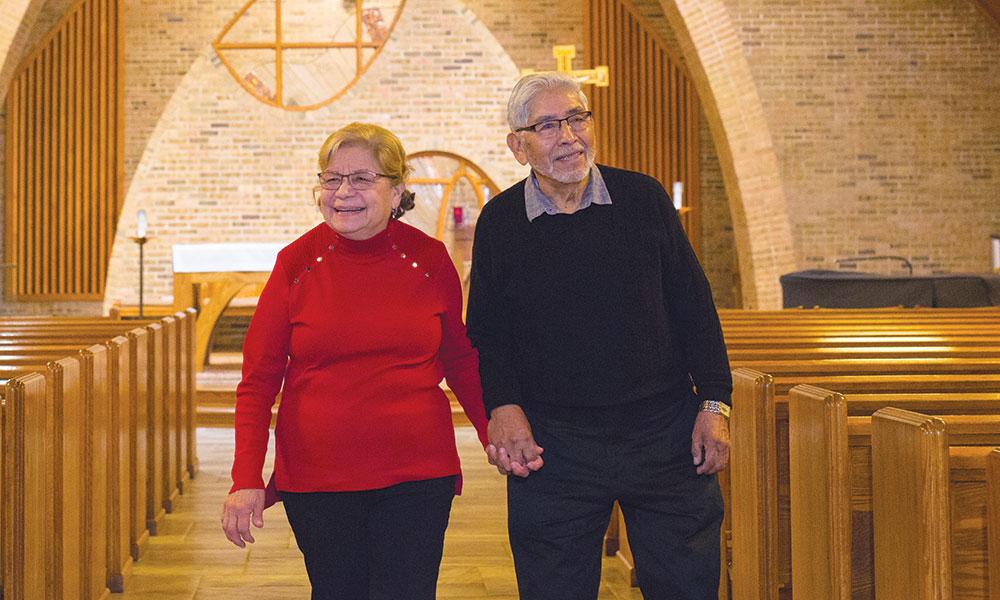 ---
'We are the same'
For Ray and Grace, serving the migrant community is second nature
From Leviticus 19:33-34 to Hebrews 13:2 to Matthew 25:35-46, the Bible has more than 100 messages where God calls us to treat foreigners as natives, strangers as angels, "the least of our brothers" as Christ. But to Ray and Grace Pizana, those teachings are secondary. They have ministered to migrant farm workers for decades simply because, as they put it, "We are the same."
Both born to migrant farm families, Ray and Grace learned as children the grueling work of following the seasons to harvest crops. They understood the challenges of building a faith life while moving from town to town. Working the fields alongside their families brought hardship, joy and deeply held faith in family and God.
"There were 10 of us kids," Grace recalls, "living in a house with no electricity. We never went hungry. Never wore dirty clothes. We didn't have things other kids had, but it never occurred to me that we were poor. My mother was amazing."
Ray nods. "For me it was my grandfather. In the fields he often told me, 'See how our God provides? Listen to the breeze and you can feel the Lord.' He was a holy man who looked out for me and my family with such love. I feel he and the Lord led me to my ministry. Since I first began in 1965, migrant ministry has been meaningful in my life.
"Like many, I left school in the eighth grade to help earn money for our family. I was surprised when folks kept encouraging me to apply to the diocese's diaconate program in 1980. I was the only Hispanic, and had the least education of anyone there. Most times I felt unworthy, but Father Doug Osborn told me, 'Ray, don't worry. It will come to you when you need it.'
"In the third year, when the priest asked if we wanted to complete our training and be ordained, I could feel God's call swelling from deep within. I practically shouted 'YES!'
"The next day, my wife was traveling with her brother, two nephews and our grandson to visit family in Texas when a semi-truck rear-ended them. The car burst into flames. All five died." Ray shakes his head. "For a long time, I fought with the Lord. I said, 'If that's the way you treat people, I don't want to serve you.' My diaconate brothers were ordained without me.
"Then, about a year after her death, I stood at my wife's grave and confessed I was tired of fighting with the Lord. I told her, 'I can't do it anymore.' I left the cemetery and went to my landscaping job. As I was trying to pull something from my mower blades, a voice made me look up. Before my eyes was a vision of my wife! She was smiling and said, 'I'm okay, Hon.'
"Peace washed over me." Decades later, Ray's eyes still shine with wonder. "I told the Lord then and there, 'I will never doubt you again!' A few months later, Grace came into my life."
Grace smiles. "I had been looking for answers about our faith, and a friend told me to talk to her brother. She said he knew everything about the Church," she laughs. "I had been divorced 17 years, working and raising my kids. Life hadn't been easy, but I was okay.
"Ray and I must have spent three or four hours talking that first day. I didn't know it, but after I left, he went right to his sister and asked if I had a boyfriend! It wasn't long before we knew the Lord wanted us to be together.
"When the new class opened, Ray re-entered the diaconate program. We were married a few months before he was ordained three years later. As a deacon, he provides religious education and spiritual guidance, assists with Mass and looks out for the migrant workers we serve.
"I look after them too. We have five women who love to bake, and together we make them dinners after Mass. They like our spaghetti, soup, molé, chicken and rice. Every June before the workers arrive, we do a taco dinner at St. Elizabeth [in Tecumseh]. Even though we have only about 800 families, St. Elizabeth generously supports our ministry. Parishioners come and provide towels, sheets, personal items and money so we can give every worker a care package to help them start the season.
"Over the years our ministry has changed. We don't have families too much anymore. Now it's mostly men 18 and older who come to work for about three months on the farms. Many come back year after year. They could be my kids, and I want them to feel at home with us."
"They are our brothers," Ray says simply. "We are the same."