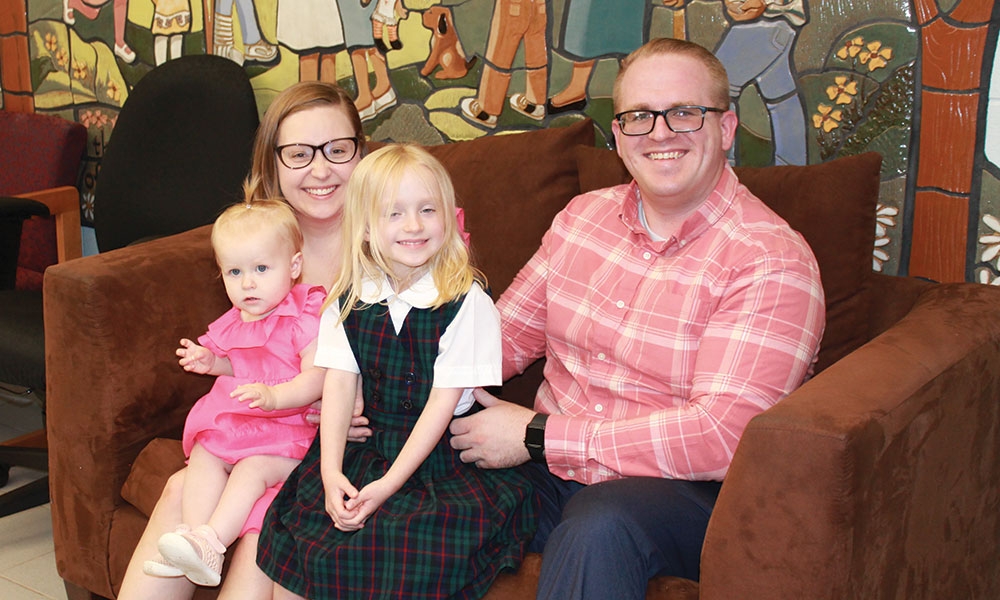 ---
'We are all so excited — it's surreal'
As their first child begins kindergarten this fall, the Koval family takes a moment to share their hopes for her future.
Five-year-old Ella Koval is the only person who's completely focused today.
In the timeless tradition of families with young children, Ella's parents and 14-month-old sister, Lilly, juggle sippy cups, coffee, bags, uniform collars and car keys. The FAITH team is setting up camera shots and worrying over lighting and shadows. But as everyone shuffles about, Ella stands upright and calm in her brand-new plaid jumper, her blue eyes never wavering from the camera lens. Her happy smile is genuine and confident.
And everyone else (photographer included) is slightly emotional as they watch Ella embrace her future as a St. Gerard kindergartner.
"I never thought I'd be here," says her father, Ben. "It's just so exciting and surreal in many ways." 
Both Ben and his wife, Elizabeth, attended St. Gerard themselves. Ben began first grade in 1997-98, and Elizabeth followed soon after. In fact, the Kovals credit their Catholic education with the opportunities they've had in the years since.
"I feel like we were springboarded into college in ways our peers weren't," Ben says. "We had such a solid foundation in terms of meeting deadlines, writing papers and being professional and hitting the standards. And I think the faith piece gave us the critical thinking skills to evaluate the many choices our peers were making and say, 'No, our spiritual upbringing provides us an opportunity to think for ourselves.'" 
Elizabeth hopes Ella will receive these same gifts. 
"My biggest hope is that she's just set up in a place in her faith and academically where the sky's really the limit, she can do whatever she wants in her life," she says, suddenly emotional. "Honestly, it's hard to talk about this — looking at the whole journey, even these first steps — without crying, because she has been little for so long. And now I feel like it's just going to be so fast, to go from kindergarten to high school graduation. And I'm excited for her. But I just want time to slow down."
These are all things Ben and Elizabeth want for both their daughters in the future. But right now, the family is standing at the starting line for all that lies ahead. 
"All we hope for her today is that she feels comfortable with herself and confident in what she's doing," Ben says. "Ella's already great at relationships, and she is reading well. And she's already made great friends through the preschool here, so she's excited to go to kindergarten."
Listening intently as her parents discuss all the love and hope they feel for their daughter, Ella is quiet. Her voice is barely audible as she looks proudly down at her uniform. 
"I'm excited," she says, a soft smile lighting her face. "It's going to be fun."
And then, like the child Ella still very much is, she curls up in her mother's lap, her brand-new jumper and shiny school shoes tucking beneath her as she waits for her future to begin.