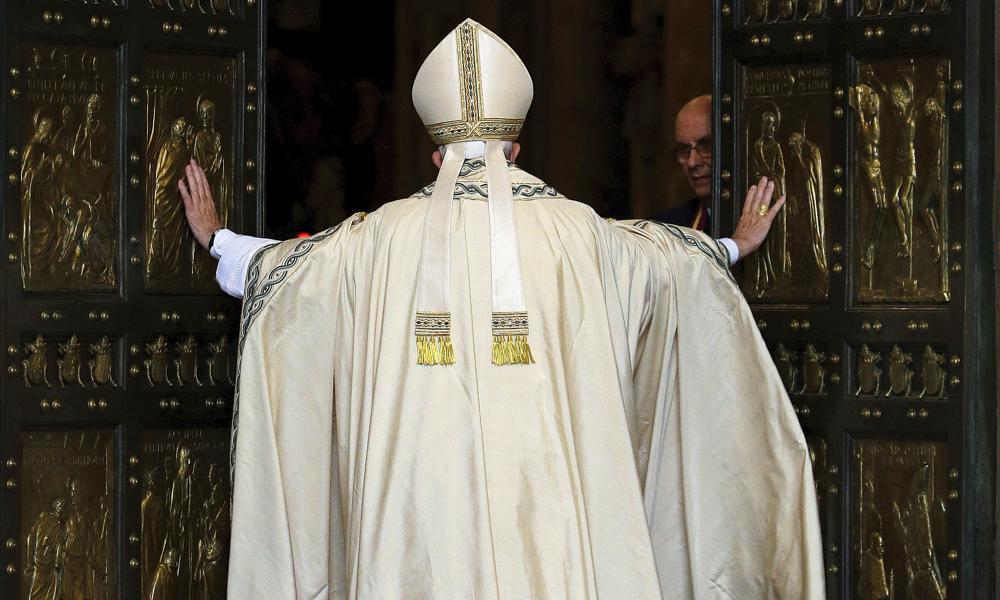 ---
Walk Through the Holy Door of God's Grace
As part of this Jubilee Year of Mercy, Pope Francis designated a Holy Door at St. Peter's in Rome, and asked that all Bishops establish a particular door in each diocesan cathedral that would be available as a pilgrimage site for everyone. The door itself is a symbol in recognition of Christ – the sole door through which we enter salvation (Jn 10:9) and the one way that leads to the Father. (Jn 14:6)
Making such a pilgrimage to your diocesan cathedral, or to another designated site established by your bishop, is more a spiritual journey than anything else. It is a time when we say to the Lord that we desire to draw closer to him in our journey through life; that we make this pilgrimage as a sign that we want to open our hearts to deeper conversion to God through daily prayer and the sacraments, and in our relationships with one another. It is a time to seriously ask for the grace to turn from a particular sinful pattern that Christ may inhabit our lives more fully; it is a time to confess our sins and then, with pardon granted, to begin again – to start afresh on this sometimes arduous journey through life.
There is a great grace attached to this kind of pilgrimage. If you can, read Misericordiae Vultus, Pope Francis's proclamation for the Holy Year of Mercy. (www.vatican.va) In one section, Pope Francis writes: "May pilgrimage be an impetus to conversion: by crossing the threshold of the Holy Door, we will find the strength to embrace God's mercy and dedicate ourselves to being merciful with others as the Father has been with us." (14)
You can receive a plenary indulgence every time you make a visit (one a day) to your diocesan Holy Door. How great is the mercy of God, and "his mercy endures forever." (Ps 136) Don't miss all that God has for you – not only for you, but for all those you love.
A sister in my religious community, Sister Sarah Burdick, wrote a number of reflections about the meaning of the Holy Door for her. One of them asked: "Is the door of my own heart still closed to the Lord? If the door of my own heart is opened, will it lead to a greater receptivity of mercy and a greater desire to be a vessel of mercy?"
Is my own heart open to receive the lavish grace God has for me? This question is intended to bring us deeper into his presence and to be able to receive the gift more fully – the gift that is Jesus Christ. He is the door to eternal union with the Father. Let us ask for the grace to have open hearts as we walk through the Holy Door of God's grace – Jesus – in this Year of Mercy.
What is a Plenary Indulgence?
An indulgence may call to mind images of the Middle Ages, but it is really a teaching of the Catholic Church about the mercy of God. An indulgence is the remission before God of the temporal punishment of a sin that has already been forgiven. For more information, read the Catechism of the Catholic Church, 1471-79.