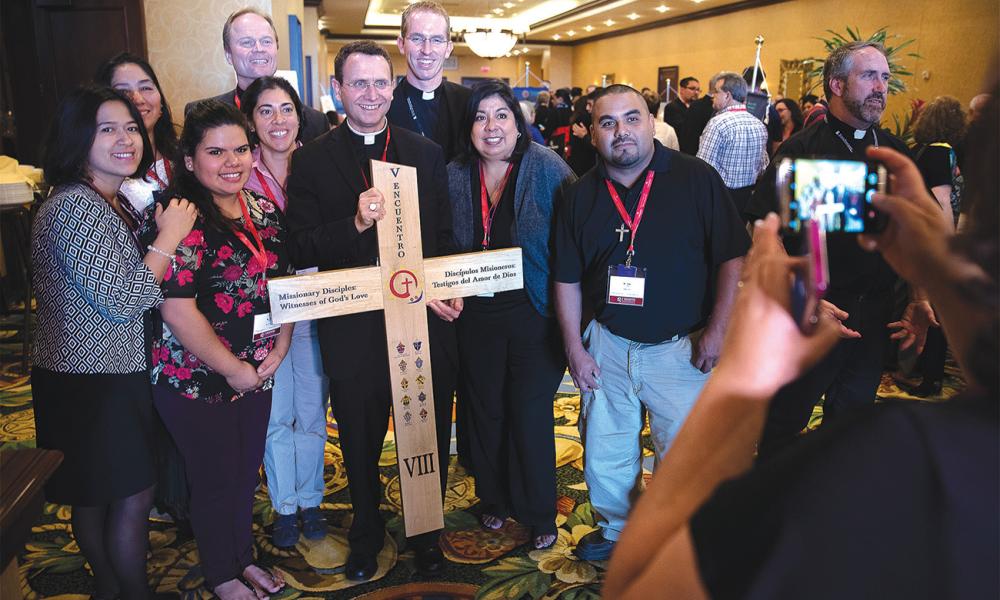 Auxiliary Bishop Andrew H. Cozzens of St. Paul and Minneapolis poses for a photo Sept. 20 with delegates prior to the start of the Fifth National Encuentro, or V Encuentro, in Grapevine, Texas.
---
V National Encuentro of Hispanic/Latino Ministry
More than 3,000 Hispanic delegates from Catholic dioceses around the United States returned from the National V Encuentro in Grapevine, Texas, energized by their participation and ready to share their experiences with those they represented.
Inspired by the call to become "Missionary Disciples, Witnesses of God's Love," the delegates gathered Sept. 20-23 to discern ways in which the U.S. Church can help Hispanic Catholics strengthen their Christian identity and their response as missionary discipleship for the entire Church. Representing 163 dioceses, the delegates presented the concerns and suggestions voiced by more than 250,000 Catholic Hispanics who participated in parish, diocesan and regional sessions in the two years leading up to the national conference.
Addressing needs of Hispanic youth and young adults
In four breakout sessions, delegates discussed and prioritized the ways the U.S. Church can strengthen its pastoral response to Hispanic Catholics. In the final session, delegates identified best practices in 28 ministerial areas. The goals discerned through the V Encuentro process reveal the importance placed on addressing the needs of Hispanic youths and young adults, who now make up 60 percent of Catholics in their age group. In the final session, delegates identified Leadership Development, Family Ministry and Youth and Young Adult Ministry as the highest priorities.
A key experience for many participants was the dinner for young adults with the more than 100 bishops who attended V Encuentro. The 700 young adults participating had an opportunity to converse directly with the bishops and express their interest in being involved and included in leadership in the Church. The bishops, in the words of Archbishop Gustavo Garcia-Siller of San Antonio, are encouraged by "the enthusiasm and courage, witness of faith and commitment to the Church" expressed by the young delegates during this session.
Delegates are charged with returning to their parishes and dioceses and inviting their communities to discern ways the goals can be achieved locally and preparing pastoral plans guided by the concluding document from the conference.
Effects already being felt
The effects of V Encuentro are already rippling through the U.S. Church. According to Bishop Nelson Perez, bishop of Cleveland and chairman of the U.S. Conference of Catholic Bishops' Subcommittee on Hispanic Affairs, 288 parishes have started Hispanic ministry as a direct result of the local preparation for the national event. He reported that more than 50 dioceses have added staff dedicated to Hispanic ministry, including 35 that have added additional pastoral staff.
Following the close of the conference, Archbishop Garcia-Siller stated, "The V Encuentro process, and [e]specially the national gathering, will go down in history as a special moment of grace for the Church in the United States in these turbulent and difficult times. As Cardinal Daniel DiNardo, president of the U.S. Conference of Catholic Bishops, aptly put it in his welcoming remarks: 'Amidst this darkness, the Encuentro is a light that shines and illuminates the way forward. The enthusiasm, the passion, the love and the joy of the Encuentro process are a means of grace, a gift to us as we rebuild the Church.'"