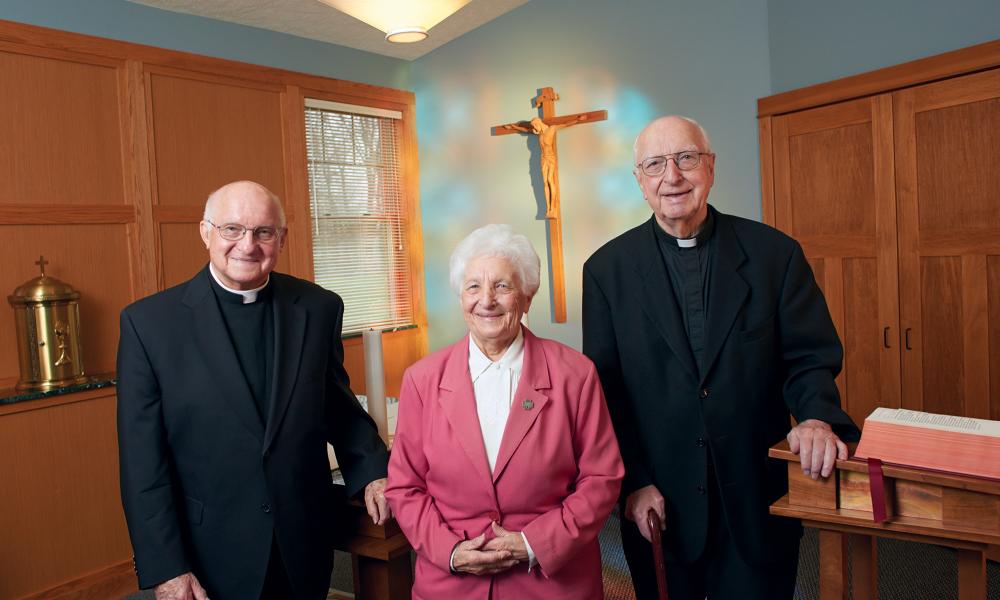 ---
Two priests and a sister who Live for God
Is there a fragrance that evokes memories for you? For the Fedewa siblings, Msgr. Sylvester, Father Matthew, and Sister Joanne, peppermint evokes wonderful memories of growing up on a mint farm between St. Johns and Westphalia. All three attribute their deep faith commitment to this homestead and the lived faith example of their loving parents. In fact, that is where Father Matt heard his vocational calling: "between the cow barn and house late one winter night. The bright moon was shining on the snow. I looked up at all the bright twinkling stars and had this feeling of infinity and that infinity must be God. I thought I could live my life serving someone that great."
For Msgr. Sy, the eldest of the three, his calling announced itself through the enticement of higher education. "It was not uncommon for sons of farmers to only complete the eighth grade. There wasn't an option for education if you were going to farm.  My cousin was a seminarian and invited me to come see the seminary. I had no idea what a seminary would be like, but I was enthralled when I visited. I decided it would be a great place to go. I was encouraged and influenced by my eighth grade teacher to consider the priesthood," he says.
Sister Joanne recalls how her family prayed the rosary daily and attended Catholic school: "I watched the sisters a lot and was impressed with their warm, cheerful, communal lifestyle. Around the sixth grade I began to hear a call from the Lord, but put it aside. I remember being at Mass on the feast of the Sacred Heart after graduating eighth grade, and it was very clear to me God was calling me to religious life. After Mass, my mother and I went to visit the sisters to discuss my decision."
In spite of being three of 11 children, the concept of sibling rivalry is foreign to them. Mutual support, however, is unbridled. Having collectively served the Flint area for 59 years, though never at the same parish, collaboration and mentoring are deep threads that run through their relationship with one another. Msgr. Sy was the pastor at Holy Redeemer in Burton for 18 years and Father Matt served at St. Michael in Flint for 16 years. In 1989, Sister Joanne went to Christ the King to serve as pastoral coordinator. That same year, her brother, Msgr. Sy, left Flint to serve St. Gerard in Lansing, while continuing his work in the diocesan offices. 
The three siblings are quick to acknowledge that they each bring different gifts to their ministerial roles, and are very proud of the others' accomplishments. Msgr. Sy, a self-proclaimed workaholic, "enjoyed administration. My focus centered on marriage and family. I worked with the Marriage Tribunal, Family Ministry and Cursillo, and brought Marriage Encounter to our diocese." Father Matt adds, "Father Sy was also responsible for raising funds to eliminate Flint Powers' [High School] $4 million debt. It is one of his greatest gifts."
In the 1960s, Father Matt had been teaching social justice during the civil rights movement and decided, "I needed to walk the talk so I signed up for St. Michael's, located in an 80 percent African-American neighborhood. I invited five other churches to work together and began Catholic Urban Ministry. We started the Father DuKette Intercultural Center and then DuKette Catholic School [which closed in 2006]. My goal was to provide ministry that would attract the African-American culture of our area. I also brought a youth retreat – Teens Encounter Christ – to the diocese and the Koinonia Retreat to the parish."
About the same time that Father Matt was developing Urban Ministry, Sister Joanne had a personal encounter with segregation: "I was in Gretna, Louisiana, and went to get on a bus with a black nun. I was going to sit in the back with her, but was not allowed to. I thought it terrible and unjust. We were both doing God's work and we couldn't sit together. This incident inspired me to work for justice and help break racial barriers. When Bishop [Kenneth] Povish invited me to serve at Christ the King, I was ready. While in administration there, we built a new church and hall. I am still there in a part-time capacity."
Sister Joanne also helped begin a new religious community in 1975, the Sisters of the Living Word, an apostolic community with sisters serving the United States in the Midwest and the South. She says, "At Vatican II, Pope John said to open the doors and let the fresh air in. The Sisters of the Living Word are engaged in accomplishing this through new ways of freeing the oppressed."
Fueled by their mutual support, each sibling also finds sustenance for their deep spirituality in select Scripture passages. Father Matt cites John 12:24, "Very truly I tell you, unless a kernel of wheat falls to the ground and dies, it remains only a single seed. But if it dies, it produces many seeds." That message of paschal mystery is so vital to him that it is already inscribed on his grave marker. Msgr. Sy clings to the Magnificat, Luke 1:46-55, "My soul proclaims the greatness of the Lord …" Sister Joanne chuckles, "Mine depends on the day, but one that is special is Matthew 28:20, 'I am always with you.' My final vow mantra was and is, 'Just Jesus Forever.' It is inscribed in my ring and the basis for my commitment and life journey."
All three agree that ministry opened doors in areas they never imagined, and they share their one collective regret: "There isn't enough time to do all the things we'd like to." As a testament to this statement, though all three are in their 80s, not one of them is fully retired: Msgr. Sylvester remains involved with the Cursillo movement; Father Matthew is a certified spiritual director; and Sister Joanne continues part-time ministry at Christ the King and volunteers weekly at a hospice center.
Just as their parents endowed them with a rich legacy of faith and love, the Fedewa siblings continue to bestow that heritage through their tireless inspiration, vision and commitment to God's people.
---
For more information on discerning a vocation to the priesthood or consecrated life, contact Father John Linden, director of vocations at 517.342.2507, or Dawn Hausmann, director of consecrated vocations, at 517.342.2506, or visit www.dioceseoflansing.org/vocations.
Parishes in the city of Flint:
St. Matthew, Christ the King, St. Michael, St. Mary, All Saints