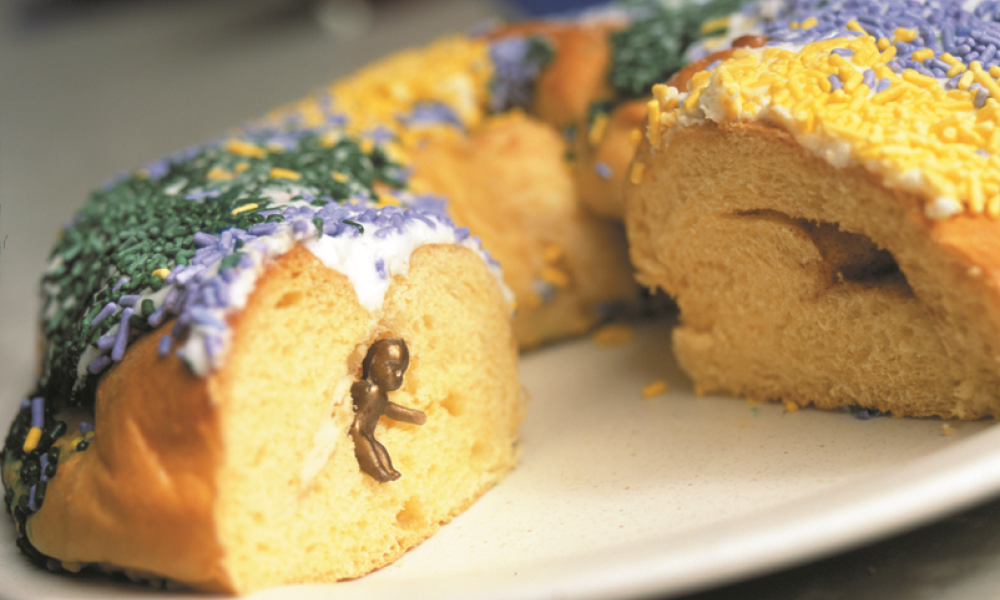 ---
Tomorrow, we fast – today, we eat
While Ash Wednesday marks a somber day of fasting and reflection beginning the Lenten season, the day before is a different story. New Orleans, in fact, has become famous, or perhaps, infamous, for its raucous Mardi Gras – Fat Tuesday – celebrations.
What most don't know, however, is that the roots of Mardi Gras can actually be traced to the Roman Catholic Church. Carnivals to celebrate spring fertility and the rebirth of vegetation were commonplace pre-Christian pagan rites.
Seeing that it was not going to succeed in forbidding the celebration, the Church decided it was time to join the party, so to speak, by making it part of Lenten activities. During the 400s to 800s, a time when Church law dictated that only one daily meal was to be consumed during Lent, Mardi Gras came into being. Flesh meat, fish, alcohol, eggs and milk products were strictly forbidden. The people of the time chose not to throw out the forbidden food which would, of course, spoil during the 40 days of Lent. Instead, a party was held   a carnival – the day before Ash Wednesday.
Today the Mardi Gras tradition is carried on in grand scale not only in New Orleans but also Rio de Janeiro, Nice and Cologne. You, too, can add a little merriment and perhaps rid your shelves of items you would like to sacrifice during Lent, by having a Mardi Gras party. All you need are masks, doubloons or gold coins, beads, friends, and a King Cake.
---
Traditional Mardi Gras King Cake
King Cake is a traditional Mardi Gras treat, baked and sprinkled with a sugar topping in Mardi Gras colors. The colors were chosen in 1872 by Rex, the King of Carnival in New Orleans, and stand for justice (purple), faith (green) and power (gold). You better watch out, though! If you find the "baby" in your slice of cake, you'll be the lucky one baking the King Cake next year!
1/2 cup warm water
2 packages active dry yeast
1/2 cup plus 1 tsp. sugar
3 1/2-4 1/2 cups unsifted flour
1 tsp. nutmeg
1 1/2 tsp. salt
1 tsp. lemon zest
1/2 cup warm milk
5 egg yolks
1 stick butter, cut in slices and softened, plus 2 T more
1 egg, slightly beaten with a T of milk
1 tsp. cinnamon
1 tiny plastic doll, not more than 1 inch long
1   Pour the warm water into a small shallow bowl and sprinkle in yeast and 2 teaspoons sugar. Allow the yeast and sugar to rest for 3 minutes, then mix well. Set the bowl in a warm place for 10 minutes until the yeast bubbles.
2   Combine 3 1/2 cups of flour, remaining sugar, nutmeg and salt. Sift into a large mixing bowl. Stir in lemon zest. Separate center of mixture to form a hole and pour in yeast mixture and milk. Add egg yolks. Using a wooden spoon, combine dry ingredients into the yeast/milk mixture. When mixture is smooth, beat in 8 tablespoons butter, 1 tablespoon at a time and continue to beat for 2 minutes or until dough can be formed into a medium soft ball.
3   Place ball onto floured surface and knead, gradually adding up to 1 cup more of flour. When dough is no longer sticky, knead 10 minutes more until shiny and elastic.
4   With a pastry brush, coat the inside of a large bowl evenly with 1 tablespoon softened butter. Place dough ball in the bowl and roll until the entire surface of the ball is buttered. Cover bowl with a heavy kitchen towel and allow dough to rise in a warm place for 1 1/2 hours or until dough doubles in size.
5   Coat a large baking sheet with 1 tablespoon butter and set aside. After the first rising, place the dough on a floured surface and punch it down. Sprinkle cinnamon, then pat and shape the dough into a long cylinder. Form a twist by folding the long cylinder in half, end to end, and pinching the ends together. Then twist the dough. Form a ring with the completed twist by pinching the ends together. Place the completed ring on the buttered baking sheet, covering it with a towel and allowing it to rise for 45 minutes or until dough doubles in size.
6   After the second rising, brush the top and sides of the cake with the egg and milk wash. Bake in a preheated oven at 375º for 25-35 minutes or until golden brown.
DO NOT ADD THE PLASTIC BABY WHEN BAKING!
7   Cool on a wire rack and hide the plastic baby in the cake.
8   Icing, Colored Sugars
Green, purple and yellow coloring paste (available at cake decorating supply stores)
12 T sugar
Divide sugar into three equal portions for green, yellow and purple. Add a tiny amount of the coloring paste to each sugar portion, mixing well to achieve proper tones. Set aside.
9   Icing, Poured:
3/4 cup confectioners sugar
1/4 cup lemon juice
2 1/3 cups water
Combine ingredients until smooth, adding more water if mixture is too thick.
10 Spoon icing over top of cake. Immediately sprinkle on colored sugars, alternating between the three colors. Serve in 2-3 inch pieces.