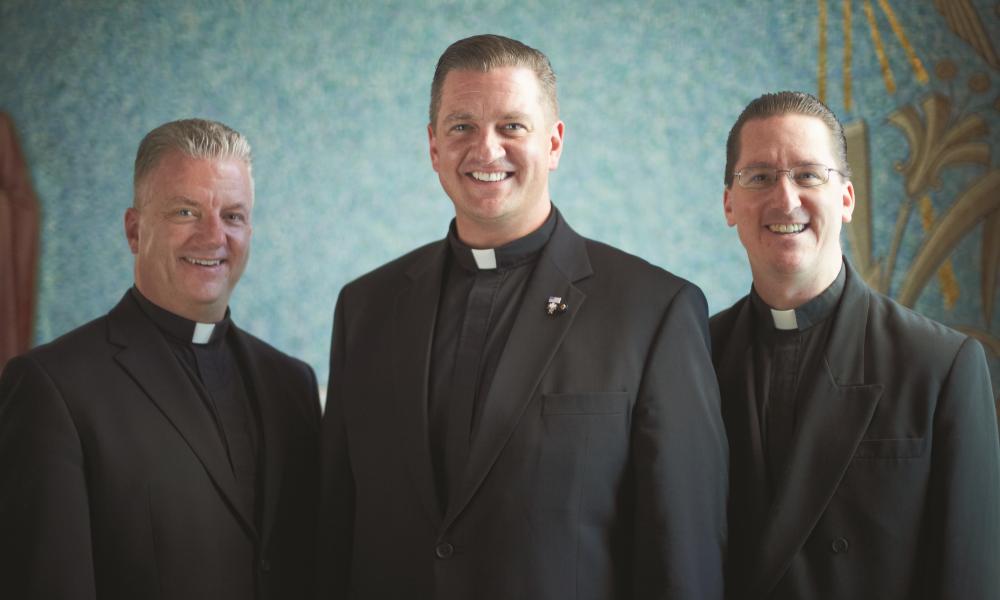 ---
Three brothers - Three priests
On a June weekend, Eben, Adam and Tim MacDonald returned to their childhood parish of St. Michael's in Flint for Mass. The only difference was that instead of serving as altar boys or participating from the pews, they concelebrated with Father Matthew Fedewa. As of June 2, the MacDonald family counts three priests in their family of six children. Father Eben, the oldest of the MacDonald children, was ordained June 2 in the Archdiocese of Los Angeles, joining his brothers Father Adam and Father Tim, who were ordained in 2000. Father Adam is a vocation director for the Divine Word Missionaries, while Father Tim is the pastor of Queen of the Miraculous Medal in Jackson and administrator of Our Lady of Fatima in Michigan Center.
The celebration at St. Michael's was a powerful one for the brothers, who have been the recipients of parish prayers and support over the years. Father Adam recalls looking at his brothers during the Mass, feeling emotional and thinking, "It's unbelievable." Seeing faces of family and friends, there to celebrate with the MacDonald family, the feeling of support and appreciation was palpable.
Celebrating Mass with Father Matt, the pastor at St. Michael's during their childhood, was traveling full circle for the brothers, who consider him a source of inspiration in their journey.
"He is like Nathaniel in the Bible," says Father Tim. "He never has a bad word to say about anybody."
Father Eben credits Father Matt with gentleness, kindness and all the hallmarks found in a true Christian. Both he and Father Adam worked for Father Matt at St. Michael's during their school years in Flint. Father Adam recalls the important role Father Matt played in his realization God was calling him to the priesthood.
On Holy Thursday in 1986, Father Adam was asked to participate in the foot washing ritual of the Mass. After Father Matt washed his feet and embraced him, the 15-year-old faced the powerful love of God with Father Matt as the physical conduit.
"I felt a real 'felt' presence of Christ," he remembers. "It was a very intense experience."
Family also was key for all three brothers in discovering they were meant to serve God as priests. An underlying current of faith and service was part of daily life in the MacDonald household.
"Our parents were both very active in the Church," says Father Eben. Father Adam recalls there were not lectures or discussions about faith, just witnessed behavior.
"It wasn't so much the words, it was the actions," Father Eben adds. "Faith is a part of life."
The example set by Laurence and the late Rose Ann began with joyful and constant Mass attendance as a family. Faith deepened their Catholic life, with participation both in the Mass, as well as in the parish itself.
"To me, going to church on Sunday was as natural as breathing," Father Eben says. "It's just who we are and what we did."
Laurence and Rose Ann welcomed Father Fedewa, as well as other priests and religious sisters, into their home for friendship and fellowship. The brothers remember with fondness having the opportunity of knowing committed religious members as people, not just as aloof Church leaders.
Beyond life at St. Michael's, Laurence and Rose Ann also reached out in the community to those in need. "They were always adopting people into our family," remembers Father Eben. The brothers recall two blind men who lived in group homes and shared the holidays with the MacDonalds. This outreach was done without fanfare and with a quiet grace.
"Christian service was a very powerful witness by our parents," Father Eben says.
"Had they talked about it, being a typical kid, I would have tuned it out," says Father Adam. "It was their lived example that spoke more powerfully than any words they might have said."
The best gift Laurence and Rose Ann gave each of their children was the support and encouragement to live the life they were meant to live, whether that was the priesthood or a different calling.
"There was never any pressure to pursue this lifestyle over that," Father Eben says. "They just wanted me to be fulfilled and find my true calling."
The call to religious life is a common thread running through the MacDonald family. Their mother discerned becoming a nun before her marriage, and their grandfather was in seminary until he experienced an injury.
As the eldest, Eben found himself, like many young people, wandering away from his Catholic faith while he was in college. However, realizing something was missing in his life, he found the joy of his faith again and became very active in the youth ministry at St. Michael's. He decided to discern religious life and entered the seminary for a year. Although he only stayed a year, it had an impact. Visiting his older brother during that year of formation made an especially strong impression on Adam.
"It was very inspiring," Father Adam says.
While Eben lived a secular life, his younger brothers found themselves drawn to the priesthood. Adam attended Divine Word College in Iowa. Over the years, he served as a missionary in the Philippines and in Japan. Around the same time, Tim entered the seminary to become a diocesan priest in the Diocese of Lansing, and was sent to Rome to study. The two brothers finished their seminary education at the same time. Adam requested ordination alongside his brother, so the two could share this special sacrament with each other and the rest of the family. Adam's religious superiors granted his request, and the two brothers were ordained together in June 2000 at St. Mary Cathedral in Lansing.
For Eben, a move to the West Coast could not fully quiet the voice of the Holy Spirit whispering to him. For many years, he was very active in his parish in California. "I found myself day-dreaming at work about 'What would I be doing right now if I were a priest?'"
When he found himself talking to people with great excitement and happiness about the parish life, where he spent only a few hours per week, as opposed to his successful job and financial security,  Eben knew it was time to change direction. He gave up life in the secular world and entered the seminary to become a diocesan priest for the Archdiocese of Los Angeles.
The whole family, except Rose Ann, whose illness allowed her to be with Father Eben only in spirit, traveled to Los Angeles to celebrate Father Eben's ordination on June 2. His new life as a parochial vicar began July 1 at Sacred Heart Parish in Lancaster, Calif., in the high desert area of Los Angeles County. Sadly, Rose Ann died Aug. 7.
The bond of brotherhood among Fathers Eben, Adam and Tim strengthens them as priests. There is a built-in support network that helps with all areas of their lives – spiritually, as administrators, and in working as priests to spread the Word of God and the love of Christ.
"We're never far from each other's thoughts and prayers," Father Tim says.
They all believe the priesthood is a sacred calling and hope families will begin to play a larger role in celebrating the vocation. Father Adam says interest in the priesthood is still strong in young men, but religious life is often seen as a loss for parents, and so the desire in many young men can be stifled.
"The Church always is rejuvenating," says Father Tim. "This is still a life worth living."
To see the joy and fulfillment in the MacDonald brothers as they live as priests, sons, brothers and men, there is no better inspiration for young men or older men to consider the priesthood as a vocation.