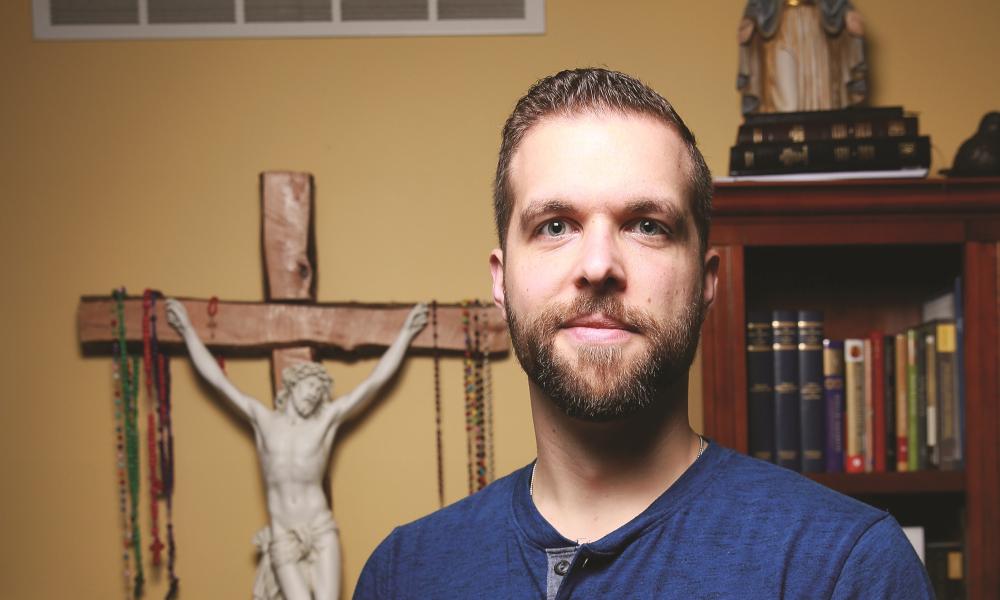 ---
For Taylor, 'Evangelizing is a Relationship'
What does it look like to be in tune with God? For Taylor Feldpausch, of Westphalia, being "in tune" is having the ability to open his mind and heart to God.
Every morning, Taylor wakes up an hour before his wife, Jessie, and their four kids. His wife, he says, is a silent force of prayer and a huge support to him. During that hour, Taylor spends his time in prayer and reflects on daily readings and God's will.
Taylor's faith impacts his daily life, and he says it is a lens through which he sees everything.
"The customers I deal with, my co-workers, my wife, my children, I view it all in the lens of how would Jesus deal with this situation? If I get in the way, the day looks slightly different," he says.
Once Taylor leaves his house, he spends his 30-minute car ride praying a rosary, and he completes his routine with a praise and worship song.
"That's the last pump-up item before I go into work," he says, laughing.
In Taylor's office is a crucifix, which is a simple hint that he is Catholic. If those hints are left for people to see, he says, "Things start bubbling up in [people's] lives" because "they need something more."
"One of the things I always try to do is just go out of my way to smile," Taylor says. "It's normally just pure grace that you can actually have a pep in your step and be able to smile at people. Push your problems to the side and show genuine interest in them. I think through that they start to notice something different."
Sharing his faith stems from prayer, and Taylor has been praying for his co-workers for quite some time. Recently, God has started making cracks in his co-workers' hearts, and for some, Taylor has gained more ground in bringing them closer to Christ.
"I can only do so much to bring people to him. Really, it's [God] who works on their hearts. I try to pray for God's will to be done in their hearts before I share my faith with them. Slowly but surely, if those people are the people we're supposed to meet, they'll say something," he says.
Evangelizing is a relationship, and that relationship can be rocked if we "over-catechize," he explains.
"I think sometimes that can actually hurt people who are already deeply wounded because it pushes them further away … A lot of people aren't ready for that. They need Jesus to heal their wounds. We need to accompany them on the journey, to listen to where Jesus is bringing us to help them come to him," he says.
Over the years, Taylor has used various resources to grow in his faith – from Formed.org to the St. Paul Center for Biblical Theology. He says it is important to learn as much as you can and be confident when sharing the faith.
"I think we need to not get caught up in evangelization for evangelization sake," he says. "I think the key to staying humble in it, from what I found so far – and I don't claim to know it all – is just getting in touch with the compassion that God feels for people."
Taylor closes his day of faith with nightly prayers with his family. He and Jessie also teach their children about how to live like saints.
"I think through teaching them and showing them that it's through a life of prayer, through knowing God – that they can bring him to others," Taylor says.