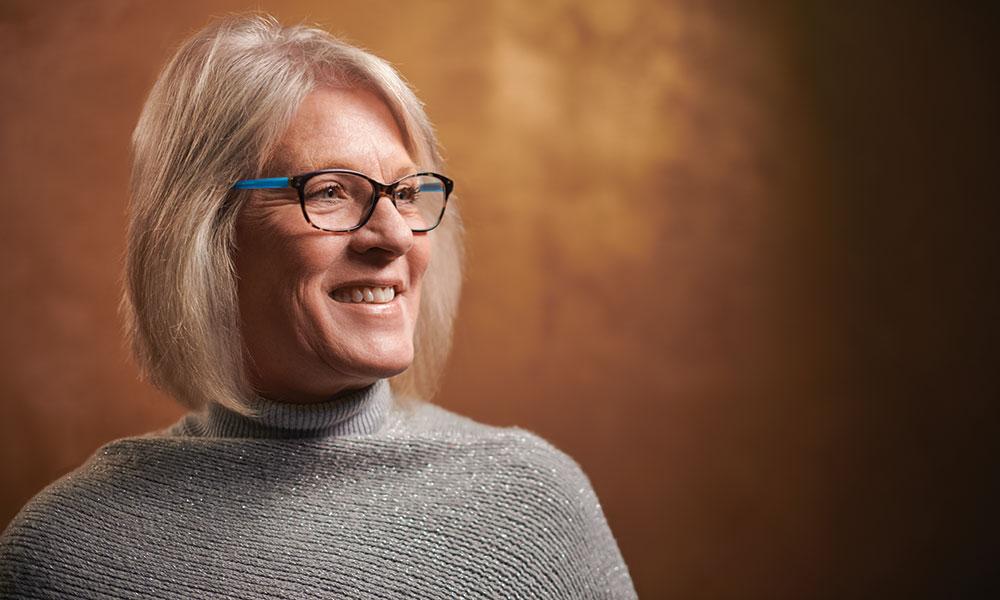 ---
Tammy Provides Faith-Based Counseling in This Difficult Time
'There is always hope, there is always help'
Eight years ago, Tammy Render-Morris felt led by God to make a dramatic change in her life. After being a business owner for 18 years, "I made the decision that my life was no longer mine. It was God's.
"St. Catherine of Siena has always been a hero of mine. Her focus was love and freedom from the bondage of sin and fear. She said, 'Freedom to think and freedom to act: these are the two forms of freedom that mark our dignity as human beings. Any loss of that dignity is an unspeakable tragedy.'
"Her words inspired me to go back to college for a master's in counseling. I also earned a license in Christian counseling. It was a process of letting go and letting God. Taking classes, closing out my business and raising kids wasn't easy.
"I just knew God would lead me. One of my guiding Scripture readings, 2 Timothy 1:7, says, 'For God has not given me a spirit of fear but of power, love and a strong mind.' It has been the greatest choice because it has empowered me to help others in ways I never could as a business owner.
"This has been especially true in this time of COVID-19. Isolation is tough. It's the worst thing for people struggling with addiction because they don't have the personal contact they need. Being separated from our families, and our faith families, people are really struggling. Depression is rampant. Suicides are up. Addictions are out of control. And our mental health system in this country is absolutely broken.
"Yet, overall, there is always hope. There is always healing. There is always help!
"If someone is thinking about ending their life or seriously harming someone else, they should call 911 or go immediately to the nearest hospital.
"Those experiencing depression or just needing to talk with a professional, can call their local Catholic Charities agency.
"For anyone struggling, I invite them to look at what they can really control, and let go of what they can't. It is definitely a process to release through faith, but we have God and the Holy Spirit to help us.
"Making a gratitude list every day helps focus on the good things we have in life rather than worrying about the negative.
"And each of us should be taking really good care of ourselves, physically, emotionally and spiritually. Attending Mass online or periodically as our parishes reopen should help a lot. But don't forget to get exercise, eat healthy foods and get outside regularly. These simple steps can fall by the wayside, but they make a difference in helping us cope with whatever life sends us.
"On the upside, those who have social anxiety are loving this time! They are developing new hobbies and appreciating that everyone is staying home now. And many of us are recognizing what is truly important. Some are making plans to reorganize their lives around their families and do things that have deeper meaning and purpose.
"Fear of the unknown weighs heavily on our society today, so I go back to St. Catherine of Siena for inspiration. She said, 'With the love we have drawn from the gentle, loving word, we will love our neighbors. Love them purely, faithfully seeking their salvation and helping them to the best of our ability with whatever God has given us to administer.'
"It gives me hope and reminds me of what Jesus taught us. 'For the whole law is fulfilled in one word. You shall love your neighbor as yourself.' (Gal 5:14) We will get through COVID-19 and through all our challenges because God is always with us!
"There is always hope. There is always healing. There is always help."
---
For counseling inquiries, call your local Catholic Charities agency:
Catholic Charities of Jackson, Lenawee and Hillsdale Counties:
Jackson: 517.782.2551
Adrian: 517.263.2191
Catholic Charities of Shiawassee and Genesee Counties:
Owosso: 989.723.8239
Flint: 810.232.9950
Catholic Social Services of Washtenaw County:
Ann Arbor: 734.971.9781
Livingston County Catholic Charities
Howell: 517.545.5944
St. Vincent Catholic Charities
Lansing: 517.323.4734