---
Take 'heart' in Knowing Jesus Loves You
The day after Christmas, the store aisles instantly turn red and pink, and hearts start popping up everywhere. And then on February 14, heart-shaped boxes of chocolates are given to loved ones, chalky heart candies with messages are exchanged in schools, heart-themed desserts are shared on Pinterest and entire paychecks are spent on heart-shaped diamond-studded jewelry … all in the name of saying "I heart someone!"
Don't get me wrong, I have nothing against Valentine's Day and the Roman Saint whose name it bears. But while Valentine's Day has been mostly secular, the Church celebrates another feast that has the heart as its significant symbol – the Sacred Heart.
Sister Margaret Mary Alacoque, a French nun, had a vision in 1675 of Christ himself revealing his Sacred Heart. His request to her was that his merciful love for all of humanity be made evident through her, since we have become lukewarm and forgetful of his salvation.
Since then, the observance of the Sacred Heart of Jesus was recognized in the Church calendar in 1856 by Pope Pius IX and later elevated to a Solemnity in the late 19th century by Pope Leo XIII. The entire month of June is dedicated to the Sacred Heart, and the Solemnity of the Sacred Heart of Jesus is celebrated 19 days after Pentecost. 
After reading up on Saint Margaret Mary's visions of Jesus and what he revealed to her about his infinite love for us, I was deeply moved and compelled to have our family make an act of consecration to his Sacred Heart. The prayer can be found online along with other devotions to the Sacred Heart of Jesus. I encourage you to join us!
And of course, my kids have learned that no solemnity or feast is complete without a treat. Upon my 13-year-old recently observing that her sliced strawberry looked like a heart, an idea popped in my head. So, go and gather a couple of pints of in-season strawberries and a few other simple ingredients … and take heart in knowing that Jesus loves us infinitely!
---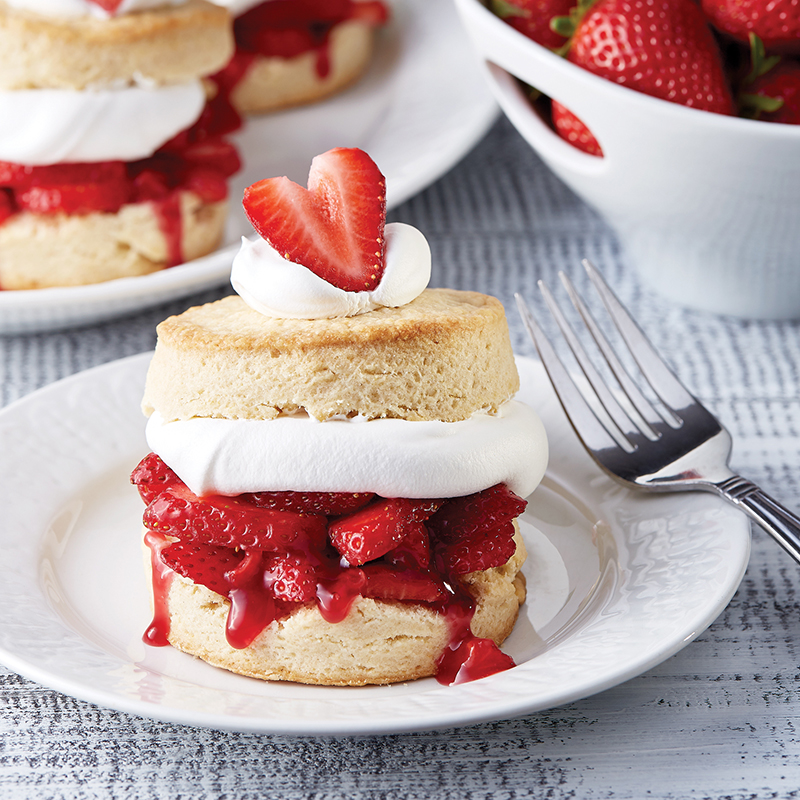 Strawberry Shortcake (makes 10-12 servings)
2 pints strawberries (washed, hulled and sliced lengthwise)
½ cup plus 2 tablespoons sugar
3 cups flour
¼ teaspoon salt
1 tablespoon plus 1 teaspoon baking powder
1 cup butter (divided)
1 ¼ cups heavy cream
Whipped cream topping (store-bought or homemade)
Set aside 10-12 of the largest slices of strawberries (for "heart" toppings). In a large container, gently crush about half of the remaining strawberries to release the juices and then mix them with the other half plus ½ cup sugar. Place in fridge.
Preheat oven to 425 degrees.
In a large mixing bowl, combine flour, 2 tablespoons sugar, salt and baking powder. Add ½ cup of softened butter, and pinch into dry ingredients. Add heavy cream and combine into soft dough. Knead the dough on a lightly floured surface (for about a minute or two). Roll dough to about ¾-inch thickness. Using a biscuit cutter, cut out the rounds.
Place the rounds on a parchment lined baking sheet. Melt remaining butter and brush on each round. Bake for 12 to 15 minutes, or until light golden brown on top.
Remove from the oven, and gently break the biscuits apart using a fork. Place a bottom half of shortcake on each plate. Top with a generous spoonful of berries and whipped cream topping. Cover with the top half and add whipped cream topping and a sliced berry "heart." Serve immediately.