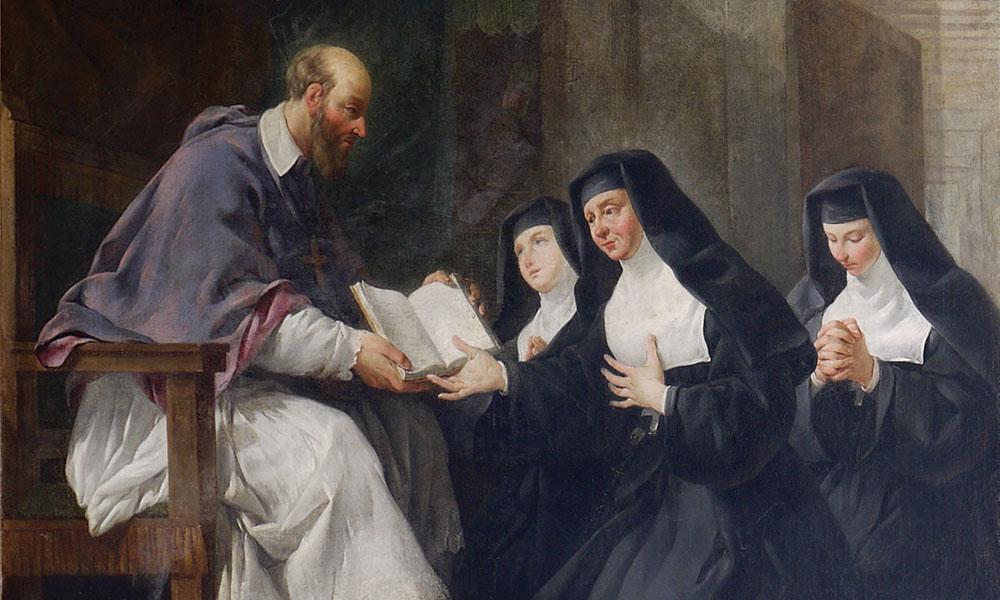 ---
The Summertime Saint: Jane Frances de Chantal
"Should you fall even 50 times a day, never on any account should that surprise or worry you. Instead, ever so gently set your heart back in the right direction…"
It's advice she could deliver with conviction because they were words she had lived. St. Jane Frances de Chantal's life story could have easily been a tragic one had she not been buoyed by her steadfast faith. Instead, she went on to lead a life worthy of sainthood, one defined by resilience and dedication to the service of others.   
Born to a well-established family in Dijon, France, in 1572, Jane was privileged yet profoundly spiritual from an early age — a quality instilled by her father, Bénigne Frémyo, the president of the Parliament of Burgundy. 
Seemingly destined for a life of well-heeled nobility, Jane married the Baron de Chantal when she was 20 and went on to have four healthy children. However, her comfortable life took a tragic turn when her husband was killed in a hunting accident, leaving her a widow at the young age of 28. 
In the face of abject heartache, the baroness took a vow of chastity. Depressed and adrift, she turned to her faith for the solace and strength she needed to move her life forward, and it was a commitment that did not go unnoticed. While at church, she caught the attention of the bishop of Geneva, St. Francis de Sales, who became her spiritual director and close friend. Under his guidance, Jane embarked on a path of profound spiritual growth.   
Jane co-founded the Congregation of the Visitation with de Sales in 1610. The order was remarkable for its time, as it welcomed women who were rejected by other orders due to their age or health condition.
When people criticized her, Jane famously said, "What do you want me to do? I like sick people myself; I'm on their side."
Jane faced considerable opposition and hardships in establishing the Visitation Order. However, she remained steadfast, reflecting her strength of character and relentless dedication to her faith and service. As her reputation for sanctity and sound management grew, so did her community. By the time of her death at age 86, de Chantal's order had grown to include 13 houses and was renowned for its deep spirituality and social services.
To this day, St. Jane Frances de Chantal's teachings and actions continue to inspire the faithful. Her devotion to prayer, unwavering commitment to serving others, and resilience in the face of adversity exemplify the Christian virtues. She often reminded her sisters in faith that "the greatest secret of happiness is to be at peace with God and to be content with one's state in life."
We remember St. Jane in a particular way during the summer months, thanks to a meditation she created for herself to use each day. During her prayer time, she would imagine herself floating in the ocean. Relaxed, on her back with the sun overhead, she would let the water uphold her as she released her afflictions like buoys floating away toward God. She would then spend her day trusting that God would hold and address each hardship for her. When those worries came back to her, as worries often do, she again pushed them toward God until one day each buoy was finally gone.
St. Jane Frances de Chantal was canonized in 1767. Her feast day is celebrated on Aug. 12. Her life and work offer a powerful testimony of faith and service, serving as a beacon for believers navigating the challenges and adversities of their own lives.