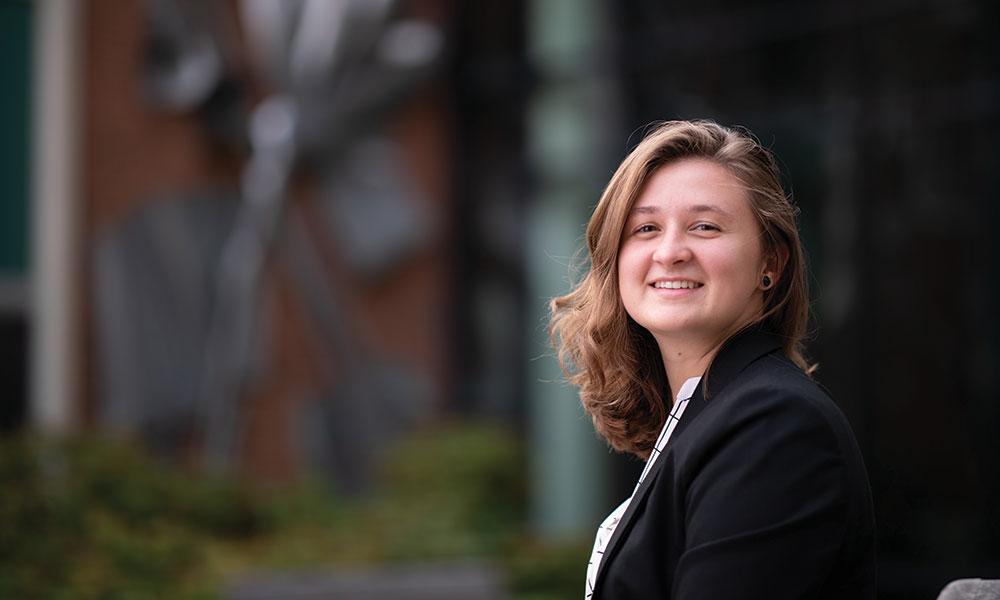 ---
Stand Up For Yourself And Share What You Believe In
On Campus, Autumn leads Cornellians for Life
"Going to the March for Life is like getting a big hug. I fell in love with the energy there."
Autumn Cramer attended her first March for Life her first year in college. And she has never looked back.
Growing up in a pro-life family and understanding from a very young age that life begins at conception and ends at natural death, it may not seem surprising that she attended the annual rally for life in Washington, D.C., when she got to college. But Autumn didn't stop there. She wanted to find a voice for her beliefs, and allow others to speak up as well.
Autumn entered Adrian College in 2018. In one short year, she joined the Catholic Student Association, attended her first March for Life and learned about different ideological boxes. After attending the march, she realized "there was another side to anti-abortion," she says.
In addition to pro-choice activists at the march, Autumn experienced the argument daily from her roommate. Autumn outwardly professed her beliefs with pro-life posters and bracelets, but she knew if she was going to convince her roommate abortion was wrong, she needed to arm herself with facts.
"I had never looked into abortion before. In my research, I realized that no matter what perspective you look at it – scientifically or philosophically – it all points to the fact that abortion is wrong. My belief is mostly grounded in my faith as a Catholic, but was furthered by any evidence I could find," she says.
Looking back, Autumn says she should have approached her roommate from common ground – now that she has had communication training from Students for Life – but instead, she and her friends would regularly share facts with her roommate. They agreed to disagree, and Autumn continued to advocate for the smallest human life.
In 2019, Autumn transferred to Cornell University and joined a Catholic student group. Autumn didn't hide her pro-life beliefs, and often wore her Pro-Life Generation bracelet. It was a simple act, but one that led to a new friend – after a classmate saw the bracelet – and the idea to start a pro-life group on campus.
"There is a stigma on college campuses that if you have any belief that contradicts the status quo, you won't be accepted or have friends. That's not true," Autumn says. "I would encourage anyone who is pro-life and on a college campus to be brave and take that first step – even if it's putting a pin on your backpack. You never know who you are going to meet if you stand up for yourself and share what you believe in."
Autumn worried she and her friends would face a negative reaction from the school administration about starting a pro-life group so, once again, she began researching – this time, about how to start a club at Cornell.
Once the research was done, she and a handful of students met on a Friday at 7 a.m. to write their constitution, determine what makes a person a member and name the club. About a week after they submitted their information for Cornellians for Life, they were accepted.
"We all realized this was something Cornell needed, so we just did it," she says.
The group then connected with the nonprofit organization Students for Life, and trained on how to effectively communicate their beliefs with people who are pro-choice.
"A lot of times, people who are pro-choice and approach you think they have nothing in common with you, but it's so easy to find the common ground," she says.
Recruitment started by word of mouth, and then in the winter, Cornellians for Life hosted a table at the university's "club fest," signing up five new members. When COVID-19 forced the school to close in the spring, the group shifted to a virtual platform, where they continued to train with Students for Life and make phone calls to encourage people to vote pro-life.
When the school reopened for the new academic year this fall, half of the Cornellians for Life members are on campus while others, like Autumn, are virtual. However,  this isn't slowing the club's agenda to grow and educate. The group recently finalized its virtual "pro-life boot camp," which includes social media recruitment and attending Cornell's virtual club fest.
"We're going to devote most of the semester to educating and training our current members so they are ready to hit the ground running and have the conversations that need to be had once we return to campus," Autumn says.
"When you're talking to another person, regardless of what they believe, you have to respect and love them," she says. "People will try to get a rise out of you, so I tell the group, 'Kill them with kindness, stay calm and collected, and treat them with love. Then, they're more likely to open their mind and their heart to what you're saying.'"