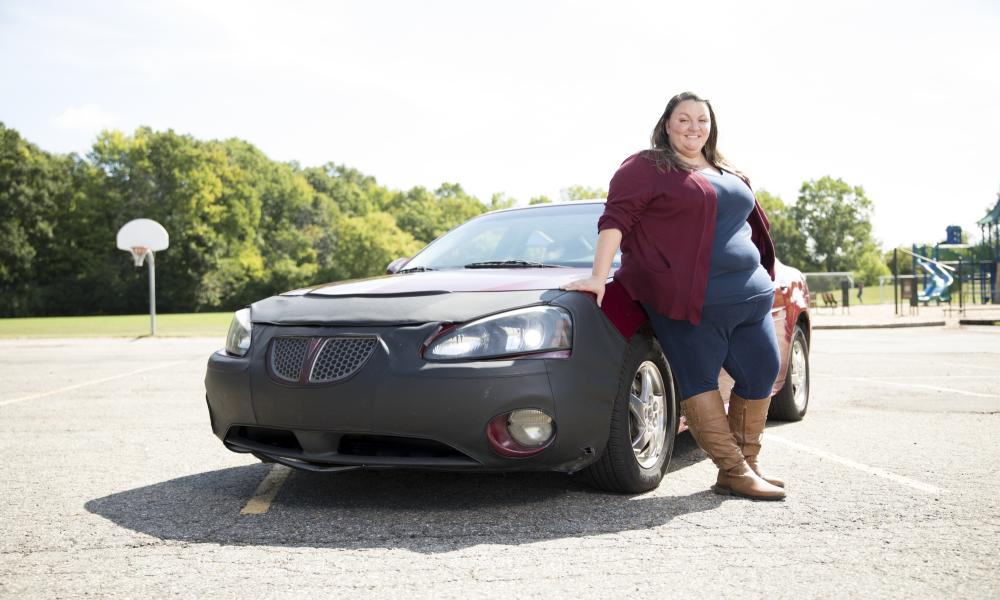 ---
St. Vincent de Paul micro-loan changed Lynda's life
Could you do some good with $10,000?
The Society of St. Vincent de Paul of the Lansing District Council can! When the council received $10,000 from an anonymous donor inviting it to do something good, the organization set about establishing a micro-loan program to help individuals get through a financial crisis.
Program chair and retired sales manager, Dan Shimkos, explains. "Even if you're working, one hard knock can push you into financial hardship. Sometimes once you get in, you can't get out."
Next to Dan, Lynda Bueno nods in agreement. "People don't understand if they've never faced it. Think of a boat. Waves and bumps hit differently on a boat than they do on a yacht – a lot differently. It just takes one hard wave to knock their boats and budgets off balance. When we have a heat wave, most people turn on their air conditioning and pay the extra $100 in electricity. For me, that $100 is my groceries.
"Regular mistakes any young adult makes can throw you on your head when you don't have the cushion of family support. Even though I have worked up to three jobs at a time since I was 14, I got thrown into life head-on.
"I worked, earned straight A's and played softball in high school. Then I found I was expecting a baby no one wanted me to have. I prayed long and hard, and just knew that giving my child life was a blessing from God, no matter what the rest of the world thought. I would have to work twice as hard to support me and my child, but it was worth it.
"I graduated high school on time, worked a full-time job and went to a for-profit training academy with a brand-new baby. Being young, alone and from a low-income family, I didn't understand the repercussions of student loans or credit in general. Within a year after high school I had earned a certificate as a medical assistant but didn't have a job. What I did have was over $15,000 in student loans.
"They say, 'God doesn't give you more than you can handle.' Well, he must think I'm a body builder because he sure does give me a lot!"
Dan nods, "Lynda contacted me because she was facing a huge bill at the same time her car was falling apart. She is a hard-working, single mom doing everything she can to make a good life for herself and her daughter, Sophia.
"Our program is part of a larger initiative by the national St. Vincent de Paul Society. Across the nation, St. Vincent de Paul Societies are working to create systemic change in our society and in individuals' lives.
"We work closely with Michigan State University Federal Credit Union (MSUFCU) to operate our program locally. They have been phenomenal! When we were looking for financial institutions, most couldn't see a way to participate with us. But MSUFCU was excited. They welcomed us and took care of the legal aspects and paperwork to get our micro-loan program off the ground.
"In addition to the low-interest-rate loans, we help some of our clients work through a program called Your Money, Your Goals. It's published by the U.S. Consumer Financial Protection Bureau, so it's available for free, online or in print. Lynda is one of those clients."
Smiling, Lynda continues her story. "After a few years living in an unhealthy relationship, I just knew God wanted more for me. It wasn't easy to break free, but eventually I found a place where Sophia and I could live on our own. We were ready to move in when the manager told me Consumers Energy wouldn't turn on my power until I paid an outstanding bill. The problem was, I never knew I had it.
"It turns out that when Sophia was a baby, I moved out of a place I was sharing with another person. Even though I settled all my bills, I didn't know I needed to remove my name from the Consumers Energy account. Because I didn't, I was partially responsible for the energy my roommates continued to use but didn't pay for. With the interest penalty they been assessing for almost 10 years, I owed $1,500. That was impossible for me, even though I have a job working at a call center where we help people understand Medicaid.
"Professionally, I know all the ins and outs of getting assistance, and as smart as I am, I still struggle. We help poor people on behalf of the State of Michigan but aren't state employees.  I understand what a lot of them are facing.
"I can't tell you how many adults don't know what credit is. For example, when you're poor you can't lease a car or get a credit card, so you go to the corner dealer when you need a car. When the car breaks down, you stop paying on it because you can't use it. Most of them don't realize that follows you. It follows you forever – just like my Consumers Energy bill.
"Being a single mother, I was so scared of becoming a statistic. I work twice as hard to make sure that, if I couldn't be rich, I would at least be smart." That is when someone recommended the St. Vincent de Paul Society at St. Martha's Parish in Okemos. "Pretty soon, I met Dan Shimkos," she continues.
"When Dan gets a hold of you, you walk out a whole new person! With his help, the Department of Human Services and St. Vincent de Paul covered the full $1,500, and I was able to move Sophia into our own home. At the same time, my car was falling apart, so Dan told me about the micro-loan program they were starting. I was able to borrow $750 to fix my car. I have been repaying it at $41 a month and working with him to build my credit score and become more financially stable.
"I didn't even know I could borrow because my credit score was so low. Now my credit score has gone up 60 points! And with this micro-loan, MSUFCU serves me just like they do every other member."
Dan's excitement for Lynda shines on his face. "Lynda has helped us, too. She's improved our program with more effective outreach and given us a better understanding of people's life situations. She's as big a supporter for me as I am for her."
Lynda adds, "Honestly, I wouldn't have been able to do it without my faith. I just think if God brings you to it, he'll bring you through it. And he has, with the help of Dan and St. Vincent's!
---
St. Vincent de Paul micro-loan program
The St. Vincent de Paul program provides loans for up to 18 months with a $750 maximum to prequalified borrowers. Unlike pay-day lenders whose fees end up costing multiple times the original loan amount, St. Vincent charges just 3%. And the program pairs loans with financial education and personal support as needed. The goal is to help, not hinder, so the program takes extra steps to help its clients build credit and establish solid financial footing. MSUFCU plays an important role in helping partners improve (or build) their credit.