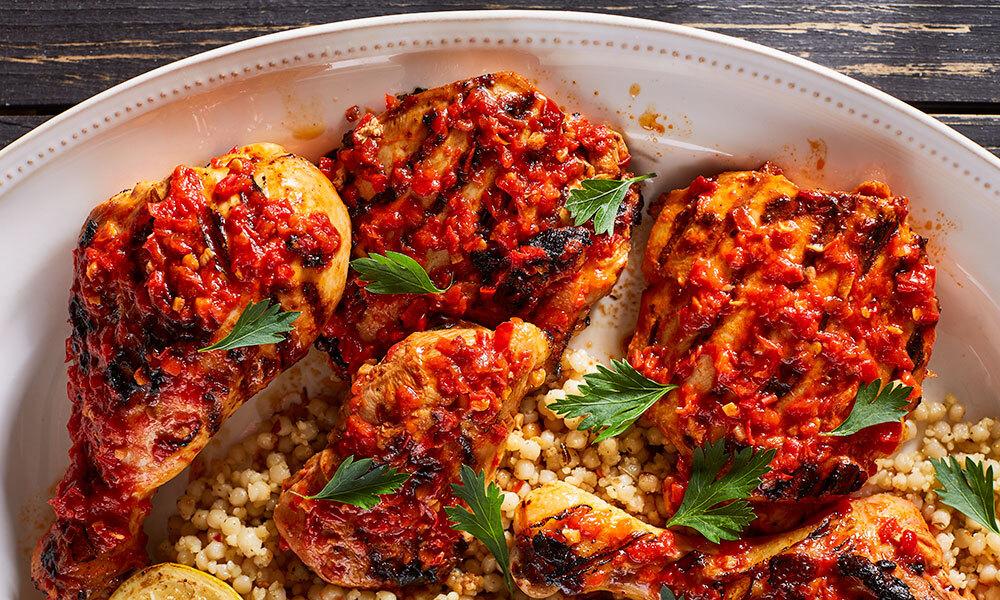 ---
The Spice of Life
A few years ago, my husband made a wonderful and exotic chicken dish with the help of our "sous-chef" son, Joey. I recollect enjoying it immensely despite the fact it had a lot of spice. And I also remember how surprised I was that my then-8-year-old son could handle the peppery heat, since he devoured several pieces of the chicken in one sitting!
But if you know Joey, you might think it's apropos since a spicy dish kind of mirrors his spirited and passionate personality. As a toddler, my middle child's passion would challenge us as parents. He was a loud, ruckus, beautiful boy whose energy and enthusiasm would get him into trouble, and bring "spice" to our lives. It wasn't just the "terrible twos," but the terrible threes and fours as well! I remember during the antics, tantrums and shenanigans praying for the patience and grace to not lose my temper and lash out at him.
I often think of St. Monica and how she held it all together. With a hot-headed husband, a difficult mother-in-law and wayward son, one would think her life might be complete chaos. But instead, she was a person of patience, perseverance and prayer. And it paid off for her, as her once-troublesome son, the man we call St. Augustine, mended his wayward behavior and channeled his passions into total holiness and obedience to God.
I am proud and thankful to report that today, although he still has his moments, Joey has grown into a wonderful, obedient young man who runs deep and is very affectionate. It's only so appropriate that he announced a few months ago he had chosen St. Augustine to be his saint for his recent sacrament of confirmation.
Like the Harissa chicken my husband prepared, St Augustine also has roots in North Africa. I don't know if the cuisine of his time included this recipe or anything like it. but I do like to imagine the people of that era spicing up their food to give it zest, energy and amazing flavor. In my son Joey, as in the life of St. Augustine and in Mediterranean cuisine, uncontrolled use of spice can be a problem, but when controlled, measured and applied correctly, it brings joy and adds flavor to our lives!
Do a web search to learn more about these amazing saints, St. Monica and St. Augustine (feast days August 27 and 28)
2 red bell peppers
3-4 cloves garlic (minced)
1 small onion (roughly chopped)
Juice of one lemon
¼ cup tomato paste
2 tablespoons extra virgin olive oil
1 tablespoon fennel seeds
2 teaspoons paprika
1 teaspoon chili powder
1 teaspoon cumin powder
1 teaspoon coriander powder
½ teaspoon ground cloves
¼-1 teaspoon cayenne pepper (depending on desired heat)
Kosher salt to taste
8 chicken thighs or legs (skin removed)
Preheat broiler to high. Place red bell peppers on a baking sheet (6 inches from heat source) and broil for 10-15 minutes or until skin blackens and peppers are tender (rotating halfway for even doneness). Remove from the oven and place into a small paper bag. Close bag and allow to sweat for 10-12 minutes.
Meanwhile, heat a sauté pan and toast the fennel seeds for 30-40 seconds (without burning). Using a mortar and pestle (or spice grinder), grind toasted seeds into a powder and set aside.
Heat the oil in a frying pan over medium heat and add the onion and garlic. Cook 6-8 minutes until fragrant and slightly translucent.
Remove most of the charred skin and all seeds from the bell peppers and throw in a blender or food processor. Add all spices, onion mixture, lemon juice, tomato paste and salt. Pulse until well combined.
Place the chicken thighs/legs in a gallon zip-top bag and add ¾ of the harissa mixture (reserving the remaining for basting). Seal bag and work the mixture together until the chicken is completely coated. Refrigerate for at least two hours or overnight.
Preheat grill to medium/high heat. Place chicken on grill and cook on both sides until chicken is fully cooked through (basting occasionally with remaining harissa). Serve with couscous or rice.