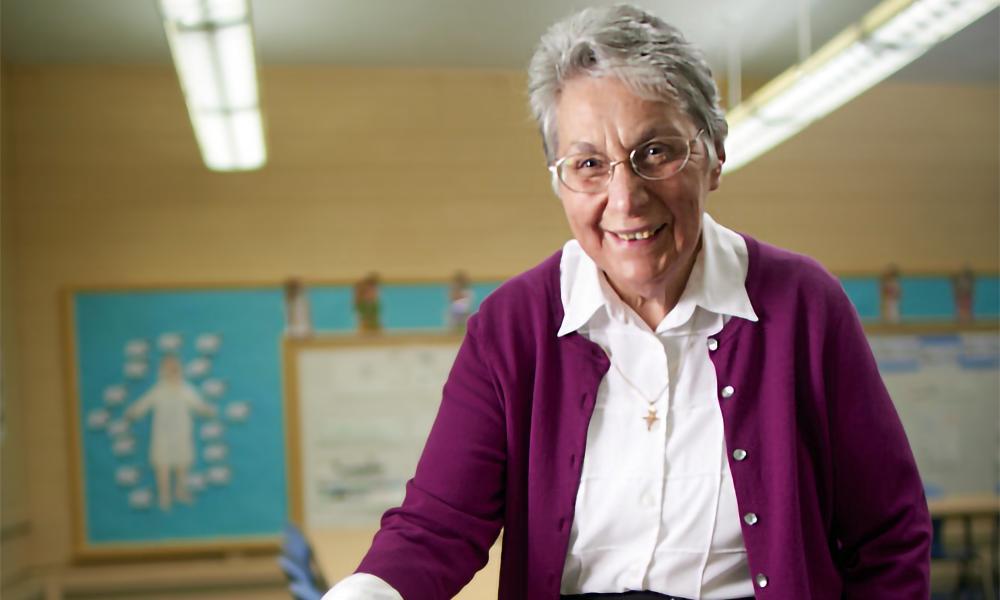 ---
Sister Theresa helps kids 'believe in their own goodness'
Sister Theresa Fifer, O.S.F., believes her life with the Sisters of St. Francis of Mary Immaculate in Joliet, Illinois, was formed by her mother. The importance of all life was taught every day by her mother.
"She set us up for the Franciscan way of life without even knowing it," Sister Theresa says. "She was a very ethical and compassionate person."
Raised Catholic in Toledo, Sister Theresa always loved the Church. "I felt called as a child," she says. "When I was younger, people thought I would end up in the convent."
In her later teen years, the call of marriage and family was stronger for the young woman. It wasn't until after her marriage ended in divorce and she spent 10 years as a single mom that Sister Theresa again began thinking about religious life.
Her cousin, a Joliet Franciscan, sparked a connection, and Sister Theresa asked the order to allow her to discern life as a vowed religious.
"I didn't feel drawn to any other orders," Sister Theresa says. "I felt the Franciscans were more attuned to my spirituality and personality. They were just like family to me."
Although the order had not previously had a formerly married woman with children and grandchildren, they welcomed Sister Theresa. Her children, who were grown, also supported her decision.
"My religious community is a very loving and supportive community. It's just constant balancing. How do I stay faithful to my religious vows and to my family?" says Sister Theresa. "I owe a lot to my kids. They are very unselfish and loving and they are very unmaterialistic. I'm just Mom to them. Following the call worked, but it took effort on everyone's part."
This year, Sister Theresa celebrates the 25th anniversary of her religious vows with the Joliet Franciscans. She is the first to admit many challenges on her journey, but Sister Theresa feels blessed with the love of her children and her sisters in community.
For 21 years, Sister Theresa has served St. Patrick's Catholic Church in Brighton by leading the religious education program. Bringing her faith, theological education and experience as a mother to her ministry with the parish families has been a very good combination.
"I still teach eighth grade and I love it. Everybody in our department believes the job is a ministry and a call from God. We have about 700 children and youth in our program. It's a big job that requires team effort," Sister Theresa says. "Helping kids to believe in their own goodness is a blessing. I remind my students that holy does not mean perfect. Holy means that you're trying and you're asking God to help you."
Although Sister Theresa's life has had many twists, her faith has always kept her on course. "I have always seen everything through the eyes of my faith," says Sister Theresa. "My mother always lived her faith and set a wonderful example for us. My father was not Catholic, but he loved my Mom, and her Catholic faith was part of the package."
Retirement is just around the corner for Sister Theresa. Leaving St. Patrick will be difficult, but she believes the program she nurtured will continue to grow and serve the families of the parish for years to come.
Whatever the next chapter in her life holds, it will certainly involve faith, family and community. "Our faith is an integral part of us," Sister Theresa says. "It affects how we interact with everyone. Religious life is a powerful way to make a difference to the world. People need to know that God loves them dearly."