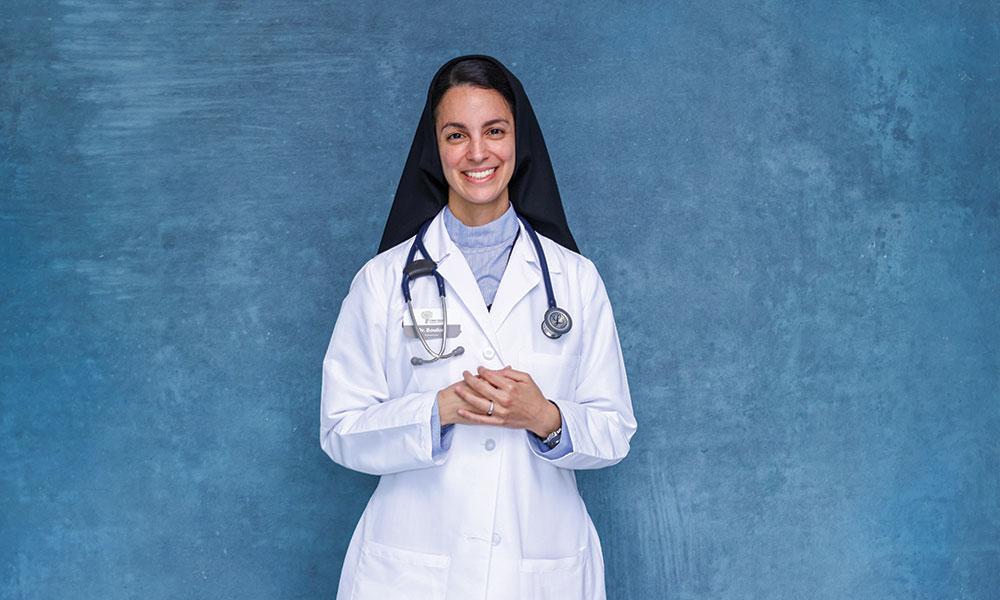 ---
Sister Mary Rafqa Boulos, RSM
As a young woman, Sister Mary Rafqa Boulos was never asked if she considered the religious life. Still, the pull was there.
"I always felt that God was asking me to serve others," she remembers.
That may be why she decided to pursue a career in medicine, but while studying for her pre-medicine degree, she discerned that God's call went deeper than that. He was inviting her to the religious life.
Sister Mary Rafqa says it was by the grace of God that she was led to the Religious Sisters of Mercy of Alma, whose commitment to health care matched her own. "I felt really called to our charism of mercy," she explains.
She completed medical school at Ohio University and is now a part-time pediatrician at the Cristo Rey Community Center in Lansing. In addition to spending three days a week seeing patients at the clinic, she is the local superior of the sisters' house in DeWitt.
"In religious life, you don't necessarily plan ahead," Sister Mary Rafqa says. "You learn to be open to what God might be asking of you."
Serving at Cristo Rey is something she never anticipated, but she is grateful to be at the center now. "I love the people," she says. "It's a diverse patient population, [and] it's a pleasure to serve."
When it comes to her work in pediatrics, Sister Mary Rafqa says it is rewarding to be able to help parents improve their children's health, even though finding resources can sometimes be a challenge. Beyond that, "children are a lot of fun," she adds with a smile. She is grateful, too, that she can work with Dr. Aimee Leisure-Martins, also a pediatrician and the present medical director of the clinic.
Providing Catholic care means helping people regardless of where they are in life, and that's something Sister Mary Rafqa says the staff and volunteers at Cristo Rey do very well. Despite limited resources, they offer a comprehensive suite of services to families facing difficult circumstances. The staff is highly committed, as evidenced by the presence of the former medical director, Dr. Peter Cooke, an internist physician who loves his patients.
In a noisy world, it can be hard to hear God's call, but for Sister Mary Rafqa, it is clear where she is supposed to be right now … at a Catholic clinic in Lansing, ministering to God's people.