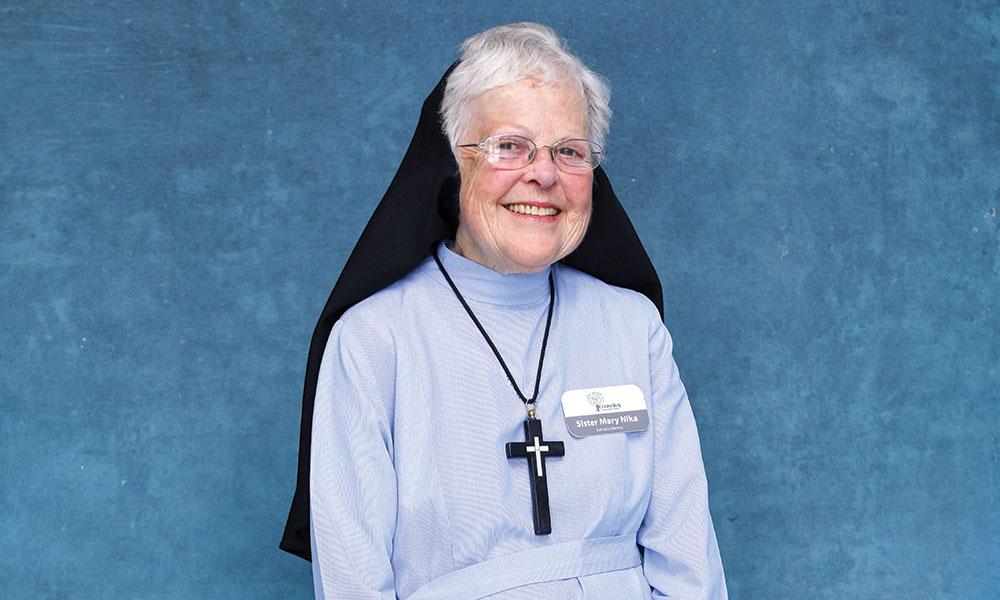 ---
Sister Mary Nika Schaumber, RSM
Catholic Identity in Action
Sister Mary Nika Schaumber is no stranger to the religious life. She entered religious life in 1969, and in the 50 years since, she has become a canon lawyer and worked to address ethical and moral issues surrounding health care.
"My work is primarily with the Catholic identity – what it means to have a Catholic health care clinic," she says.
For 12 years, she worked at a Catholic hospital in Tulsa, Oklahoma, doing this work, and now she has come to Cristo Rey Community Center in Lansing to support the work of CEO Joe Garcia.
"Joe has done a wonderful job," Sister Mary Nika says. "He has a real heart and vision for the poor."
Under his leadership, Cristo Rey has seen a renaissance in recent years, and Sister Mary Nika hopes to build upon that success. She is part of weekly meetings of an executive team that continually looks for ways to improve services and embrace the center's Catholic identity. "We are the only Catholic clinic in Lansing," she notes.
While Sister Mary Nika is available to advise on issues such as ethical medical treatments, she says there is so much more involved in being a Catholic institution.
"Beauty is also an essential element of God and the Catholic identity," she explains.
Currently, the chapel at Cristo Rey is being renovated, and the Religious Sisters of Mercy of Alma arranged for all the sacred items to be refinished. Holy images have been hung on hallway walls and soon the Blessed Sacrament will return to the refurbished space.
Creating a sacred space at Cristo Rey is one example of how the clinic seeks to holistically meet the needs of its clients. "It's to help people understand who they are, why they were created and how they can have a fulfilling life," Sister Mary Nika says.
That spiritual aspect of care is part of what makes Cristo Rey unique. It isn't simply doling out food and health care; it is also serving as a witness to God's love and mercy.
"People come from very, very difficult family situations," Sister Mary Nika says. When they walk into Cristo Rey, the hope is they will find a sanctuary that uplifts and strengthens them.
With so many ministries offered in one place, it can be hard to settle on just one word to define the work of Cristo Rey, but Sister Mary Nika sums it up this way: beautiful.