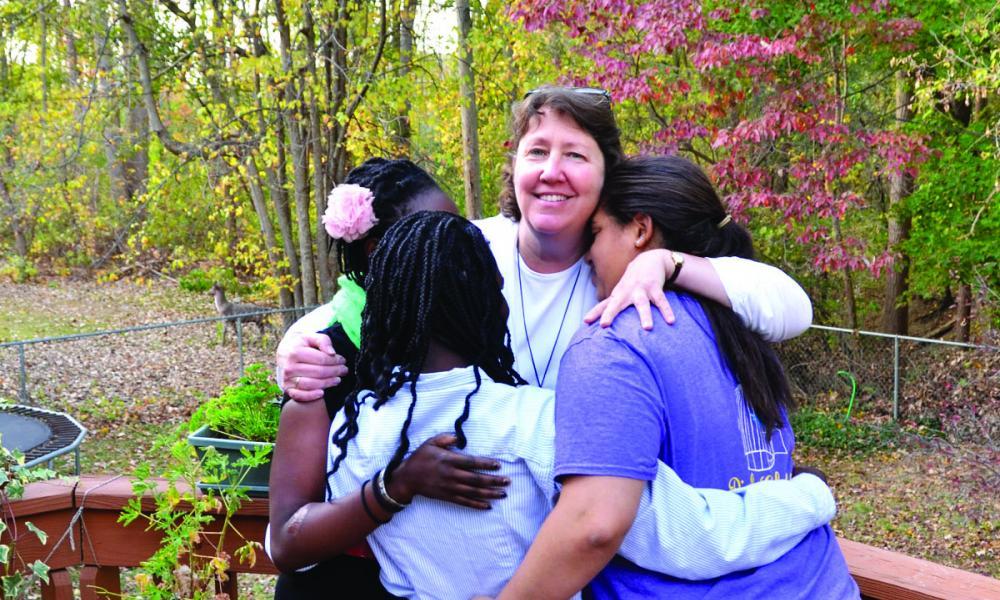 ---
A sister and a mother
When Sister Mary Fallon joined the Servants of God's Love 27 years ago, the last thing she expected was to become a mother. Today, she is both a sister and a mother to four daughters.
The order, which began in Ann Arbor as part of the charismatic renewal of the 1970s, celebrated its 40th anniversary this year.
"Our apostolic is to bring God's love in a variety of ways," says Sister Mary. "I had been teaching when I first joined our group. It was back in the late 1980s when AIDS was first coming to light. We wanted to care for the AIDS orphans."
Sister Fran DePuydt suggested foster care would be the way the order could share God's love with children in need. "We pray about everything together as a group," Sister Mary says. "When I set out to live a consecrated life, I gave up marriage and children. Then I had a sense I was supposed to be the mom when we were seeking the Lord about foster care. We wanted to have a home life for our foster kids, so I quit my job. You really want kids to have permanency."
The order never actually cared for any AIDS orphans, but did take in 27 children over the years, usually age five or younger.
The challenge for the order was twofold. Legally, the entire order couldn't be recognized as one parent, and permission was also needed from the Catholic Church.
"I took a vow of poverty. I can't own a child," says Sister Mary. "We met with a canon lawyer and the Church."
After working with foster care, the Servants of God's Love and Sister Mary had the opportunity to make motherhood official. "We adopted three girls. We have a fourth who's living with us and she's like my own," Sister Mary says. "Two of the girls are age 24 and 25, and two are in high school. The girls call me Mom, and the other sisters jokingly call me Sister Mom."
Before adopting her daughters, Sister Mary researched another sister and a priest who had adopted children. Although Sister Mary is the legal parent, Sister Fran shares parenting responsibilities. The order has three houses, one of which houses Sister Mary and her daughters, Sister Fran and other sisters as well.
"It was a community decision," says Sister Mary. "I have done this for many years with Sister Fran. We just live in a normal house. We also are living our life together in the order. It's a balancing act. You really learn that your life is not your own when you have children around. Charity rules always."
Although her family life definitely qualifies as non-traditional, Sister Mary would not have it any other way. Despite the non-traditional surroundings, her daughters are no different than any other young women.
"I really believe children benefit from having a father. That's hard at times," Sister Mary says. "God knows, and he's for us. I try to stay close to him. They are normal kids. They play sports and listen to music."
Part of the challenge for Sister Mary is having time aside from parenting to share community life with her fellow sisters. She trusts God to provide care for the girls when she needs her time with the order.
"I have said to him, 'These are your kids, Lord,'" says Sister Mary. "God has really provided in many ways. When we all take a week together, I've experienced the Lord making sure the kids are watched over. He really does take care of them."
Learn More
Sister Rita Wenzlick, OP is the Delegate for Consecrated Life for the Diocese of Lansing. For news on Consecrated Life and Resources on the 2015 Year of Consecrated Life, please visit www.dioceseoflansing.org/consecrated_life.