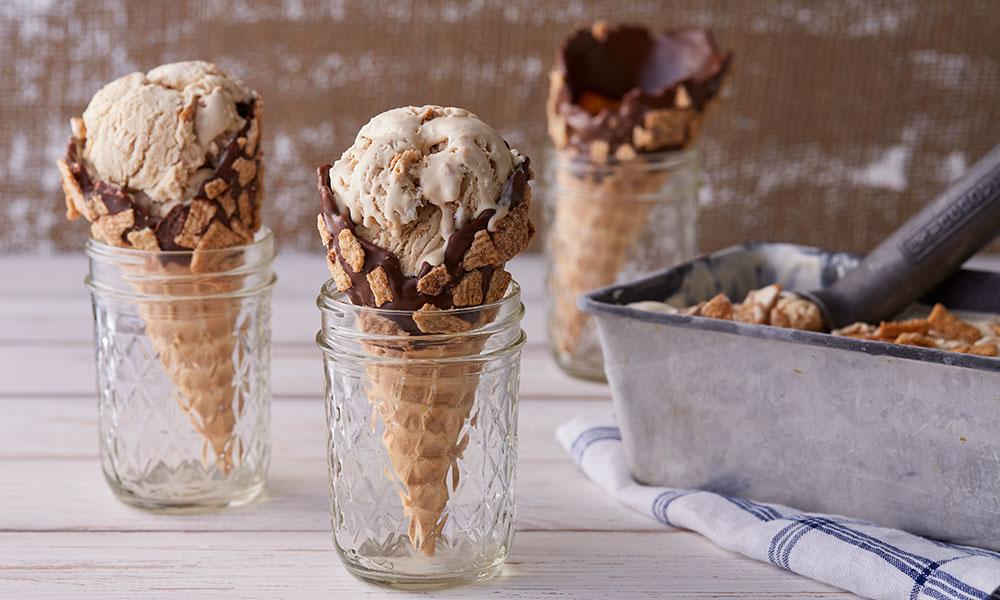 ---
A Simple Reward for a Good Man
Breakfast penance or quirky habit?

---

Father Solanus Casey was known for mixing his cereal, milk, sugar, juice and coffee in one bowl! Hence, the ice cream flavor in his honor!
Blessed Solanus Casey lived an extraordinary life of holiness and deep concern for the poor and the sick. He was beatified at Ford Field in Detroit in November of 2017.
In order for beatification to take place, the Church requires an official recognized miracle. In his case, a woman suffering from an incurable genetic skin disease was healed after praying at his tomb. While that was the official miracle recognized for beatification, there is another story in Father Solanus' life that some people consider a "miracle" – an ice cream miracle!
Born in Wisconsin in 1870, Bernard Francis Casey was one of 16 children of Irish immigrant parents. After leaving his family farm, he worked as a logger, hospital orderly, prison guard and streetcar operator. While at work one day he witnessed a murder, which affected him deeply; it was an experience that served as a catalyst for a higher calling.
He felt drawn into entering the seminary, which he did, but encountered many academic challenges there. Because of these struggles, he was ordained a simplex priest, which meant he could not celebrate Mass or hear confessions. Undeterred, Father Solanus Casey viewed his vocation as a gift from God and resolved only to be a holy priest, so he graciously accepted his role to serve as the porter at the St. Bonaventure Monastery in Detroit. He embraced his humble ministry with a deep love for Jesus and for all who would come to the door, particularly the sick, the poor and the troubled. He became the channel for God to touch souls and tend to the most needy in his midst. Indeed, through his prayers and blessings, there were many miracles of both physical healing and spiritual conversion.
This holy man once wrote, "We must be faithful to the present moment or we will frustrate the plan of God for our lives." He inspired people to peacefully accept and find joy in everything and encouraged them to "thank God ahead of time" for what he has not yet given.
Father Solanus' feast day is July 30, at the height of summer, and there is  a lighthearted story often told of summertime's favorite food not melting under his care, against all odds. On a hot summer day in 1941, a fellow friar came to Father Solanus seeking a blessing before heading off to the dentist for treatment of an infection in his tooth. The novice worried of the consequences upon his return, that this would be a major setback in his formation. Father Solanus blessed him and told him to "trust God that everything would work out."
Then a woman stopped by the monastery to give Father Solanus two ice cream cones as a gesture of gratitude for his having helped her with a particular need. He received the ice cream graciously but was very busy, so he set the cones in the drawer of his desk. More than half an hour later, the young novice returned and reported that the dentist found nothing wrong with his tooth and that it had completely and spontaneously healed without any medical attention. Father Solanus thought of the ice cream cones as a way to celebrate. Now, one would think after so much time in the hot summer weather, the ice cream would have melted into sticky wet pools. Father Solanus opened the drawer and found them as cold as if they had been in the freezer all along.
Father Solanus touched many lives in his time at the monastery. Many believed he had the gift of healing. This tale of the ice cream that didn't melt is beautiful in its simplicity – a simple reward for a good man humbly doing God's work.
---
Cinnamon Toast & Coffee No-Churn Ice Cream
(SERVES 6)
2 cups heavy cream, chilled
1 14-ounce can sweetened condensed milk
2 tablespoons instant espresso or coffee powder
1 ½ cups cinnamon toast cereal, slightly crushed
Place a 9-by-5 inch metal loaf pan in the freezer to chill for at least 20 minutes.
In a small container, combine the sweetened condensed milk with the espresso powder. It may take a few minutes of stirring (or letting it sit for a few minutes and then stirring more) to fully dissolve. Place in fridge.
Using a hand mixer with the whisk attachment, whip the heavy cream until stiff peaks are formed (this will take 3-5 minutes). Fold in the espresso-flavored condensed milk and stir until combined.
Pour mixture into the chilled loaf pan and freeze for 30 minutes. Remove and stir in half of the slightly crushed cinnamon toast cereal. Top off with remaining cereal. Cover completely and freeze for at least eight hours or overnight for best results. For added deliciousness, serve in chocolate-dipped cones rolled in extra cereal!
---
Michelle Difranco is a designer and the busy mom of three children.