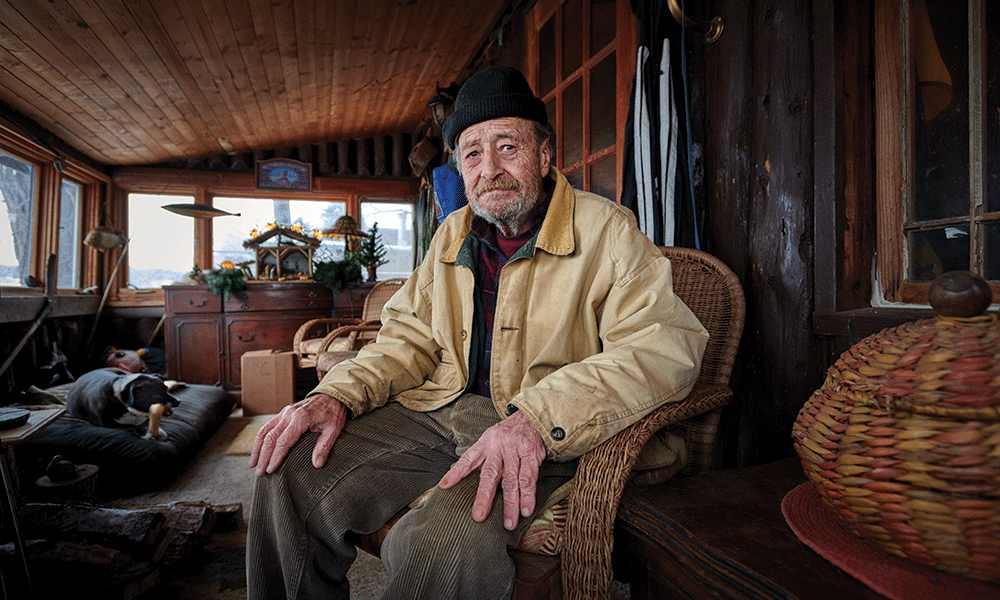 ---
Senior Outreach Services at Catholic Charities Cares for the Whole Person
Harold Hunter fondly remembers the first time someone from Catholic Charities showed up at his cabin as a turning point in life. "Beth came out here and assessed where I was at, and we went from there. That's when things started to get better. I had a stroke not long before that, and the stroke was when my life kind of came to a halt," he says.
Life before his stroke was full of ups and downs, a journey that Harold describes as a bumpy road. Along the way, Harold particularly valued his autonomy – accepting help wasn't easy. "In your 40s and 50s and 60s, you're not as dependent as you are as when you're 80. You learn."
In his youth, Harold's independence was matched by his hard work and a sense of duty to God, his country and his family. "I was in the Marines from 1965-68 and I was stationed in Washington, D.C., after boot camp. In March of 1968, there were race riots in Detroit and D.C. – our country was hurting and both cities were burning. I was sent to stand in full battle gear on the Capitol steps for days. I'm glad I served. When I got my discharge in August of 1968, I went home to Detroit and my dad passed away the very next month. I remember asking my mom why he died then, and she said he had been holding on, waiting for me to come home.
"After 30 years of work, I retired in the 1990s. When I was working, I traveled so much that when I'd get to the big cities I didn't need a map. When I retired, I spent my life's savings on a building in downtown Howell, where we lived and rented some space for income. I also bought the cabin as a summer retreat – I never intended to live here year-round."
After divorce and financial strain, Harold found himself in a bumpier time of life, a time further complicated by one of life's biggest bumps, his stroke. The help that appeared at his cabin door proved to be a sure sign of hope – one that he doesn't take for granted.
"I remember Beth from Catholic Charities [Beth Newman, senior outreach specialist] coming to my place and just asking how they could help, and if I had the necessities of life. I told her my hot water heater hadn't worked for a long time. A week or two later, a new hot water heater arrived! I didn't know what to say, and I wasn't sure if I deserved it. Catholic Charities also connected me with Habitat for Humanity, who helped me get a new roof. I appreciate all that Catholic Charities has done for me. Because of them, once a month, the Food Bank comes out. They are so good to me.
"You have basic needs. I have a summer cabin that I never thought I'd be living in full time. It's not insulated, but Habitat came out and had a caulking party and caulked my cabin. And just last week, Beth called and asked if I wanted a virus vaccine. And a truckload of wood was dropped off for me for the fireplace – they just dumped it off – I almost started to cry. What can I say to them? Thank you doesn't seem like enough."
Senior Outreach services at Livingston County Catholic Charities are funded in large part with DSA contributions. With that support, Catholic Charities has gone beyond meeting Harold's basic needs; they've cared for him as a person, too. "I don't have the coordination in my hands to do the things I used to do like play the piano and drive," he explains. "I miss playing the piano terribly. My mother bought me a baby grand piano when I was 7 and I played my whole life until the stroke. But Beth got me a record player. I listen to everything from the Beach Boys to Pavarotti. I guess I'm old-school. I like Sinatra and Dean Martin and Ricky Nelson and John Denver singing 'Rocky Mountain High.' Michael Buble has a beautiful Christmas album – he sings 'Ave Maria' like an angel.
"Do you know 'My Funny Valentine?'" Without leaving time for a response, Harold begins to sing: "You make me smile in my heart ..." Through tears and sniffles, Harold reflects, "Looking back at my life, there are a lot of people that made me smile with my heart. And most of them were religious. Pastors, priests, of course, my kids. I love the Lord. When I wake up in the morning, there are a few things I look at on my wall. One is Isaiah 49:15: 'I will not forget you, I have carved you on the palm of my hand.' It's the best way I know of to start my day. This is the day the Lord has made, right? We should rejoice.
"And I've learned that even though life isn't always easy, you're never too old for things to change. Catholic Charities has made the road less bumpy on the way to heaven."