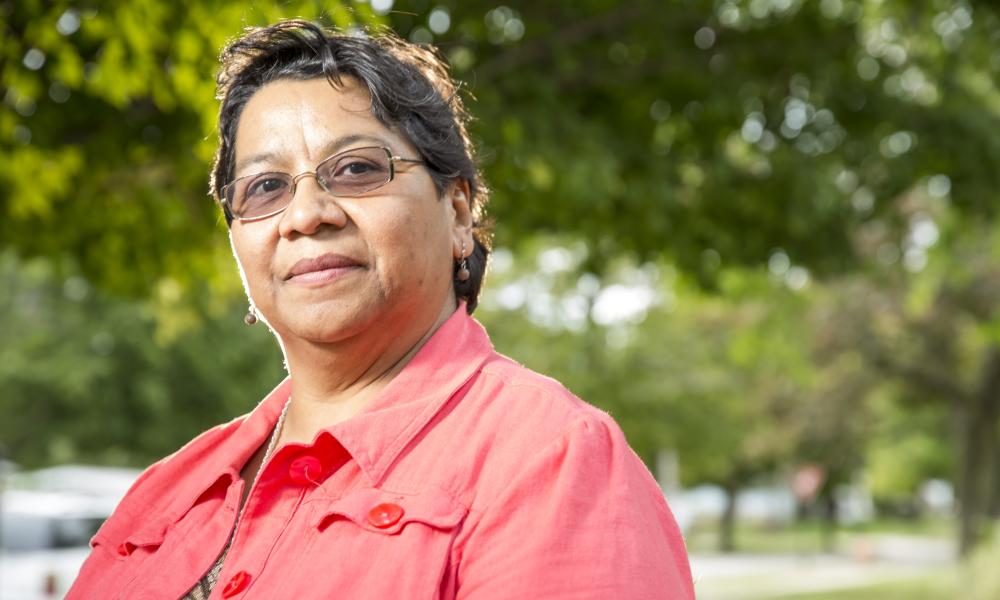 ---
From seasonal farm worker to school principal
Andrea works to empower Latinos
"You know that kid who acts up in school, but never wants to go home?" Retired principal, Andrea Rodríguez asks. "I know how she feels. I was her.
"I have a very blended family most people would call dysfunctional. Because of that, I carried a lot of anger inside that came out in different ways. For my first nine years I was Daddy's girl, basking in his wonderful smile and growing up in California surrounded by family. When Dad left us, my mother had limited English and few resources, so she moved my little brother and me to Michigan to join her family. I lost an important person in my life along with my home and older siblings from my father's first marriage.
"We became seasonal farm workers. During the off-season we helped Mom with various odd jobs including housecleaning and yard work. My dad had started another family in California, but I dreamed we would be reunited.
"We settled in Alma. My mom learned English and began working at General Motors in Lansing. She commuted the 100-mile round trip every day until she retired. When my wonderful stepfather, Bill, came into my life I was 14, and I took out much of my anger on him. Plus, I was doing things with other kids that weren't good for me.
 "I don't know how many times my life has been saved by angels God has put in my path, but Sister Beverly Nonte, SSJ was one of the first. She came into our home for Latino group meetings called Comunidades de Base. When my mother hosted, she made me attend although I made it clear I did not want to be there. If Sister Beverly asked me to do anything I rudely told her 'No.' But then one day she asked if I wanted to go with her to Saginaw for a youth group farmworker ministry event. I liked to travel, so I said yes.
"From that day on, Sister Beverly slowly chipped away at the shells I had built around my heart. It brought back a lot of pain. I remember telling her I couldn't stand to open up some of the memories, but she stayed with me and was there for me with every layer she broke through. We remained close and continue to keep in touch.
"After working with Sister Beverly, I hung out more with a couple of school friends, (and angels), Margaret and Lisa. I eventually chose their lifestyle over my own self-destructive behaviors. I didn't know many people who had been successful in high school, so when it came time to schedule classes I registered for whatever Margaret and Lisa were taking. When they went to college admissions presentations I went, too, even though I had no idea what the speakers were saying. This put me on a college-prep track, though none of my family had ever gone to college.
"Another angel, teacher Leslie Thomas, coached my high school's forensics team. Seniors were given the choice of either writing a term paper or joining Forensics Club after school. I did not want to write a paper so I signed up for the club. Ms. Thomas met with me privately and asked if I understood what forensics meant. I didn't. She made it clear that even though I didn't want to write one, the paper would be the easier choice. She let me stay in the Forensics Club as long as I wrote the term paper. And with her help I got an 'A'.
"As we got to know each other better, Ms. Thomas asked if I planned to go to college. I said 'Sure,' thinking it was like high school – you walk into the office, sign up and start classes. She explained, in terms I could understand, how college was different. Over the course of the year she helped me get through the application and admissions processes – even drove me to Central Michigan University for tours and interviews. We celebrated together when I got accepted.
"College life wasn't easy! I had no idea what a dorm was, or an RA [resident advisor]. I didn't know what 'veal parmigiana' was, let alone how to pronounce it! Ms. Thomas was there when I needed her – helping me navigate the process and find part-time work. She lived in town, and told me to call her any time I needed help.
"Still I struggled. There were times I was so poor I used to raid crackers and ketchup from the Wendy's salad bar to make 'soup' for my dinner. I took one semester off to work, and I really wrestled with whether to go back or not. I chose to return to my studies in part because Ms. Thomas believed in me and my dream of becoming a teacher. I couldn't let her down.
"In five long years I earned my bachelor of science in education with minors in mathematics and Spanish and a Bilingual Endorsement. During that time I also reconnected with my father, Andres, and his extended family.
"After graduation, I met my next angel, Sister Marianne Michels, OLVM. She recruited me to work for a new organization called the Michigan Farmworker Empowerment Project (MEMPRO). When she approached me I agreed to look at the job description, but my attitude was definitely 'Don't call me, I'll call you.' When I opened the proposal she sent, I cried. It was a great job fostering collaborative leadership and empowerment of migrant farm workers statewide. Sister Marianne helped me channel my anger into empowering and building recognition for Latinos of all ages.
"I had to leave MEMPRO for a teaching job in order to keep my certification valid. I joined the Lansing schools teaching migrant children, then earned a master's degree and eventually became an elementary school principal and middle school assistant principal. Inspired by Sister Marianne, I remained active in the community using my organizing skills to develop after-school programs. I also decided to become a Covenant Associate with Sister Marianne's congregation, Our Lady of Victory Missionary Sisters. I just celebrated my 30th anniversary with the Victory Noll Sisters alongside fellow Covenant Associates (and other angels in my life) Evangelina Palma Ramírez and Olga Beltran, who celebrated their 5th anniversaries.
"Now that I'm retired, I work part-time at the Okemos Library. I sit on a couple of boards, serve as a liturgical minister at Cristo Rey Church and volunteer at Cristo Rey Community Center. I founded and co-coordinate a program, TECH en la Casa, which helps families navigate computer-based technology. I'm a co-founder and Coordinating Team member of the Hispanic Women in Network (WIN) of Michigan which has over 600 members throughout North America.
"I don't forget my young, angry self. She's the part who helps me better understand others and who keeps me working to empower people. I don't know how many times my life has been saved by angels God put in my path. I have had so many! He continues to send them at the right time to guide me. I hope along the way I have been someone's angel too."