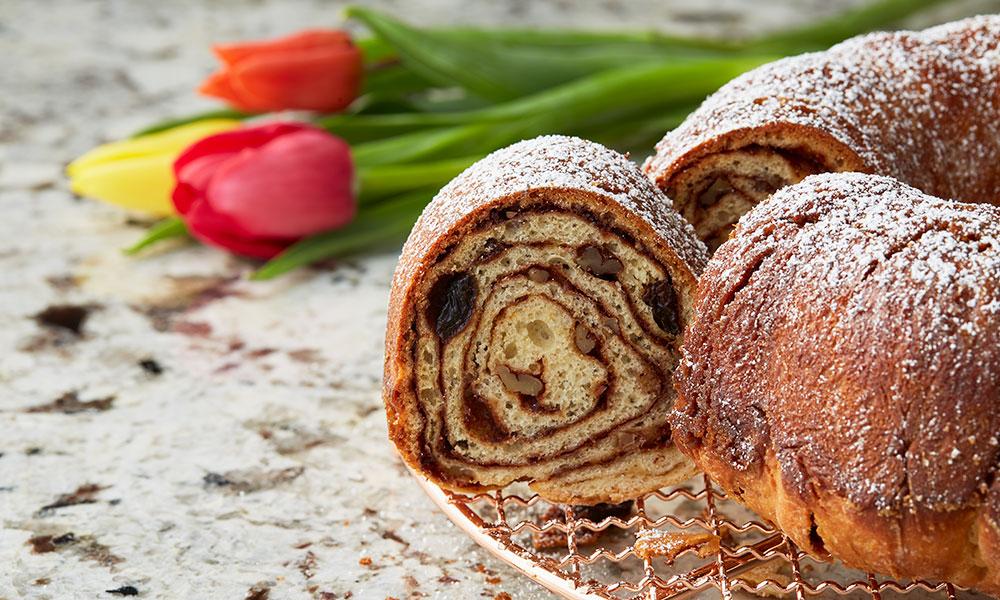 ---
Savoring an Austrian Easter Tradition
I'm fascinated with cultures from around the world, and have covered countless customs and recipes in this column that explore how different countries commemorate Christian holidays. But it recently dawned on me that I have never explored the traditions of my own cultural heritage. Being of Austrian descent, I started reading up on how the people of Austria celebrate Easter. Some of what I found is …. delicious!
Austria is largely a Catholic country, and its people hold dear many religious traditions. Holy week begins on Palm Sunday when willow branches are decorated with ribbon and fruit and blessed at Mass to mark the arrival of Jesus in Jerusalem. These Palmbuschen are then taken home to protect the family.
Presently, the Easter festivities and markets are in full swing and, as with many European countries, the cuisine is plentiful. Austria is known for Easter eggs of the chocolate variety, as well as colorfully decorated real eggs, which have been carefully hand-blown and painted. But what really caught my attention was the Reindling.
Reindling is from the Carinthian province of Austria. Even though it is considered a cake, it can be served as a part of the main course with an Easter ham or as a dessert, after. It is sweet, but not overly so, and amongst the more popular flavors are ones with cinnamon, raisins and walnuts. Its circular "ring" shape makes it easy to spot, and its flavor is worthy of the holiday it accompanies each year, when the aroma of the bakeries subtly announce the resurrection of Christ to passersby.
Of course, taking in a performance of the Tresdorf Passion Play (another Catholic Easter tradition of Austria), while enjoying authentic Reindling on Carinthian soil, would be ideal. But if travel is not in your plans this year, the good news is that Reindling can be made here at home. And I can assure you this recipe won't disappoint! Happy Easter!
---
Austrian Reindling for Easter
Ingredients
Dough
1¼ -oz package active dry yeast
2½ cups all-purpose flour
1 large egg
1/3 cup granulated sugar
½ teaspoon salt
4 tablespoons unsalted butter (softened)
1 cup milk
Filling
1-ounce rum
½ cup raisins
4 tablespoons melted butter
2 tablespoons ground cinnamon
1/3 cup brown sugar (plus more for pan)
½ cup chopped walnuts or pecans
Directions
In a large mixing bowl add the yeast, 1 tablespoon plus 1 teaspoon lukewarm water, and a pinch of sugar (to activate the yeast). Set aside for 5-7 minutes or until bubbly. Add the flour, egg, sugar, salt, butter and milk. Mix until well combined - the dough should be soft and sticky. Cover the bowl and set aside until doubled (about and hour and a half).
Meanwhile, in a small dish, soak the raisins in the rum and set aside for 18-20 minutes (or while dough is rising). Grease (with butter) and coat (with additional brown sugar), a 9-inch Bundt pan and set aside.
After the dough has doubled in size, transfer to a lightly floured surface and knead for about 5 minutes, adding a bit of additional flour to make a smooth (and not sticky) dough. Preheat oven to 350 degrees.
Roll the dough into a 12×18″ rectangle and roughly about a third of an inch thick. Brush with melted butter, then top with cinnamon, brown sugar, drained rum-soaked raisins, and walnuts, distributing everything evenly. Roll up the dough and carefully place in the greased/sugared Bundt pan. Cover and let sit for an additional 30 minutes.
Bake for 45-55 minutes or until top is golden brown and cake is baked through. Immediately turn out of pan (while hot) onto a cooling surface so caramelized sugar doesn't stick to pan. Sprinkle with powdered sugar and serve warm.