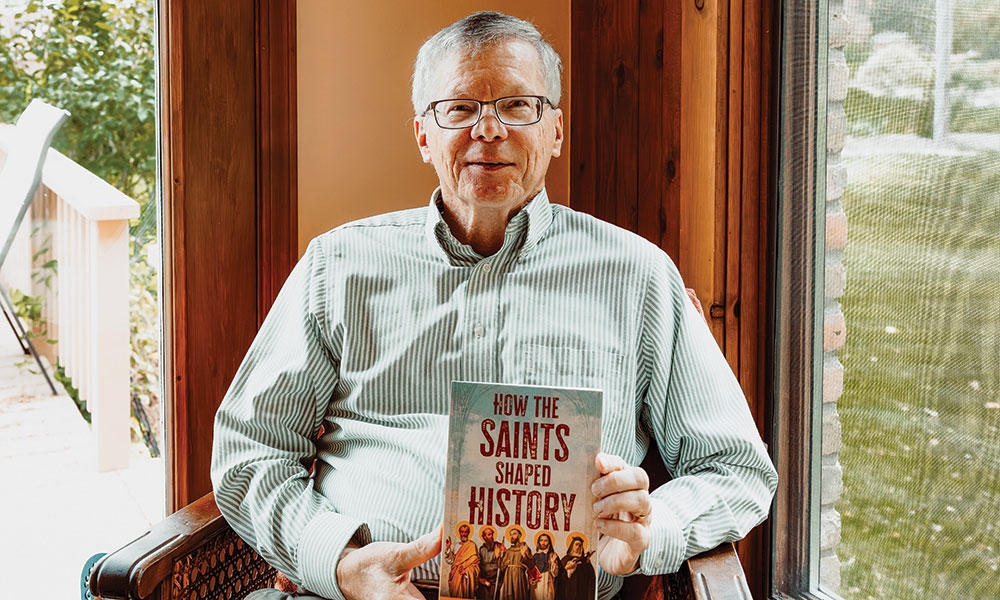 Photography by Kathryn Hermes
---
A Saintly Pursuit: Retired Prosecutor Pens History of Saints in the Church
Divine providence might well have been at work when retired Genesee County Prosecutor Randy Petrides decided to get a master's degree in theology from Franciscan University of Steubenville, Ohio.
"I always loved to write and I loved the history courses I had in my master's program," he recalls. 
His love of history propelled Petrides to offer a series on Church history in 2019 at his parish, Holy Family in Grand Blanc, and his love of writing led to his first book, How the Saints Shaped History, published by Our Sunday Visitor earlier this year.
"It was the saints who were really at the center of history," he says. "And a lot of the history books of the Church don't necessarily put the saints at the center. The Church is a divine as well as a human institution, the body of Christ. So the people most open to his grace and most committed to discipleship — the saints — would actually be open to the Holy Spirit's guidance and thus at the center of history."
Petrides is a graduate of Holy Redeemer High School in Flint. He earned his bachelor's degree in classical studies from the University of Michigan and his law degree from Notre Dame. He returned to Flint from South Bend, Indiana, got a position in the local prosecutor's office and met his future wife, Elizabeth, at a prayer meeting. The couple have been married 44 years, raised five children and recently welcomed their 17th grandchild. 
Petrides says his goal was to write the book in such a way that it told the story of the Church from the perspective of a family history, led by "our family heroes, the saints, who were making that history." 
Petrides' research into the role of saints in history showed him there is a pattern at work: God will continue to inspire new saints. It gives him hope.
"We're going to need new saints going into the future," Petrides says. "We are blessed that our kids have maintained their Catholic faith. But, I think of what chance do our grandkids have coming up in a world that's more hostile to the faith than any generation in American history? There will need to be great saints, and God will raise them up to help pave the way for the faith to move forward. Maybe not in the same way it's been, it's not going to be the ethnic enclaves of the mid-20th century, but the faith will survive."