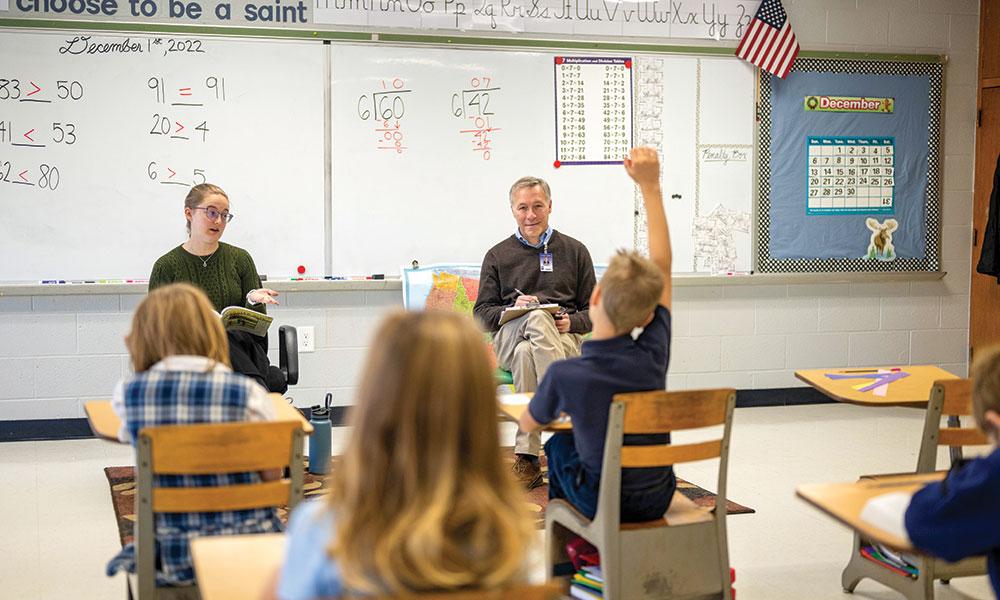 ---
The Rise — and Rise — of Classical Education
What's old is new again and breathing vibrant life into St. Mary School in Williamston.
Even before the COVID-19 pandemic shook families' experiences and expectations of their children's education, this small-town parish school was rethinking its identity, mission and method of teaching.
In early 2017, under the leadership of its pastor, Father Mark Rutherford, St. Mary announced that it would switch to a classical education method, a pedagogy marked by its focus on the liberal arts and incorporation of the Trivium, a three-stage concept of children's learning development.
At the time, the school had only 54 students in preschool through fifth grade. Five years later, they've nearly tripled enrollment to 137 students, added a middle school and are bursting at the seams.
"We're out of classrooms," says Principal R.J. Lomas, who began his role the first year of the shift. In 2019, the school made another bold decision, lowering tuition to $1,000 per student — an almost unheard-of low rate for private school that — unsurprisingly — drove enrollment as well (the parish and major fundraisers throughout the year subsidize the rest of the school's expenses). As of late 2022, the school was looking into buying or building more space to accommodate the growth.
Lomas acknowledges that the definition of "Catholic classical education" can be difficult to pin down, depending on what images it suggests. Does it mean Latin? A traditional aesthetic? Old books? First things first: "Faith is the golden thread through everything," he says.
According to St. Mary's website, the goal of classical education is "the ability to think."
"We want the St. Mary child to acquire the art of learning and to delight in it," the website continues. "In the context of a Catholic school, this means that the child and every subject encountered is viewed through the lens of Jesus Christ and his Church."
In practice, St. Mary incorporates distinct teaching methods in service of that goal: Latin (even preschoolers are introduced to nursery rhyme-style Latin songs in the full day program); and the Socratic method, recitation and narration — the practice of students retelling in their own words what they've learned, either verbally or, in older grades, in written form. The curriculum is modeled around the Trivium, a term that refers to what classical educators consider the grammar (kindergarten through fourth grade), logic (fifth through eighth grade), and rhetoric (ninth through 12th grade) stages. In short, early elementary at St. Mary is a time for giving students the building blocks, or grammar, of their subjects, while middle school is a time to start learning how to arrange that information through analytical thinking.
Visiting the intimate classes — the largest this year has 17 students — might mean hearing students jumping in rhythm while chanting a times table, reciting poetry or practicing the sung Mass parts in Latin. The school's curriculum includes textbooks from publishers like Memoria Press or the Catholic Textbook Project and relies heavily on what educators in classical circles call "living books," meant to make even subjects like science and math come alive through literature.
"Technology is minimized here," says Lomas, a longtime veteran in education familiar with the promises of technology as a silver bullet.
"It sounds wonderful, but in reality it becomes a distraction," he says. "We want the kids talking, we want them reading."
Along with regular adoration and confession, the students attend Mass four times a week. On Mondays, Pastor Father David Fons' day off, Lomas leads the student body in a morning assembly filled with reflections on the monthly virtue, music and Scripture recitations by the students.
This is the time, and an excellent method, to shore up their moral foundations, Lomas says. Whether soaking in truth, goodness and beauty through literature or having Scripture imprinted in their hearts through memorization, students are nourished with examples of virtue.
Lomas recalls that back in 2017, Father Mark saw the potential of a Christ-centered, classical educational model not just to infuse new life in the school but to evangelize as well. Now, Lomas says, St. Mary's students come from public schools or homeschooling families, both in Williamston and nearby Mason and Howell. Many families have become members of the parish.
"More so now than ever," the majority of school families are practicing Catholics, he adds, a dynamic that has "really transformed the culture at the parish and school." One example: the Parent Teacher Organization renamed itself the Holy Family Alliance and takes turns meeting monthly in each other's homes. With Father Fons and Lomas participating, and the children off entertaining themselves, the parents begin with prayer and a time of faith formation and sharing before starting business.
It's a culture where the golden thread of faith weaves tradition into every aspect of education, so that all things, from math lessons to PTO meetings, lead back to Jesus. Lomas describes it unabashedly: It is "robustly, excitedly, enthusiastically Catholic."