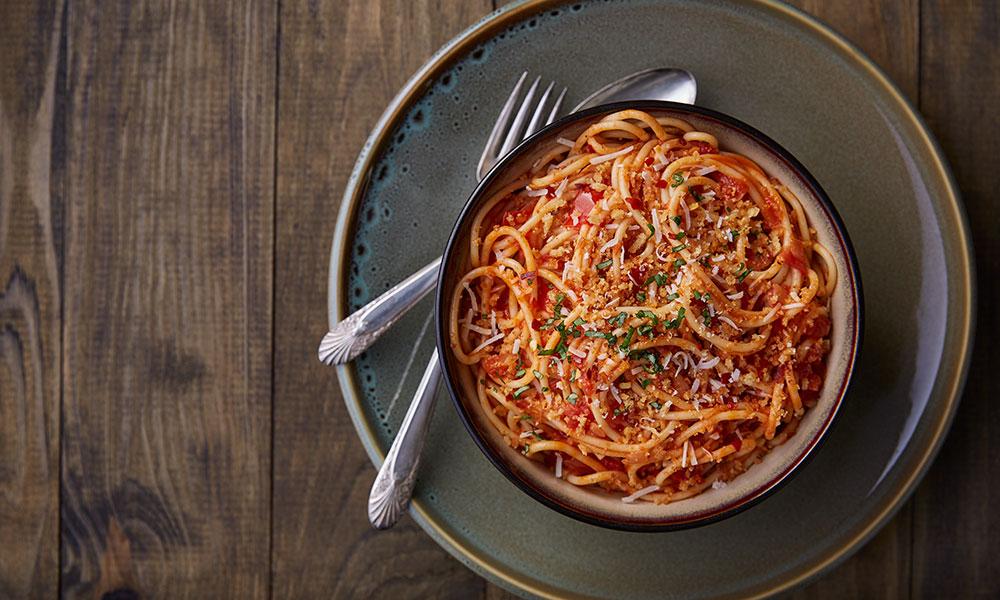 ---
St. Joseph's Day Pasta
'A righteous man' And the patron of so many things …
"Saint Joseph was a just man, a tireless worker, the upright guardian of those entrusted to his care. May he always guard, protect and enlighten families." - St. John Paul II
My Dad has a passion for woodworking, and keeps a meticulously organized workshop full of tools like no other I've seen. On the wall, amongst the arranged chisels, router bits and clamps, sits a shelf with a statue of St. Joseph holding a carpenter's square. As a man of faith, it is only fitting he would have this very statue on guard, since St. Joseph is the patron saint of carpenters, craftspeople and workers. 
But as St. John Paul II said, St. Joseph was more than "a just man and tireless worker." He was the "upright guardian of those entrusted to his care." His greatest strength was demonstrated when he was entrusted with the most incredible task of caring for and protecting Mary, after learning that the child she was carrying was not his. He was faithful even before an angel appeared to him in a dream revealing that "what is conceived in her is from the Holy Spirit." (Mt 1:20) And he continued to be trusting and obedient to God's commands in caring for Mary and Jesus. 
Of the little knowledge we have about the life of Joseph, Scripture has stated the aforementioned and importantly states that he was "a righteous man." (Mt 1:19) He lived a life both ordinary and extraordinary, and is the patron saint of much in this world.
As Saint Thomas Aquinas said, "Some Saints are privileged to extend to us their patronage with particular efficacy in certain needs, but not in others; but our holy patron St. Joseph has the power to assist us in all cases, in every necessity, in every undertaking."
Indeed this holy man has been nominated the patron saint of many, many things; of fathers, families, workers, the universal Church, and the patron of many cities, regions and countries.
March 19 is designated to St. Joseph, the Husband of Mary, and May 1 to St. Joseph the Worker. The former is most recognized, and in Sicilian culture, celebrated as a major holiday. Many recipes from that area of Italy are specific to the feast day, and they often include bread crumbs, since they represent a carpenter's sawdust. They also often include fish, since the day falls within the Lenten period. One such dish is St. Joseph's Day pasta, which is spaghetti with anchovies and breadcrumbs. Personally, I'm not a fan of anchovies on a pizza, but I can assure you, when incorporated into a sauce, the results are delicious! 
I will forever remember and cherish the statue of St. Joseph in my dad's woodshop. And like this recipe, which lends the symbol of "sawdust" to commemorate the work of a carpenter, I will always feel a sense of reverence for the woodworking my dad loves so much. This March 19, I look forward to preparing my own version of this dish for my family. And, as my dad did in his craft, ask this patron saint of so many things to lend his presence to the work of my hands.
---
St. Joseph's Day Pasta
• 1 pound spaghetti
• 2-3 tablespoons butter
• 1 cup panko breadcrumbs
• 4-5 tablespoons olive oil
• 4-5 anchovy filets
• 1 medium onion (chopped)
• 1 teaspoon red pepper flakes (or less if preferred)
• 4 cloves garlic (minced)
• ¼ cup white wine
• 2 tablespoons tomato paste
• 2 14.5 oz. cans of diced tomatoes
• Salt and pepper to taste
• Grated parmesan cheese
• Chopped basil for garnish (optional)
Bring a large pot of salted water to a boil. Add the pasta and stir to separate. Cook according to package directions or until al dente.
While pasta is cooking, heat butter in large sauté pan on medium-high heat. Add the breadcrumbs. Using a spatula, constantly stir until they are completely coated and light golden brown. Transfer breadcrumbs to a bowl and set aside.
In the same pan over medium-high heat, add olive oil. Throw in the anchovies and stir until dissolved. Add the onion and red pepper flakes and sauté for 2-3 minutes or until onions are mostly translucent. Add garlic and stir. Add white wine, tomato paste, diced tomatoes (and salt and pepper to taste) and cook until sauce slightly thickens (about 3-5 minutes).
Add the drained pasta to the sauté pan and toss to coat. Add the toasted breadcrumbs, grated parmesan and chopped basil on top of each serving.