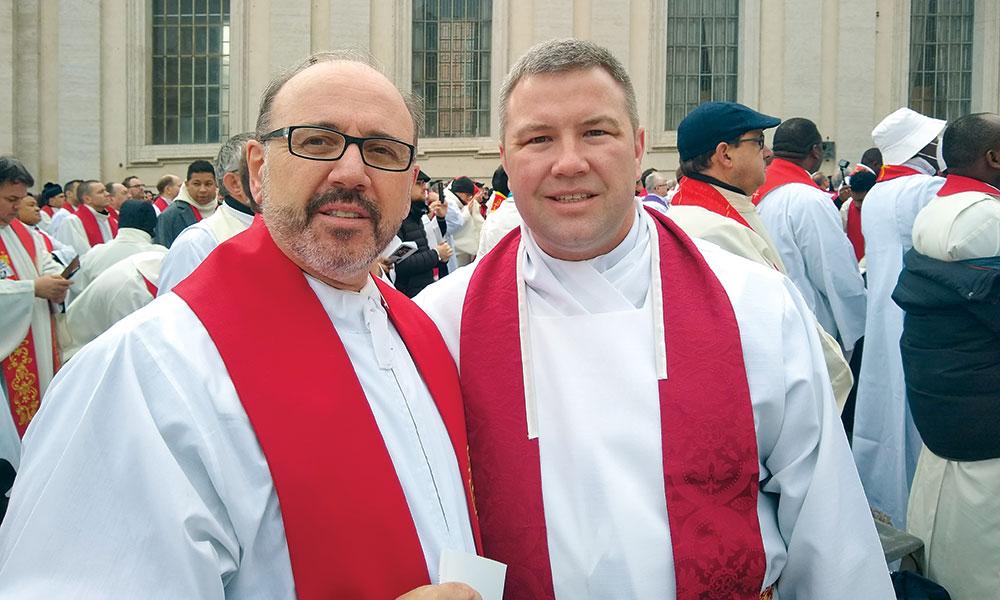 Father James Conlon, left, concelebrated Pope Emeritus Benedict XVI's funeral Mass with Father Ryan Brady, a priest of the archdiocese of Chicago, and several thousand other members of the Catholic clergy.
---
Remembering the "Grandfather of All Grandfathers"
Pope Emeritus Benedict's funeral Mass was viewed by millions across the globe. But for one group of high school students from Fr. Gabriel Richard High School—and the priest who accompanied them—the opportunity to be present at the service of an extraordinary Catholic leader was a gift to cherish.
It was going to be an exciting school trip. Fr. Ryan Riley, chaplain of FGRHS in Ann Arbor, was set to bring a group of students to Italy for a pilgrimage to see the Vatican, appreciate the historic church culture, and grow in faith.
Then fate intervened.
Fr. Riley's father passed away at the end of 2022, leaving him bereaved during the Christmas season. While prayers surrounded him here at home (and continue to envelop him), the wider church community found itself mourning the loss of Pope Emeritus Benedict XVI.
Rather than cancel the trip altogether, tour organizers invited Fr. James Conlon, priest at St. Francis of Assisi in Ann Arbor, to take Fr. Riley's place.
"I had intended a whole quiet week to myself. Instead, I got around 40 teenagers and 30 of their parents," Fr. Conlon says. "When we left on the first of January, we knew Pope Emeritus Benedict had died. We also knew that we would be in Rome around the time. Once they announced the timing and the date of his funeral, we knew we would be in Rome at that time."
According to Fr. Conlon, the pilgrimage organizers, Corporate Travel Services, had already arranged for FGR students to attend the Feast of the Epiphany Mass on Friday, the 6th of January. The organization worked hard to change things around, so FGR students could experience the papal funeral.
"We were going to attend that Mass, so I went online to see how I could get permission to celebrate, and which I did," Fr. Conlon says. "While I was there, I also signed up for the funeral Mass. In the meantime, our tour organizers had also a sought permission for the students to attend the funeral. Permission came while we were in Assisi."
The group made their way to Rome, where they joined the 50,000 other mourners who came to pay their respects to the former Pope.
And for Fr. Conlon, the opportunity to serve as concelebrant at the funeral service also was approved. He would be one of the approximately 3,700 other priests lending their prayers to the Mass.
Concelebration occurs when multiple priests say the Mass together, all consecrating the same bread and wine.
"There were, I would say maybe about 50 cardinals, maybe 200 bishops," Fr. Conlon says, noting that the funeral Mass was emotional for all the concelebrating priests.
"There was a moment when the coffin came out of the double doors at St. Peter's, and nobody was expecting it just then. And then suddenly there was this applause, which is very much a European thing to do, to applaud the deceased," Fr. Conlon says. "As I scanned around, I was amazed at the number of priests who were crying. This wasn't just a celebrity or a well-known person that we were burying. This was somebody who's intimately connected with our life of faith. We knew him."
According to Fr. Conlon, the students from FGR seemed incredibly impressed by the event and by the crowds who turned out to honor the former pope. "They were just delighted to be there at this extremely historic moment. How many teenagers can say, 'I was at a Pope's funeral'? I think they enjoyed it immensely, and I think they were quite impressed by what pomp and ceremony that was there. I think they really, really were fascinated by all of that."
News reports indicate nearly 200,000 people came to view Pope Emeritus Benedict as he lay in state. Another 50,000 were present for the funeral Mass.
"What impressed me were the crowds of the laity for a pope who had been in retirement and almost in seclusion for 10 years," Fr. Conlon says. "Anytime we passed by the Vatican on our travels that week, the week prior to his funeral, the crowds just in line to go into view his remains were quite extraordinary. Especially when you remember that was longer retired than he was Pope."
The service itself was unique among papal funerals.
"Pope Francis has a certain style of preaching. He doesn't preach so much about the person, but more about our faith and the hope that our faith gives us. And he didn't stray from that," Fr. Conlon says. "And then of course, instead of using the Roman Canon, he used the III Eucharistic prayer, which is a little shorter, breaking with the tradition."
Fr. Conlon had met the former pope twice before, once as a seminarian and once at a gathering of charismatic community members.
"He had been the chief celebrant at the Mass for the solemnity of Pentecost. After Mass many of us were able to have an audience with him, which was a delight," Fr. Conlon remembers. "He was very small. It wasn't what I expected at all. I'm not a tall person myself, but he was smaller than me. And his piercing eyes and that really very, very white hair. But he had that very beautiful German accent. And just when you spoke with him, he was speaking to you and not as if he was speaking to a big crowd. It was almost like a one-on-one conversation. He wanted to know about you. From what I hear, he was very much a priest's priest. He was more at home with clergy than he was with laity. Pope Francis is the opposite, I think."
Despite his reputation as a theologian and "priest's priest," however, Fr. Conlon notes the lines of ordinary people tell a different story.
"For many Italians, he was like a grandpa. As I spoke to people, ordinary Italians that just got in line, they were there to say farewell to him. He could really bowl people over with his erudition and scholarship, but also with his personality. He just came across as being so gentle and caring. He also had a very pastoral approach to things within the church. He had that scholarship, but he also had a strong pastoral approach. He was a gifted man, and he will be missed."