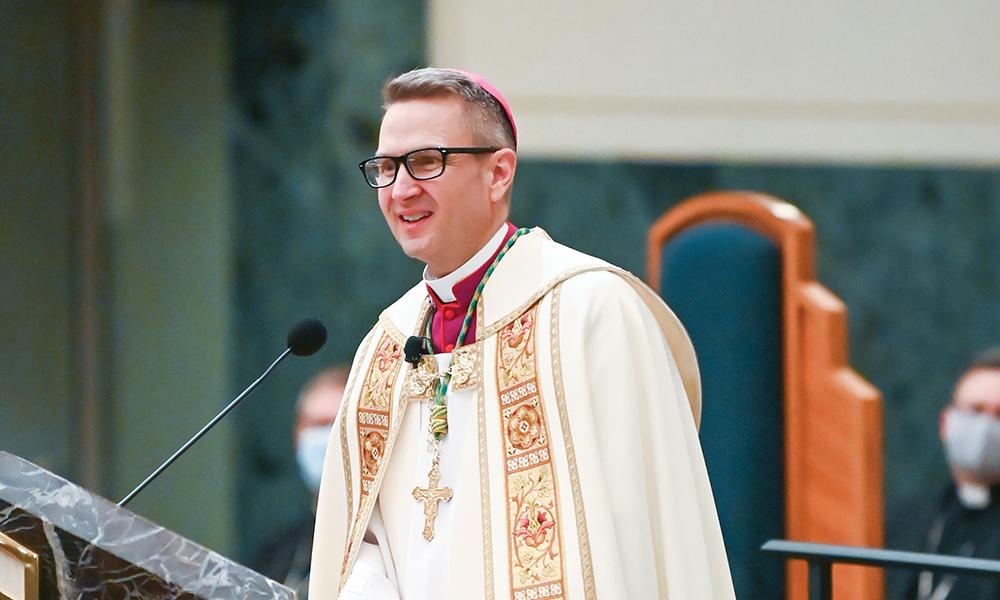 Photos By Burns Photography
---
Reflecting Jesus: Our Good Shepherd
Homily by Bishop Ron Hicks | Vespers Service September 28, 2020 | Cathedral of St. Raymond Nonnatus, Joliet, IL
Muy buenas noches. Soy el Obispo Ron Hicks y me da mucho gusto ser el sexto obispo del Diócesis de Joliet. Y como nos dice el evangelio, no solamente quiero ser un pastor, sino también un buen pastor con el olor de las ovejas.
I just said in Spanish that I not only want to be a shepherd, but also, I want to be a good shepherd who has the smell of the sheep.
Pope Francis has famously said that the Church needs bishops who have the smell of the sheep. In other words, the Church is better off with bishops who spend time among the People of God.
On July 17th when it was announced I would be the 6th Bishop of Joliet, the internet searches began, and the phone calls and emails started. Everyone was asking the same questions. "Who is he?" And, "What is he like?"
People wanted to know...
Is he humble or arrogant?

Is he conservative or liberal?

Is he an extrovert or an introvert?

Is he a Cub fan or a Sox fan?
Truth be told, I am a Cub fan!
Here's the thing, you want to get to know me. AND I also want to get to know YOU!
Two years ago, right before I was going to be ordained an auxiliary bishop for Chicago, I was sitting at the dinner table after an Episcopal Council meeting.
I asked the bishops, "What advice do you have to give to us who will soon be ordained?"
They all gave very good advice. And then Cardinal Cupich spoke last. He said,
"I agree with all that advice, but I have one more thing to add. My advice is simply, BE YOURSELF. You were selected to be a bishop because of who you are. Don't try to be someone you are not."
As you get to know me, I will try to be myself.
And you going to see my strengths and weaknesses.
You are going to see my successes and failures.
You are going to see my good-side and my bad-side.
And, I look forward to getting to know you.
The real you, who is made in God's image and likeness.
A true son or daughter of God.
Thanks for being here tonight both physically and virtually. I am so humbled and excited to be your bishop. Like a religious woman recently told me, "Remember Bishop, we are in this together."
I could not agree more; we are in this together!
Quiero compartir una experiencia que cambio mi vida y visión hace 14 años. (I want to share with you an experience that changed my life and vision over 14 years ago.)
While living and working at Nuestros Pequeños Hermanos in El Salvador, during my second year, four children, about 12 or 13 years old, came to talk to me in my office. I told them, "Siéntense y permítanme unos cinco minutos para terminar este correo electrónico." ("Have a seat for just five minutes and let me finish this email.")
Five minutes turned into over 30 minutes. Finally, I sent the email and turned to the four children and asked them, "What can I do for you?"
Before answering, one of them said with all sincerity and no guile, "Padre, usted es más como un abogado que como un sacerdote." ("Father, you are more like a lawyer than like a priest.")
His words broke my heart.
Didn't he realize that I had to raise money so they could eat?
That I had to fight the court systems to keep them protected?
That I had to keep a roof over their heads?
However, I thought, when I leave here, do I want them to think of me only as a lawyer? An administrator? A bureaucrat?
Right then and there, I decided to continue to do the administration work necessary, but also to make sure that I spent more time with them, praying for them, listening to them, eating with them and guiding them as their spiritual father and shepherd.
Please do not hear what I am not saying.
I am not disparaging the lawyers, administrators or bureaucrats of the world.
We need good lawyers, administrators and bureaucrats. But my hope in Joliet is to make as a priority spending time with the people of God as their shepherd.
As a shepherd, as servant-leader and as bishop, I am called to a three-fold mission to teach, sanctify and govern.  
When I teach, you may notice that I want us to know about Jesus, and also know Jesus. I want us to know about Jesus intellectually, and also I want us to know Jesus with our hearts and have a real relationship with our living God.

When I sanctify, you may notice that I want us to love God with all of our minds, hearts and souls, and also I want us to love our neighbor as ourselves.

When I govern, you may notice that I want us attend to the temporal realities and administration of this diocese, and also I want us to do so in a spirit of mutual respect and collaboration.
 
As a bishop, I cannot do it all alone, I need your help. I need you ... the priests, deacons, religious women and men, laity, seminarians, employees, and volunteers. We are in this together. Estamos juntos.
And, as we are in this together, let us follow the example of Jesus who in the Gospel says, "I know my sheep and my sheep know me."
Again, I look forward to getting to know you. And as you get to know me, I hope that one day you will not only say, "That's Bishop Hicks, our shepherd." But also I hope that you will be able to say, "That's Bishop Hicks, our good shepherd, who has the smell of the sheep."