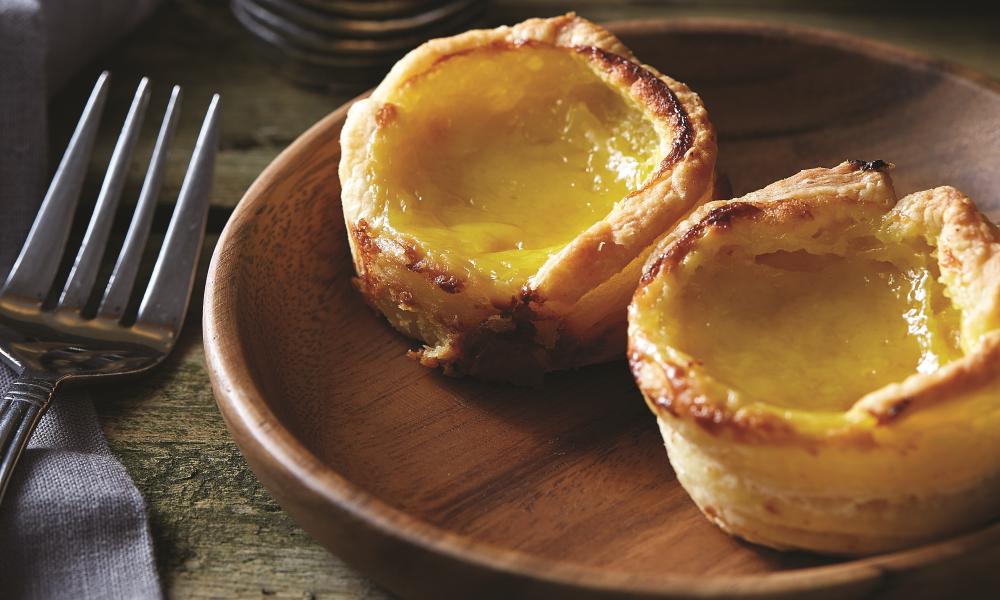 ---
A Recipe Leads to Fatima
A short time ago, I met up with a couple of friends for coffee at a small café, and ordered an egg tart. I wasn't too excited about my choice, but it ended up being really tasty, so I went home to search online for recipe ideas to make my own. I came across a woman's food blog, which featured a delicious-looking Portuguese egg custard tart. But my attention turned quickly from food to the place where she discovered it – in a small town just outside of Fatima, Portugal. I've always been moved by the story of Fatima, so I put the recipe searches aside and spent a large part of my afternoon watching online documentaries on that significant event that took place nearly 100 years ago.
On May 13, 1917, Mary first appeared to three shepherd children in a field near the town of Fatima. It was the first of six apparitions where Lucia, Jacinta and Francisco were visited by a beautiful lady dressed in white. She told the children she was from heaven, and requested they recite the rosary every day and return to the same place each month at the same time for the next five months. Over the course of that time, she made a loving but firm plea for reparation, penance and recitation of the rosary for not only the salvation of souls, but for peace in the world.
Our Lady came with a message from God for all of humanity and promised peace if her requests were heeded.
Fatima is one of the most significant of Marian apparitions, and is venerated with a feast day. And this year is extraordinary since it is the 100th anniversary year. Now, I typically view feast days in the Catholic Church as celebratory, since they are often marked with food, activities, crafts or special prayers. But this one comes with a sobering message from Our Lady about the need for repentance and prayer. Fatima elicits mixed feelings for me. Joy for the love of Our Lady and her devotion to the simplest of God's children, but alarm for all that her message portends.
I have since revisited the Portuguese egg custard tart (pastel de nata) recipe and created a simple variation to try. Since it's more of a dessert, it isn't at all like the egg tart I had at the café, but it's every bit as scrumptious. Aside from its origin tracing back to a monastery, it has no religious significance to the story of Fatima. But for me personally, it will always have an association, since its discovery led me to a deeper familiarity with one of the most significant Marian apparitions of the last century. I have made them on a couple of occasions and with each instance, I've found myself pondering those poor, simple children experiencing that world-changing encounter with Our Lady. I encourage you to try the recipe and, more importantly, read about and spread her message to all.
---
PASTÉIS DE NATA (Portuguese custard tarts)
1 package frozen puff pastry (2 sheets)
1 tablespoon butter
1 cup granulated sugar
1 tablespoon cornstarch
1½ cups half and half
6 large egg yolks
1 teaspoon vanilla extract
1 small piece of lemon rind
1 cinnamon stick ground cinnamon
Lightly grease bottoms and sides of two standard-sized muffin pans (with butter) and set aside.
Thaw pastry sheets enough to unfold. Using a rolling pin, slightly roll out each sheet just enough to smooth out the folds. Starting at the short end, roll each pastry sheet into long cylinders. Carefully cut into 10-12 one-inch pieces.
Turn each piece spiral side up and flatten using the palm of your hand. Roll out into 3 ½" – 4" (in diameter) disks. Place a disk in each greased muffin cup and gently press into the bottom and up the sides (lining each cup), leaving 1/8" of space at the top. Set aside (in a cool place) and preheat oven to 425 degrees.
In a medium saucepan on low to medium heat, combine half and half, cornstarch, sugar, vanilla, cinnamon stick and lemon rind. Using a whisk, stir gently until mixture thickens (about 3-5 minutes). Remove the cinnamon stick and lemon rind and lower the heat.
In a medium bowl, whisk egg yolks. Slowly add part of the hot milk mixture into egg yolks and whisk until combined. Gradually add the egg yolk mixture back to remaining milk mixture in the saucepan, stirring gently on low heat. Continue to stir for about 5 minutes, or until thickened. Pour custard into each pastry cup to three-quarters full. Bake for 20-25 minutes or until pastry is golden brown and custard shows amber and brown spots. Allow tarts to cool in the pan for 5 minutes. And then cool outside of the pan for another five minutes. Sprinkle with ground cinnamon and serve warm.