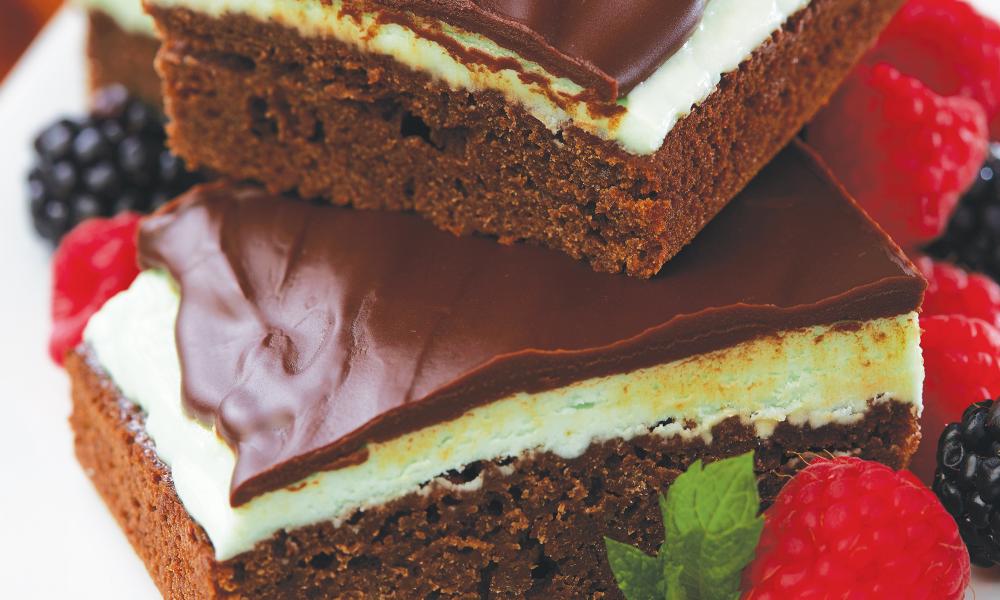 ---
The Recipe for Catholic Education
I remember one day during lunch duty at the kids' school, I saw a plate of dark chocolate and mint brownies sitting on the countertop in the kitchen. They looked so good that my impulse was to lift the clear lid and sneak one while no one was looking. I ignored the urge and carried on with my duties, but each time I stepped into the kitchen, they caught my eye. They tempted and taunted me. As I gazed at the perfectly stacked plate of brownies, one of the other lunch moms came into the kitchen and quickly grabbed them to pass out to her son's class for his birthday. That "other lunch mom" happened to be a friend, so I grabbed her arm and told her how good they looked. Boom. She gave me one. It was, in a word, amazing.
And I'm not the only one who loves them. Karla selflessly organizes a luncheon for the teachers and staff regularly, and by now everyone at the school has enjoyed her chocolate mint brownies at one time or another.
But my friend Karla brings more than just great recipes to the school. She and her husband, along with the many other families at the school, bring an example of their faith. They share their knowledge, insights and enthusiasm for what the Catholic faith teaches and calls us to be.
A Catholic school was never meant to be just a good, private school where kids can get a great education. In addition to all of that, Catholic schools must be a place where students learn about their faith, live their faith and graduate with pride and excitement about being a part of the Catholic family.
I am so thankful for the joyful and energetic leadership at our children's school. Every week I learn something new about my faith that I, as an adult, did not yet know because my children share what they are learning. And I am so grateful for the families in our school who are also eager to share, learn about, and live their Catholic identity. If my family can get all of that, plus great recipes for delicious mint brownies, I know our family is in the right school!
---
Karla's Chocolate Mint Brownies
1 box dark chocolate brownie mix
6 tablespoons butter
1 ½ cups powdered sugar
1 ½ tablespoons milk
½ teaspoon peppermint extract
A couple of drops green food coloring
6 tablespoons butter
¾ cup chocolate chips
Prepare the brownie mix as directed in 9 x 13 pan, being careful not to overbake. Set aside to cool.
For the frosting, combine using mixer: butter, powdered sugar, milk, peppermint extract and green food coloring. Beat until fluffy. Spread the frosting on top of the brownies after they have cooled.
For the top layer, melt the butter and chocolate chips slowly in a small saucepan on low heat. Mix until smooth and all the chocolate is melted. Let cool partially before pouring over frosting; gently use the back of a spoon or spatula to spread evenly. Allow chocolate to set before cutting into squares.