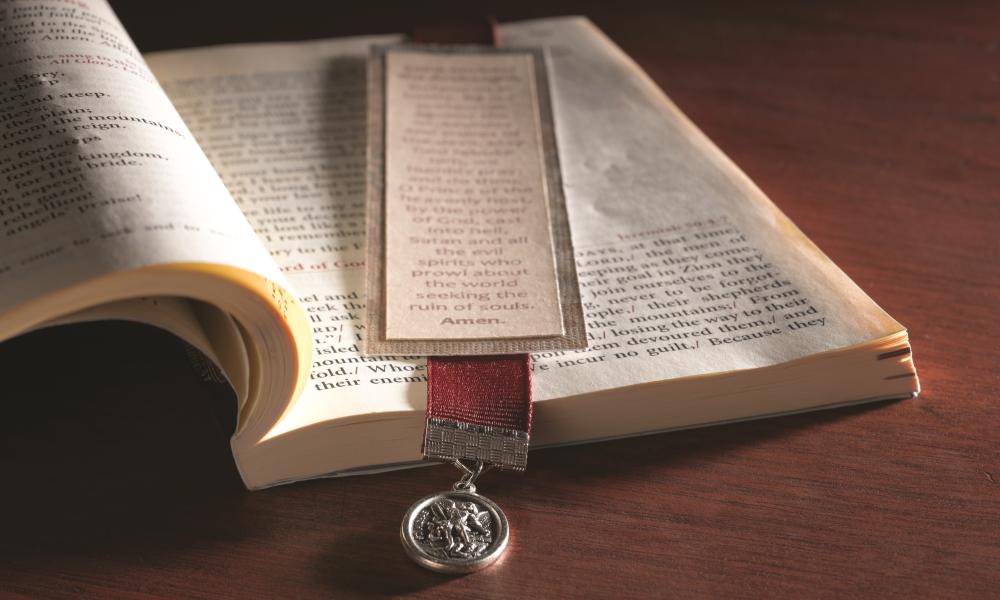 ---
A prayer for Battle
Just a few months before our wedding, my husband and I attended a retreat for engaged Catholic couples. On so many levels, it was very impactful and really helped prepare us for the vocation of marriage. The amazing priest at this retreat painted a pretty powerful image in our minds – one that we have not forgotten during our life together.
He described our forthcoming marriage as a tower. It is a shining, white and seemingly impenetrable tower that is beautiful because it is made by God. But from the moment we say, "I do", Satan begins his endless walk around the outside of the tower, looking for a way in. If we neglect the tower's maintenance, over time, cracks will form.
So how do we make certain the tower is not neglected? How do we protect our marriage? The first and most direct way is through prayer. The priest at the retreat stressed that frequent, regular prayer said together and on behalf of the marriage is critical. And I am certainly grateful for his jolting depiction of marriage to keep me "on my toes" throughout our life together.
Well, eight years later, our son and daughter would be taught a certain prayer at their new school, and it wasn't until then that I started saying it regularly. Just as this priest's lesson had awakened me years ago, the prayer they say at every school Mass reminds me of the spiritual protection we all need at all times, married or not. It is the prayer to St. Michael the Archangel.
St. Michael the Archangel, Defend us in battle. Be our protection against the wickedness and snares of the devil. May God rebuke him, we humbly pray; and do thou, O Prince of the heavenly host, by the power of God, cast into hell, Satan and all the evil spirits who prowl about the world seeking the ruin of souls. Amen.
I find this prayer to be valuable in reminding me of the threats we face and the responsibility we all have as baptized Catholics. Certainly modern medicine, technology and entertainment have created a world that is much more comfortable and convenient than in ages past. But our modern creature comforts and their many distractions can lull us into complacency and mask from our senses, the real spiritual threats that surround us. I find it helpful to have a visual reminder on hand at all times, to help call on the intercession of a holy archangel in our spiritual defense. Here are a few ideas that can help us to keep this prayer in our daily lives. St. Michael the Archangel, pray for us!
---
Prayer card and bookmark
For both projects, you will need:
5" piece of suede craft lace
2 jump rings (jewelry section of arts and crafts store)
1 ribbon clamp (jewelry section of arts and crafts store)
10" of ribbon (same width as ribbon clamp)
Needle nose pliers
Hole punch
2 1/2" x 4" piece of patterned cardstock
Glue stick
Hot glue gun or double stick tape
Craft knife & ruler
Printer
2 St. Michael the Archangel Medals (can be purchased for less than a dollar at a Catholic goods store or online)
For the prayer card: Using needle nose pliers, bend jump ring just enough to attach to hole on top of medal. Bend it back to close and set aside. Type and print prayer text to fit within a 2 ½" x 4" area. Trim and adhere to piece of patterned cardstock. Punch hole near top of the finished card. Fold suede lace in half and place folded end through the hole about one inch. Place the other ends trough jump ring on the medal. Pull tight to secure the medal over the top of the prayer card.
For the bookmark: Type and print prayer text to fit within a 1½" x 6" area. Trim and adhere to piece of patterned cardstock. Set aside. Attach ribbon clamp to bottom of ribbon and use pliers to close. Attach jump ring to medal and then attach medal to ribbon clamp. Using hot glue gun or double-stick tape, adhere finished ribbon to back of card stock. Trim the top if necessary.
Michelle DiFranco is a designer and the busy mom of two children.