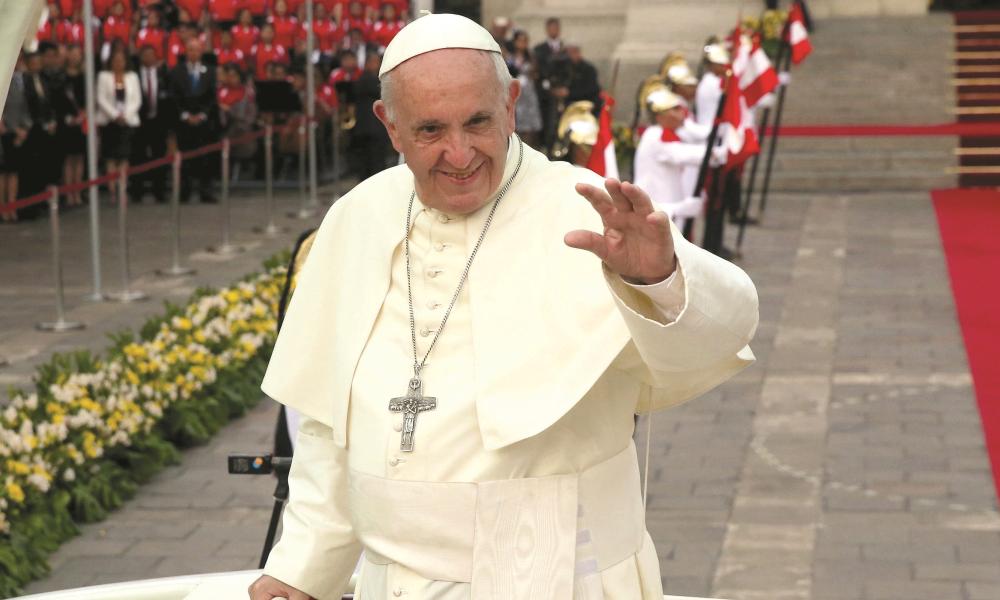 ---
Pope Francis celebrates his fifth anniversary
Pope Francis is a pontiff of firsts, to be sure. First pope from the Americas, he is also the first Jesuit, the first non-European since Gregory III, a Syrian, in 741, and the first from south of the equator.

Five years ago, on March 13, 2013, white smoke rose from the chimney of the Sistine Chapel, signifying his election to the papacy by a two-thirds majority of cardinal electors. To mark his fifth anniversary as Holy Father, let's take a look at some accomplishments and interesting facts about Pope Francis.
His life
Born Jorge Mario Bergoglio Dec. 17, 1936, in Buenos Aires to Italian immigrant parents, he is one of five siblings. Pope Francis entered the Society of Jesus (Jesuits) in 1958 and, after teaching at the secondary and post-secondary levels, was ordained to the priesthood in 1969. He studied in Spain, and in 1973 made his final profession of vows with the Jesuits. In 1992, he was ordained a bishop and became auxiliary of Buenos Aires. His episcopal motto, miserando atque eligendo, means, "He saw him through the eyes of mercy and chose him." He continues to employ this motto as pope.
Throughout his life as priest, bishop, cardinal and pope, Francis has lived a simple life and embraced austerity. Until he became pope, he always flew coach; now he travels on "Shepherd One. " In Buenos Aires, he was a frequent bus rider. Now, rather than live in the papal apartments, he lives in the Vatican guesthouse, where he often cooks his own meals.
His publications
Pope Francis is a prolific writer, and is the author of several books published before he became pope. As pontiff, he is also the author of:
Two encyclicals: Lumen Fidei (The Light of Faith, 2013) and Laudato si' (On Care for our Common Home, 2015);
Two apostolic exhortations: Amoris Laetitia (On Love in the Family, 2016) and Evangelii Gaudium ( The Joy of the Gospel, 2013); and
More than 20 apostolic letters and other writings.
World traveler
To date, Pope Francis has visited 30 countries on five continents, not counting visits outside the Vatican (city-state) to locations within Italy. Within the next year, he is scheduled to visit Ireland, Estonia, Latvia, Lithuania, India, Romania and Poland. He also has pending visits to 29 additional countries, including Australia, which would be the sixth continent he will have visited.
---
Did you know?
Pope Francis had lung surgery as a teen, and today has only one functioning lung. In spite of that, he is in excellent health at 81 years old.
He is multilingual, speaking Spanish, Latin and Italian fluently, and understands and speaks some German, French, Portuguese, English and Ukrainian.
He is the only pope to ever address a joint session of the U.S. Congress. 
A true Argentinian, Pope Francis loves the tango. And wine.
He loves the works of J.R.R. Tolkien.
He misses the opportunity to walk through the city to a favorite pizzeria to enjoy a slice, saying delivery just isn't the same.
Rumor 
has it that 
he makes awesome paella.
When a small child came onto the stage to hug him during an important Mass, Pope Francis would not let security remove the child. Instead, the pope welcomed the child, 
He auctioned his Harley Davidson to benefit the homeless.
He celebrated Holy Thursday Mass of the Last Supper in the chapel of a prison and kissed the feet of the prisoners as he washed them.
He was the first major leader of a world religion to appear on the cover of Rolling Stone.
He says that Catholic beliefs are consistent with evolution and the Big Bang theory.