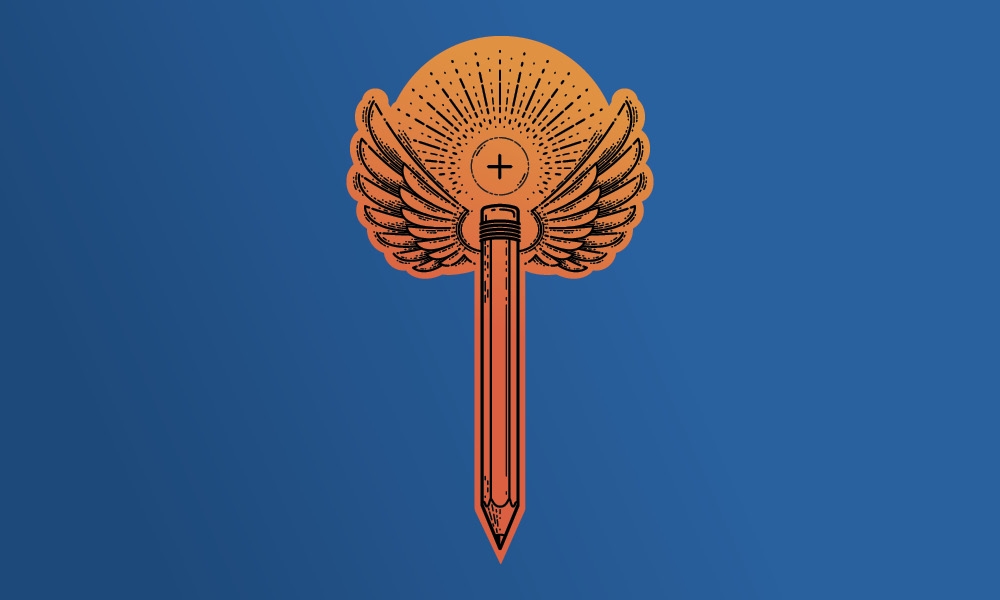 ---
Pencils in God's Hands
College students share their 'best practices' for standing firm in their faith
What does it take to maintain your faith when you're buffeted by new ideas, conflicting values and a brand-new life in college?
Connor Helsen of Coopersville, Megan Knepper of Tecumseh and Madeline Dempsey of Adrian are all either recent college graduates or wrapping up their studies at universities in the Diocese of Lansing. Each of these young adults has successfully navigated the various challenges to their faith as they steered their course through classes, exams and completion. Their tools range from steady Mass attendance and daily prayer to seeking out a like-minded community. At the finish, they may not be certain of their futures, but they know God has their backs.
Helsen, who grew up in West Michigan, graduated this past spring from Michigan State University, where he majored in horticulture. He has joined FOCUS, the Fellowship of College and University Students, and will be a missionary at Ball State University in Muncie, Ind. 
Helsen says his parents were good role models and he grew up with twin sisters in Coopersville "living a life of faith." But, when he arrived at MSU, he says, "I started radically living my faith."
"It's when I chose my faith for my own and began to dive deeper into the truth, beauty and mystery of it."
At the heart of his spiritual journey, he says, is prayer.
"I cannot stress enough the importance of a life of prayer," he says. "Our life of prayer is our relationship with God.  We need to spend time with him not just once a week, not just Sunday mornings, but every single day, no matter what. We need to pray."
He points to St. Mother Teresa as an example.
"She says, 'I am the little pencil in God's hands,'" Helsen says. "Prayer allows us to be the pencil in his hands."
Megan Knepper majored in business at Siena Heights University and received her degree this past spring. She grew up in Tecumseh, attended Tecumseh High School and says that during her college years she "started to dig deep into my faith.
"Going to Mass and praying often allowed me to lean on God and trust that my college experience, all of the good and the bad, was a part of his plan," she says. 
She also found her faith community through the Young Adult Discipleship group every week at St. Elizabeth, which allowed her to create friendships based on faith.
"These people and their love for the Lord gave me hope," she says.
Knepper says her advice to college students is to "get to Mass every single weekend and receive reconciliation as often as possible.
"Yes, it is uncomfortable, but Jesus calls us to get comfortable in the uncomfortable," she says. "If you feel scared to stand up for your Catholic Faith, pray about it. Offer it up during Mass, make friends in the Church and do anything you can to lean on God in both the good times and the bad times of college."
Madeline Dempsey, who is starting her senior year at Michigan State University and majoring in supply chain management, grew up in a Catholic family where she attended Mass regularly and was involved in her parish religious education program. She says surrounding herself with friends and family that have similar beliefs has helped her stay strong in her Catholic faith.
"As a college student, there are many distractions that can take time away from practicing your faith," she says. "Something I've learned throughout my experience is dedicating that one hour every Sunday to going to Mass. It has given me the opportunity to take a step back from life and focus on my relationship with God." 
Growing up, she says, Mass always was a family affair. When she arrived at Michigan State, she quickly realized: "There is nobody making me go to Mass. It is my choice ..." She maintained that practice throughout her college years, she says.
"I believe this has strengthened my faith because this is something I'm choosing for myself and truly believe in," she says.